The Amazing Race Season 29 Recap
Good Job, Donkey
By David Mumpower and Kim Hollis
May 18, 2017
BoxOfficeProphets.com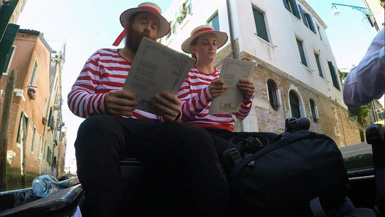 ---
Previously on The Amazing Race, we traveled to Orlando International Airport then took the Magical Express to Walt Disney World. While we were away, Daron Aldridge did a lovely job of recapping the past two episodes. As his reward, he has taken his family to Walt Disney World. Box Office Prophets: fans of the Happiest Place on Earth.*

*=Disney nerd note: Disneyland is technically the Happiest Place on Earth. Walt Disney World is the Most Magical Place on Earth. You'd know this if you bought David's book, Disney Demystified, now on sale for $4.95 at the Kindle store, $14.95 for the softcover version. Was this shameless? It felt kind of shameless.

Anyway, we hear that Vanck and Ashton aka Beauty and the Geek (which is which is in the eye of the beholder) are gone now. Also, Liz and Mike finished in last place but weren't eliminated in the previous episode. That's not surprising to us since the last time we saw them, they wanted to kill one another. What does surprise and annoy us is that Liz and Mike are still alive because…The Amazing Race.

Hey, Matt and Redmond aka The Boys are the first to depart this week! It's almost like they're better at this game than everyone else. They're leaving at 11:15 a.m., which sounds great until you notice that they're right next to a waterway in Venice, Italy. Nobody wants to leave there. Becca and Floyd aka Team Fun are almost an hour behind, departing at 12:08 p.m. Also, they're wearing matching outfits today. #Twinsies!

What's important about the departure segment is that Liz and Mike are only ten minutes between Brooke and Scott, the fourth place team. So, they may be in sixth place, but they are only a tiny bit out of fourth place to start the leg. Basically, it's The Boys and then everybody else so far this season on The Amazing Race, and our two-week absence didn't change that.

In fact, everyone immediately takes the same 16-hour boat ride to Patras, Greece. From there, they drive 100 miles to Arahova, Greece. There, they get to witness a traditional Greek wedding…and use the last double U-Turn of the race.

Picking up right where we left off, Liz and Mike take a wrong turn. Liz reads the map wrong, and they realize it quickly since everyone else turns the other way. Like a real man, Mike refuses to stop and ask for directions, instead demanding that Liz read the map correctly. She wants to turn around, which seems like the obvious choice.
While they debate, Brooke and Scott, the worst team this season and in recent memory, arrive at the U-Turn. They promptly U-Turn Liz and Mike, who already have to do something extra this leg as punishment for finishing last. So, at the 11-minute mark of the episode, we already know who will lose this leg and get eliminated. To add a splash of excitement, Tara and Joey also U-Turn Becca and Floyd, which isn't very #Fun.

The Detour options are For the Bride and For the Groom. For the Bride requires players to deliver two huge jugs of sheep milk to two cheese makers, who then trade specialty cheese in return. The bride gets the cheese. For the Groom is a race is up a staircase with 252 steps to find a shepherd who will give them a sheep. Women get cheese, men get sheep. John Gray has a new idea for a book!

Liz and Mike are yelling at each other. Mike knows that they've already lost, and he blames Liz. He is doing this race for his daughter, which sounds lovely in theory. In execution, he's setting a pretty example about how to treat others. Also, his stubbornness about keeping on the road rather than turning around is world champion-level manly.

The teams all agree to get cheese. Presumably, nobody feels the need to go out on a limb since the top three teams know that either Liz and Mike or Team Fun is going home. They're just aiming for par on this leg. The end result is predictable results involving donkeys and milk. Team Mom and Dad are the first ones to complete it, with The Boys next followed by Brooke and Scott. Team LoLo was actually quite a bit behind and worried that they'd fall victim to a U-Turn. They have NO cause for concern. The only debate about the top four teams this week is order of finish.

Hey, Mike agreed to turn around! That's quitter talk. A real man would have driven them straight into the Mediterranean Sea.

The discrepancy between the frontrunners and the slower teams is about as large as we've seen on an episode in several years. At the 22-minute mark, Team Mom and Dad arrive at the site of the first modern Olympics. Phil tells them to run a lap around the stadium to receive their next clue. It looks slightly uncomfortable since they're running with backpacks, but the majesty of the stadium keeps them distracted for the full lap. This is a nice moment and something the show should do more. Teams don't get enough chances to appreciate the beauty of the countries that they get to visit.

The Roadblock is at The Zappeion. The teams must make their way "on foot" up to this building. Then, they must master a changing of the guard routine. It's insanely complex, but Team Mom and Dad are thrilled to learn about it. Tara is career military, so she's been doing this sort of stuff for her entire adult life.

At the 25-minute mark, Liz and Michael find out about the U-Turn. Michael deserves this for turning around like a quitter. As they walk away from the board, the two of them vent a bit. Both of them have helped the other teams, occasionally to their own detriment. Michael recounts how he helped Brooke during the ladle challenge when she was in tears for the body of several hours. She promised at the time never to U-Turn him. He has a point. Brooke is kind of a monster.

What passes for good news for Liz and Michael is that they arrive at the U-Turn ahead of Team Fun. Becca and Floyd take the news well, though. We would go so far as to say that they have fun with it. They even name their donkey Speedy McSpeederson. Becca also does a donkey impression that, well, it stings the ears. Still, the funniest moment is when Liz and Michael see Team Fun. They're shocked to learn that they still have some hope in this leg. They've actually finished one of the two sides of the Detour. Team Fun is only partway through the first one.

Liz and Michael look like they're going to finish the second side and pull ahead. Only they screw it up. Huge. Both players must carry a goat to the groom. And that's a weird sentence to type. Anyway, Michael doesn't get his goat, so to speak. They have to walk back up a massive set of stairs that almost killed Michael the first time, wasting valuable time that they don't have.

The great news for Team Fun is that their opponents already have to do a special challenge as punishment for finishing last in the previous leg. Those few minutes are probably going to wind up as the difference between Liz and Mike surviving and their going home. The ONLY good news for Liz and Mike is that they do finish the second side of the Detour before their opponents. The question is whether the gap is large enough.

Back at The Zappeion, Tara absolutely crushes the challenge on the first try. The Boys get a bad break here. Matt chooses to perform the task, which is unfortunate since Redmond has similar military training to Tara. While Matt is an Olympic athlete, his skill doesn't translate well here. Brooke actually beats him, which means that as long as Scott and she don't screw this up, they'll finish in second place. You see where we're going with this.

Team Mom and Dad win the leg by a pretty wide margin. They receive $7,500 each as their prize, which is better for them. Negotiations over who goes on which trip would be awkward for two adults who are married but not to each other. A bit later, the second place team arrives…and it's The Boys. Brooke and Scott somehow turn their lead into a third place finish. They also get so lost that The Boys check in during twilight hours. When Brooke and Scott arrive, it's well after dark. They're really, really bad at this.

Whether the editing is intentionally misleading or not, the final segment shows Liz and Michael and Team Fun driving in the same area at roughly the same time. Becca and Floyd are the first two players to arrive at the Olympic Stadium. That's probably the ballgame right there.

At some point afterward, Liz and Michael show up and do a Speed Bump. It involves food preparation, which leads to a humorously differing reaction from the two players. Michael is a butcher, so the requirement of working with animal intestines to make food is basically what he puts on his resume. Liz is horrified from start to finish of a Speed Bump that Michael claims that he crushed.

Michael speaks at least some level of truth. When he and his partner arrive at The Zappeion, Team Fun is still there. It looks like Liz has tried a couple of times already. Sure enough, she finishes before Liz is ready to try. As long as Team Fun doesn't pull a Brooke and Scott, they'll survive the week. And they don't!

Team Fun finishes quickly enough that Liz and Michael aren't even able to see them at the finish line. To their credit, the last place team does say extremely kind things about one another after learning that they're eliminated. They describe their relationship as sibling-like, pointing out that they even yell at each other like brother and sister. While that's true, we actually think Liz has a small crush on Michael. She understands that he's pushed so hard to help his daughter and seems to really dig that about him. Maybe they have a better shot at flirting now that they're not in such a dramatic situation.