Weekend Wrap-Up
Last Weekend's Guardians Climax Makes Box Office Sleepy
By John Hamann
May 14, 2017
BoxOfficeProphets.com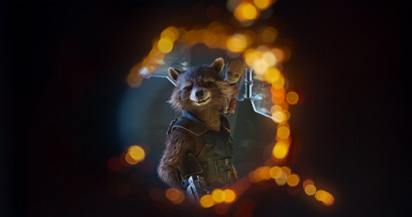 ---
At the box office, five to seven days can make a world of difference. Last weekend, a film that cost $200 million to make succeeded massively; this weekend, two films that cost a combined $217 million (before big marketing costs) flailed, creating a massive flop crater in the second weekend of May, one that is usually very successful.

I believe that one opener looked good on paper, while one did not - but I will leave it to you to decide which was which. Our first, Guy Ritchie's King Arthur: Legend of the Sword, skewed the myth, turning it into a $175 million action movie. This was more than Excalibur. It was a huge, $175 million blockbuster starring Charlie Hunnam, who is relatively unknown except to fans of Sons of Anarchy and Pacific Rim. Snatched is our other opener, a comedy that at least for me felt under marketed. Amy Schumer can be a bull in a china shop with the media, and she barely caused a blip on my movie radar despite the fact that she is about as good as it gets for me. Which movie looked better on paper for me? Anything with the lovely Amy Schumer will always win the day, but it was a couple of small films, Lowriders and The Wall, that appeared this weekend despite small budgets or low screen counts.

That means the monstrous Guardians of the Galaxy Vol. 2 repeats at number one this weekend, which was pretty much a given with its $146.5 million opening weekend. With rotten reviews and poor marketing, the bigger openers didn't look like they were going to have much of a chance against Guardians 2, as the behemoth would need to lose more than 70% to get to $40 million, which is still high for a film like King Arthur, and out of reach for Snatched, considering Trainwreck opened to $30 million. Guardians 2 got started on Friday with $16.4 million, down a powerful 71% from its opening Friday. Did the Disney and Marvel suicide rate wildly increase after that second Friday? Hell no. The second Friday had to compete against that Thursday preview/Friday opening, which was huge - the Thursday showings were $17 million, and the combined amount was $56.2 million.

The original Guardians had a first Friday of $37.8 million on its way to a $94.3 million weekend. The second Friday came in at $12.3 million, down 68% from the debut. Should the same fate befall Guardians 2, the weekend total would come in at about $68 million. The estimate from the studio this morning is $63 million, which puts it just a little lower than the trajectory of the first film. Guardians just missed hitting $200 million in eight days, and it settled for crossing the mark early Saturday, matching the speed of films like Deadpool and Minions. Domestically, its total is just short of $250 million, with a running total of $246.2 million. Overseas, the total has risen to $384 million, for a global total of $630 million.


Second goes to Snatched, as Amy Schumer returns to work after Trainwreck, the 2015 film that earned $141 million worldwide, and Goldie Hawn returns for the first time since 2002's The Banger Sisters. Snatched was better advertised in the winter than now, as Fox became more and more aware it had a huge turkey on its hands. Snatched opened to previews at a dreadful $650,000, and probably hoped things would pick up on the weekend. The combined Thursday/Friday was $5 million, a planet away from Trainwreck's $10.3 million, and what has to be a huge disappointment for Fox and Schumer, whose light has dimmed in the time since Trainwreck (Ames, you waited this long and then made this piece of crap?). The likelihood of a weekend date lift or even Mother's Day was pretty dim.

Over the weekend, Snatched found $17.5 million, disappointing considering the 3,501 venue count, or about 400 more than Trainwreck, which earned $30.1 million over its first three days. The soft marketing led to terrible reviews (36% fresh) and a low Cinemascore, which came in at a B. In 2015, it was Hot Pursuit with Reese WItherspoon and Sophie Vergara earning a low $14 million over opening weekend. Last year, it was Money Monster, with George Clooney and Julia Roberts - it opened to a low $14.8 million, making this weekend a questionable bet for female-focused films going forward. Snatched cost $42 million to make, so after all is said and done, it will be fine. Still, if I was at Fox, I wouldn't be happy with this result.

Our first mega flop of the season, King Arthur: Legend of the Sword, performs terribly during its opening frame. King Arthur: Let's Make Up A Subtitle stumbled out of the gate with its Thursday preview, earning an embarrassing $1.2 million, which killed any hope of a domestic success - it was that low. The combined Thursday/Friday was a slightly better $5.3 million, which meant the Warner Bros. actioner would likely not even reach $15 million over opening weekend, and would throw under the $16.5 million A Knight's Tale opened to over the same weekend in 2001. Yes, 16 years ago, Heath Ledger led a rag tag cast to the second spot on the box office charts, behind The Mummy Returns (it is a summer of repeats, as we will see Tom Cruise in The Mummy soon). So, death has come again to King Arthur, and the only question now will be how low can it go.

Warner Bros. Spent a massive $175 million on this version of the Arthurian legend, but the legend wasn't followed in the film. This may have put viewers off, and the weekend total came in at disastrous $14.7 million from 3,702 venues. With it going that wide, and the massive domestic media campaign behind it (how much did all those test screenings cost?), the advertising expense must have been phenomenal. Critics hated Arthur, giving it a 27% fresh rating. Top critics (aka movie reviewers that actually get read) were even more harsh, handing the film a 17% score. We have learned from recent summers that audiences are not as dim as they used to be. The Mummy Returns with its 47% rating would likely not open to the heights it did in 2001 compared to today, because word-of-mouth spreads that much quicker. The Cinemascore was at least decent, though, coming in with B+. King Arthur will not become a franchise, and now director Guy Ritchie has two big misses against him, this one and the $75 million Man From U.N.C.L.E., which flopped in 20125, earning $110 million worldwide.

The Fate of the Furious is fourth, as the gang forgets to wear seat belts and is tossed downward from second in the previous frame. Now out for five weekends, FF8 earned another $5.3 million and fell 38%. The massive sequel has now found $215 on the domestic side and a massive $978 million overseas.

In fifth is The Boss Baby, who is going to be a teenager before leaving the top ten. In its seventh weekend, the DreamWorks film earned another $4.6 million and declined 23%. The domestic tally has now hit $162.4 million, and the global total has reached $456 million.

Beauty and the Beast is sixth. It spends weekend nine earning another $3.9 million, off 24% from last weekend. The Disney behemoth has now earned $493.2 million on the domestic side. It should hit $500 million in the next couple of weeks, and passed the $700 million mark overseas.

How to Be A Latin Lover dropped to seventh and earned $3.8 million. The Pantelion film, which cost $10 million to make, has earned $26.1 million stateside.

Lowriders, the new release distributed by BH Tilt opened in eighth, despite being out to only 295 screens. The drama about about a family and a car earned $2.4 million and has a venue average of $8,180. With an A Cinemascore, and this result, BH Tilt will likely expand this one next weekend.

The Circle barely managed to stay in the top ten, as the STX film continued its freefall. This weekend, the Tom Hanks film earned $1.7 million and fell 56%. STX sold off the foreign rights, leaving a budget of $18 million. It has earned $18.9 million domestically to date.

Baahubali 2: The Conclusion is our tenth place film. The release from Great India Films earned $1.5 million and has now tallied $18.9 million domestically.

Finishing outside the top ten is The Wall, the new film from director Doug Liman. The Wall was released to 541 screens and picked up $892,000.

Overall, the box office was down from last year, as the openers couldn't keep the Guardians 2 momentum. The top 12 this weekend earned $121.0 million, where a year ago, Captain America's second weekend led the top 12 to $124.3 million. Next weekend, in the hopes of getting that momentum again, Fox releases Alien Covenant, and Diary of a Wimpy Kid: The Long Haul, while Warner Bros. Releases Everything, Everything.