5 Ways to Prep: Snatched
By George Rose
May 10, 2017
BoxOfficeProphets.com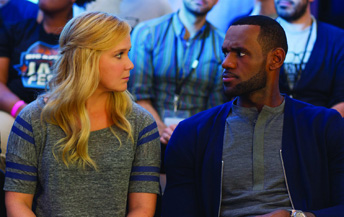 ---
The higher the rise, the harder the fall. No weekend emphasizes this more than the second weekend of May. The first weekend has, yet again, been dominated by a Marvel movie and kicked off the summer in style. Guardians of the Galaxy Vol. 2 (GOTG2) blasted off last weekend with $146 million, up 55% from Vol. 1's surprise $94 million debut. This is a better first-to-second movie increase than any other Marvel movie and should be celebrated. It's a huge debut, the 17th biggest in the history of opening weekends (unadjusted for inflation, IMAX and/or 3D, of course). Summer is here and I couldn't be more excited.

Or could I? Let's be honest, despite the massive increase over the first film, GOTG2's debut feels a bit… underwhelming. But why?! Well, I'm trying to be positive these days but my gut instinct in life is usually pessimistic, probably because I grew up in the '90s before gay was cool and trendy and now I'm a Bitter Betty. Then again, gay is cool now since people are too busy worrying if Caitlyn Jenner cut off her schlong, so I'm all about the positive vibes these days. But for a moment, let's remember a week ago everyone was talking about a $150 million plus opening for GOTG2 with a shot at a Top 10 debut if it made more than $160 million.

We all talked, we all watched and waited, and then we all got a little butt-hurt when the $146 million was announced. We shot for the stars with our estimates fell ever-so-slightly short. With all there is to celebrate, I'm still a little sad because I just want so much for this franchise to do well and break records and keep Chris Pratt shirtless for years to come. But this is the summer we're talking about, and expectations are constantly proven right and wrong, which makes following movie stats so much fun. If there is one expectation that is generally proven right, it's that studios are too scared to follow the release of Marvel's first weekend debut with anything that needs to make big money. A 55% decline in weekend two still has GOTG2 earning over $65 million, more than any movie has debuted with over this second May weekend since 2009 when the Star Trek reboot flew past expectations with $79 million.

Besides that fluke, no movie in the last ten years has debuted north of $55 million in May's second weekend with only Neighbors ($49 million) in 2014 and The Great Gatsby ($50 million) in 2013 coming close. If you take those two out, we're looking at more moderate debuts between $15 million and $35 million, which is right in line with what this weekend has to offer. You see what I'm doing here? I'm not just here to tell you about five movies to help you prepare for a new release; I'm here to help prepare you emotionally for how well that movie performs over the weekend! Expectations always affect the emotional outcome.

After Marvel is done pleasing families and young men with May's kickoff weekend, Hollywood always tries to soften the second weekend blow with releases usually targeted at women and/or adults. There are far too many examples of this to name here, so I won't. What I will say is that King Arthur: Legend of the Sword and Snatched both come out this weekend. Old people love classic stories like the tale of King Arthur and women love comedies about… women. And what better weekend to release a female-centric movie than on Mother's Day weekend?

Holidays are the kinds of variables that make following box office stats so exciting and unpredictable. Will Amy Schumer continue to surprise us with another $100 million earner with Snatched? Will the directing talents of Guy Ritchie carry King Arthur past a $20 million debut? The former is more likely than the latter here but I have yet to see an analyst predict anything north of a $75 million total for Snatched. Basically, this weekend isn't expected to produce a massive hit, but I am always pleased when a movie surprises and makes MORE than expected. When you already aren't expecting much, earning LESS than expected gets everyone worried that theaters will be closing soon and we'll all be bowing down to Netflix while we stay locked away at home. I don't know about you but I will never be ready to remove theater-going from the equation. IMAX for life, bitches!

With Mother's Day right around the corner and Trump's disturbing victory in 2016, I think I'll give women the upper hand here and be the sole vote needed to give Snatched the win over which movie gets to have me detail five ways to prepare for it. Women rule and guys drool! So, without further ado, here are five ways to prepare for an estrogen- filled weekend at the cinema.

1) Trainwreck (2015)

A few days ago I told my coworker I was seeing Snatched this weekend. He asked, "What's that?" I snickered and said it was the new Amy Schumer movie. He asked, "Who's that?" I lost my shit and made fun of him for clearly not owning a television. He said he only really watches Netflix and they don't have commercials. There you have it, folks, Netflix is ruining cinema for everyone.

Schumer was a contestant on some comedy competition once upon a time. Then she became a comedian famous for being foul-mouthed with jokes about being a drunken slut. That is my kind of humor, so I started to take notice. Then she had a hilarious show on Comedy Central called "Inside Amy Schumer." Get it? "Inside" like inside her vagina, not just her psyche. Then she found a way to still shock us by busting a huge nut on Hollywood with her debut film, Trainwreck. It opened to $30 million and finished with over $110 million. These are great numbers for an R-rated comedy, especially one geared towards women. Lower expectations, higher reward!

Trainwreck is about a drunken slut who falls in love, exactly what you'd expect from Amy Schumer. However, it's directed by comedy legend Judd Apatow (The 40-Year-Old Virgin in 2005 and Knocked Up in 2007) who gave the film a hint of the drama-comedy tone. So, basically, you feel bad for this drunken slut. As a former drunk ho myself, I already had sympathy for this character, but together this actor/director combo bring plenty of smiles and sadness to this amazing first effort from the true talent that is Schumer. There is no better movie to prepare you for Snatched since it was the first test of Schumer's appeal as a lead actress. Now let's see if she can continue that hot streak.

2) The First Wives Club (1996)

Snatched is about a mother and daughter who go on a trip and get snatched up. Snatch is also another way of saying vagina, which is why Snatched is such an obvious yet clever way of titling a tale about a drunken slut (Schumer) and her mom (Goldie Hawn) that get kidnapped while in a foreign country on vacation. Hawn, a comedy icon herself, hasn't appeared in a movie in 15 years (2002's The Banger Sisters). This is a welcome return for this ageless beauty (with the help of a few surgical procedures) and is a perfect casting match with Schumer.

First Wives Club is about three lifelong friends who all have their husbands leave them for younger snatch… I mean women. They form a club, get revenge on their men and celebrate the bond of sisterhood. Of all the Goldie Hawn movies I could pick, I chose First Wives Club because she portrays an actress in her 50s (I mean, late 40s) who refuses to accept her age and gets mad when she is asked to star in a play as the mother, not the younger lead. In 2017, Hawn is now 71 years old pretending to be in her 50s as the mother of Schumer in Snatched. It's wrong what men have done to women in Hollywood, but at least these two talented actresses are given a shot to star in a movie about women without the help of men. Unless, of course, you count the director…

3) Warm Bodies (2013)

Even though there are more female-centric movies than there used to be and women are starting to get more comparable pay to men, you still don't see many movies directed by women, unless it's a comic book movie studio that's been criticized for not featuring more women. DC Comics will have a woman direct the female-led Wonder Woman movie this June and Marvel (ya big dummies) hired both a man and a woman combo pack to direct the female-led Captain Marvel due in 2019, but Snatched is directed by a man. It's written by a woman and stars A-list ladies, but this is Hollywood and by golly we can't trust the sensibilities and spending habits of a woman with action, comedy or a big budget. Ugh, Hollywood, if I didn't love sleeping with men so much, I'd hate you all.

Snatched is directed by Jonathan Levine, who received a bit of acclaim for 2008's The Wackness and 2011's 50/50. However, it was not until the 2013 release of Warm Bodies that I came to understand this man's talent. It's a mother f-ing zombie comedy romance. It also introduces new concepts to the mythology of zombies never before seen on film, like the idea that eating human brains gives zombies the ability to see that person's memories, or the idea that zombies can be cured with love and not an anti-virus. My mind was blown. I love zombie movies and Warm Bodies revolutionizes that genre. If I were going to trust a man with my movie about women, Jonathan Levine might just be that guy.

4) Taken (2009)

Does anyone else remember January 2009? January is a month for studios to dump their crap after the holiday Christmas season gobbles up all the money. Rarely do we see big movies released during this month, and barely any make more than $100 million. Not in 2009! Clint Eastwood surprised everyone on January 9th when Gran Torino expanded from limited release, opening to $29.5 million and ending up with $148 million. Then, on January 16th, Kevin James somehow led his movie, Paul Blart: Mall Cop, to a $32 million debut that ended with $146 million. Then, on January 30th, we got Taken, starring Liam Neeson, which shocked when it opened with $25 million and ended with $145 million. We never get $100 million earners in January and we got three in 2009, but what was the chance they would all end up within $3 million of each other after all showing incredible legs? It was a great time to be a movie lover. Lower expectation = higher rewards. If January 2009 can do it, why can't the second weekend of May 2017 and Snatched surprise with a huge debut?

Taken makes for a good recommendation before Snatched because it's different kind of story about a girl getting kidnapped in a foreign country. The abduction of a young woman, as hilaaaaaaarious as Schumer plans to make that concept, is usually a bad thing. In fact, Liam Neeson's daughter in the movie is taken with the plan to get her addicted to heroin so she becomes dependent on the drug which would make it easier for her to comply when being forced into sex trafficking. Yeah, abducting women isn't funny, but if your dad is Liam Neeson, then maybe there's an action movie about your father kicking ass trying to rescue you. And if it's the first Taken movie and not either of the sequels, then it's a pretty damn good movie about a woman needing the help of a man… I mean, a father saving his daughter. Ugh, Hollywood, you're so sexist.

5) Black Snake Moan (2007)

So with Taken, my aim was to show the dark side of abduction. Basically, you should prepare for the comedy version of this in Snatched by showing the dark side, so that the polar opposite nature of these comparisons might actually make Snatched even funnier. Or it could backfire. I don't know for sure. But in that same vein, here is yet another take on being abducted. In Black Snake Moan, Christina Ricci stars as a young woman with an insatiable need for wiener. She's not the fun kind of town tramp like Samantha in Sex and the City, where she's having sex for pleasure. Ricci plays a whore who needs to have sex because of sexual abuse as a child because, well, women shouldn't want to have sex for fun. There needs to be a reason. Men can want to have sex because their dong is clearly a gift from God and everyone should share that gift. Women can only want to have sex because they're broken. Otherwise, it had better be for a baby. Sexist, right?

Anyway, Ricci is engaged and her man goes off to the military, so now she needs to have sex with everyone in town to fill her… needs. Yeah, her needs. She says no to her fiancé's friend, and he gets mad and beats the hell out of her, leaving her for dead on the side of the road. Samuel L. Jackson finds her, decides to save her from herself, and chains her to his couch so she can't run off and get plowed out by the nearest dude. It's dark, I know, but it's actually a decent movie. And since I'm a pervert, any movie about anyone getting banged by lots of men for any reason is a watchable movie to me. Maybe because I'm engaged now and I'm chained to my own metaphorical couch with one wiener forever.

Seeing as how Hollywood hates women and wants to confine them to a kitchen, I can imagine some men in Hollywood wanting to slow down Amy Schumer's vagina and world domination in comedy. Chaining her to a couch might be just the way to do that. Or maybe it's just a good way to make a half-decent movie, one that can prepare you for the comedic shenanigans of women getting kidnapped on vacation. At best, it's an interesting way to prep for Snatched. At worst, it's a reminder of why women should spend more money at the movies so women can get more jobs as directors so that women can star in more movies about women doing whatever the hell they want. Not movies about women being chained to stop them from having sex for stupid reasons. Down with Trump! Down with sexism! Down with all forms of inequality!!!

And with that, my friends, you have your five ways to prep for Snatched. Follow me on Instagram (RoseByAnyName) for article updates and fun pictures of me being a super nerd at the movies. Also check back next week to see how to prepare you for Alien: Covenant. Have a happy Mother's Day weekend, everyone!