Weekend Wrap-Up
Guardians 2 Opens Summer With a Bang
By John Hamann
May 7, 2017
BoxOfficeProphets.com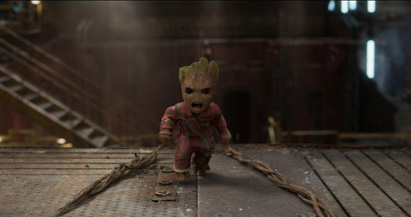 ---
Boom! There it is! Baby Groot and friends light up the box office to $145 million, as Guardians of the Galaxy Volume 2 accepts the box office blockbuster baton from The Fate of the Furious.

A history lesson: Guardians of the Galaxy, a smaller Marvel property that added a Star Wars like-quality took a group of lesser-known actors, added a terrific script and a new wunderkind director in James Gunn, and literally blew up the box office despite the lack of a built-in audience or true superhero character. Box office analysts pegged it for a $60 million opening when summer 2014 began, but after a killer marketing campaign, it did $11 million during its Thursday preview and had a blastoff opening day of $37.8 million. For an original property, that's a great score, similar to other originals like The Secret Life of Pets ($38.5 million) or the first Twilight ($3 6million). The original was off to an electric start, and built on it on Saturday, earning $31 million, and had a great Sunday ($25.5 million ). That led to a killer $94.3 million opening frame, and at the time, was the best August opening ever.

Two years have passed since, but the fanbase passion for the Guardians has not subsided. The Numbers reports that the original Guardians earned another $130 million through home video (I don't believe streaming is included in that), which seems to be pretty darned good against a fellow superhero flick like Batman v Superman, which has earned $73.7 million on home video. Build up for the release of Guardians of the Galaxy Vol. 2 (from here on known as Guardians 2) was epic going on for more than a year (one might think the Disney was trying to show women they were great lovers by all the foreplay), but it didn't feel like they had showed too much of their hand in TV ads and through trailers, so the want-to-see was still quite high for Guardians 2 heading into its massive release, which was 4,237 venues, making this blockbuster the 10th widest opening ever. If you've got $200 million on the line (in only production costs), I guess you have to go for it.

The wide release, marketing and critical and audience reaction worked, as Disney kicked it off by turning the original's $11 million preview gross into $17 million for the sequel. Giving this great start, one could imagine Disney and Marvel counting their chickens before they hatched a little, but everyone knew the original's opening weekend of $94.3 million was going down. Had the opening come in at less than $100 million, firings would have taken place at the studio. Most thought the opening day was not going to compete with Iron Man 3 ($68.9 million) but it was looking to beat Iron Man 2, which earned $51.2 million on opening day.

Additionally, there would be major pain if Guardians 2 did not beat The Fate of the Furious's opening day of $45.7 million as Disney would end up with major egg on its face for not beating the blockbuster Universal release. All things worked out, as Guardians 2 finished opening day with a strong but not out-of-this-world $56.3 million. It was enough to squeak by Iron Man 2, but now $150 million was likely out of reach for the weekend, unless the Saturday and Sunday broke records - because of the $17 million earned on Thursday. The number on the page makes it look like Guardians 2 could easily do $150 million, because anything over $50 million times three equals at least $150 million. That's not quite so easy when the "true Friday" figure is $34.2 million ($56.3 million - $17 million = True Friday). Guardians 2 was in absolutely no trouble, but if you had $150 million in the pool, your bet was looking like a loser.

One could argue that Guardians 2 is a "Saturday afternoon" movie. For me, that's a monster movie or a space opera type flick, usually one where you check your brain out for a Saturday afternoon and go to the movies. The original Guardians was one of those for me, and if you believed critics, we were getting the same product in different packaging this time around (I am NOT going to complain about that). There is not really a way to tell how matinees affect box office, but if the Saturday number is decent, then we can surmise something about the daytime screenings. The Saturday for Guardians 2 came in at $51.1 million, ahead of The Fate of the Furious ($31.5 million), behind Iron Man 3 ($62.3 million on Saturday), and close to Iron Man 2, which earned $45.8 million on its second day. It's also identical to the Saturday for the original Guardians, which was off a tiny 9% from the combined Thursday/Friday and easily beat the Friday score without the previews. This was the result Disney needed after a slightly softer than expected opening day. I think I can now argue that the Guardians franchise has two Saturday afternoon films as part of its canon.

The Sunday makes the opening, as Guardians 2 was off an impressive 26% from that massive Saturday. The Sunday is estimated at $37.7 million, which means that every day was significantly higher the original film. It also means the weekend comes in at a massive $145 million, a number everyone at Disney and Marvel will be thrilled with. No, it didn't make it to $150 million, but that was my number to shoot for. Tracking had it over $150 million, but Disney stuck to $140-$150 million, and they hit the high end. The opening makes it the 17th biggest of all time, just behind Furious 7's $147.2 million, and just ahead of Twilight: New Moon's $142.8 million (which is good, as Disney can overestimate without losing the ranking). It is the sixth biggest Marvel debut ever, finishing between Spider-Man 3 and Deadpool. Things are good again at Disney, as this will launch Guardians easily over the $300 million on the domestic side, and it should easily beat the original's $333 million haul.

How did they do it? It is often the same answer in the Marvel Universe. The filmmakers made a great movie, and then the Marvel people handed it off to the Disney Marketing Machine. Voila! You have the 17th biggest opener of all time. Yes, that formula worked again, and is a formula that the DC/WB combo have yet to figure out. Guardians Vol 2 is 82% fresh at Rotten Tomatoes, with the more uptight "top critics" coming in at 70%. While I used to argue about the Cinemascore data, I think on a movie like this, it is the strongest public data point we have. The Cinemascore for Guardians Vol.2 is the same as Guardians Vol 1, coming in at an A.

Now, before everyone gets excited and says that Vol 2 is going to make $500 million plus domestic because of the legs of the first film (it had a 3.5 opening-to-total multiplier), please remember the release date difference. People get so excited about the legs of Guardians and Suicide Squad, but both opened on that date in August where your film is the last of the blockbusters and can play through August without being roughed up too much. The Guardians sequel will have to play the blockbuster dance throughout May and June, facing off with the likes of King Arthur, Alien Covenant, Pirates of the Caribbean and Baywatch (and yes, only the Alien film is circled on my schedule), but compared to the original, whose only competition was Teenage Mutant Ninja Turtles and Let's Be Cops, this timing is a little different.

That puts The Fate of the Furious down to second for the first time since it opened way back on April 14th. After three weekends as the top dog, it get crushed this weekend, losing a remarkable 57% and earning only $8.5 million. It wasn't all just Guardians showing up, either. The Universal release also lost 482 venues this weekend, moving down to 3,595 but consider that it was on 4,000 plus for three weekends).There is never real bad news for this release - consider that it crossed the $200 million domestic mark on Friday night, its 22nd day - consider that The Jungle Book, Captain America and Furious 7 are the only April releases to do it that fast. Furious 8 now has a running total of $207.1 million and will be the third biggest Fast and Furious release in the next couple of days. Overseas data has Fate at $951 million, putting the global total at a crazy $1.16 billion.

That puts The Boss Baby in third place. The DreamWorks hanger on earned another $6.2 million, and was off 34% compared to last weekend, decent because of the monstrous bite that Guardians 2 took out of the box office, as this is our first piece of evidence that Guardians didn't play extremely young. The Boss Baby, with its $125 million budget, has now earned $156.7 million on the domestic side and another $278 million on the foreign side, for a global total of $435 million. They have to be thrilled after likely losing money theatrically on Trolls and Home.

How To Be A Latin Lover, as expected, dies a little at the box office this weekend, finishing fourth. Films like this often have a pent up desire to see them from their core audience, and then little chance of breaking out into the wider audience over their follow up weekends. So, after debuting to $12.3 million last weekend, it fell 57% to only $5.3 million this weekend. The New York Times says this one cost $10 million, so with a gross to date of $20.7 million, and no data on grosses away from home yet, we already know this is going to be a winner for Pantelion and LionsGate.

Beauty and the Beast finally separates from The Boss Baby (estimates last weekend had them together, but then The Circle was reduced down, separating the two for the first time). Beauty earned another $4.9 million in its eighth weekend and now has a running total of $487.6 million on the domestic side. It lost 28% of its audience this weekend, again showing that movies for the very young weren't affected by Guardians, and I will soon show you that it didn't affect movies for the very old as well. The domestic total now sits at eighth on the domestic all-time list, and it is joined by an foreign take just short of $700 million.

The ugly release The Circle, with that terrible D+ Cinemascore, finishes sixth this weekend as it earns $4 million and drops 56%, which is not enough considering Guardians broke out. The total for this one has now hit $15.7 million, and has yet to ugly up overseas cinemas yet. Baahubali 2: The Conclusion drops to seventh this weekend, but is still a massive hit nonetheless. It drops 69% this weekend to $3.2 million, but I can't remember the last time an Indian film hit the top ten and was still there the following weekend. The total now for this world dominator has hit $16.2 million, with the foreign total well beyond $50 million, with almost that amount coming from India itself.

Baahubali 2: The Conclusion drops to 7th this weekend, but is still a massive hit nonetheless. It drops 69% this weekend to $3.2 million, but I can't remember the last time and Indian film hit the top ten and was still there the following weekend. The total now for this world dominator has hit $16.2 million, with the foreign total well beyond $50 million, with almost that amount coming from India itself.

Gifted is eighth. The Fox Searchlight release is up one spot from last week as it wasn't pummeled by Guardians 2 (see the old/young rule - this one must play older). Gifted earned another $2.1 million this weekend, dropping 39%. It has a total now of $19.2 million, against a budget of $7 million. Folks, that means we have an arthouse film that makes a profit.

Ninth is Going in Style, which breaks our old/young rule in terms of holds. It fell 47% this weekend after dropping only 27% last weekend. The seniors robbing banks film now has a domestic total of $40 million and an overseas total of $30 million against a $25 million budget ñ now who is robbing who?

Tenth over this blockbuster weekend is Smurfs: The Lost Village, but thankfully, it didn't hold (the rules must not like the Smurfs either). Smurfs earned only $1.8 million this weekend and dropped 49% versus last weekend. That puts the domestic total at $40.6 million, but the foreign box office is up over $170 million, so this one is going to make a theatrical profit against a $60 million budget.

Overall this weekend, the top 12 films - thanks entirely to Guardians 2 - earned $185.2 million this weekend. While good, this weekend has earned $200 million plus ($226 million in 2015 is the low point), so the box office has to make up for a loss instead of what should have been an easy win - but you have to blame the holdovers. Next weekend is going to be tough as well. King Arthur, with its either desperate marketing or "people are going to miss out on a good one" kind of feel, opens next weekend. It is directed by Guy Ritchie but cost a ridiculous $102 million to make. Also opening is Amy Schumer's follow up to Trainwreck, called Snatched, which co-stars Goldie Hawn. This one feels like that comedy with Reese Witherspoon and Sofia Vergara... What was that called again? I hope not, cause I love you, Ames. But it's the same thing, I bet.