5 Ways to Prep: Guardians of the Galaxy Vol. 2
By George Rose
May 3, 2017
BoxOfficeProphets.com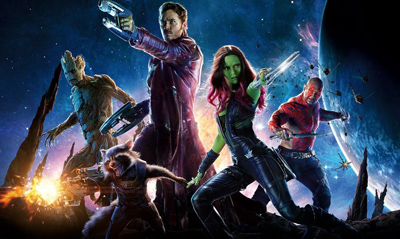 ---
SUMMER IS FINALLY HERE! Well, not technically but it is for the box office and that's all that matters in my world. Marvel is back at it again, kicking things off with its latest superhero blockbuster as it has done for the last decade. They have dominated this first weekend of May and released several titles that have gone on to claim the biggest opening weekend record. Guardians of the Galaxy Vol. 2 isn't expected to do that this weekend but it has a chance at entering the top ten list if it can top $160 million. That is certainly possible.

Starting now and going until at least early August, we have a possible power house coming to theaters every week. This doesn't just excite me because I like going to the movies. Oh no, my love for film is waaaaay deeper than that. This even goes further than enjoying all the behind the scenes drama and celebrity gossip, of which I am also a fiending junkie. No no no, this is about the numbers, folks. Box office profits (see what I did there?).

The way some dudes talk about sports stats, that's how I follow movies. It baffles me when people have no idea what is being released this week or was the top grosser of the week prior. Don't people watch TV? Someone will say, "Oh, I didn't know that came out," and I'll be like "WHAT ARE YOU TALKING ABOUT? Guardians of the Galaxy Vol. 2 is days away and should earn more than $150 million but might earn less if all the Mexicans and Indians are at the second weekend showings of How to be a Latin Lover or Baahubali 2 which opened big in limited release last weekend…" Then they interrupt me saying, "Ummm I don't know what you're saying but I did hear something about that superhero one." And then I tell them to go have sex with a minority and educate themselves.

Numbers, people. It's about the numbers, how the past helps predict it and what that means for future releases. Beauty and the Beast is closing in on $500 million domestically, supposedly proving Emma Watson is one of the biggest stars in the world and yet The Cirlce just opened last weekend and couldn't even muster a $10 million weekend. That says something, but since nobody saw The Circle nobody is talking about it at the water cooler, only on box office websites, so nobody is saying Emma Watson isn't the bullet proof wizard we all thought she was. Instead, she rolls on as everyone's new favorite Disney princess but that shouldn't be the case. CHINK IN THE ARMOR, I say.
What the past does tell us and has consistently proved over time is that we are in for some big numbers this weekend. Marvel has no chinks in the armor. They don't even have blemishes, really. Not even me, as a Marvel super fanatic that has salivated with stupidity and joy at the last five NYC Comic Cons, knew what Guardians of the Galaxy was before its release in 2014. Somehow it opened to over $90 million and chugged along past $330 million, claiming the title of biggest summer blockbuster of that year. What?! How?! Because numbers and Marvel and movies and summer and OMG MAY IS FINALLY HERE!!!

The goodwill the first film left behind is astounding and should give a healthy boost to the sequel's earnings. But what could help you enjoy Vol. 2? If you're like me, you don't need help preparing for this movie; you've been going crazy for months already. If you're not like me, then maybe you need some suggestions for ways to prep. Without further adieu, here are five ways to get you ready for GOTG2 (Guardians of the Galaxy 2).

1) Guardians of the Galaxy (2014)

I bet you didn't see this recommendation coming. This will be my only Marvel recommendation, even though there are more than a dozen Marvel movies needed to fully understand their Cinematic Universe. Since GOTG is the most far removed from that universe, being set in a galaxy far, far away, you really could get away with not seeing any other Marvel movies. If you're one of the three people in the solar system that didn't see GOTG in theaters or on TV, now is your time to catch up and here is a quick, mostly spoiler-free recap of what you missed.
Peter Quill is an Earth-born boy whose mother is dying when he is taken by a space ship. Flash forward a bunch of time, he hits the puberty jackpot and becomes the delicious Chris Pratt… I mean, Star Lord, a pirate of the universe of sorts. On his travels searching for treasures, he finds a powerful Infinity Stone. The search for this stone brings together five strangers: Peter Quill, the human; Gamora (Zoe Saldana), a green girl with ties to Marvel's biggest bad guy, Thanos; Drax (Dave Boutista), a strong gray guy with cool red tattoos and the inability to understand sarcasm; Rocket (voiced by Bradley Cooper), a raccoon that can talk; and Groot (voiced by Vin Diesel, a giant waste of money considering he says three words that are altered with audio effects), a talking tree with some cool powers. Together, they must guard the galaxy from this stone and those that want to abuse it.

Strangers in space is nothing new but it was a huge departure for Marvel, both in intergalactic setting and humorous tone. The visual effects are amazing and director James Gunn knocked it out of the park with GOTG's visual extravaganza, reminding everyone why Marvel is not one to underestimate or one to accuse of not taking chances. Because of the unexpected success here, we will get to see a lot more risks taken in the Marvel Universe moving forward. Watching GOTG isn't just a great way to prep for the sequel; it's hands down just a great time watching a movie, superhero or not.

2) Suicide Squad (2016)

Ugh, DC Comics. Before Marvel ruled the galaxy for most of the new millennium, DC Comics was the only ones who could get comic book movies right with both Superman and Batman leading the charge from the late 1970's to the mid 1990's. Then Marvel took over, DC stumbled around retooling their Superman franchise, Marvel EXPLODED with the Avengers team-up, and then DC rushed their Justice League plans and we got a few crappy movies. Enter Suicide Squad, their DC villain team-up movie that was supposed to bring DC back to glory but ultimately fell flat. If it wasn't for my ultimate lady comic book crush, Harley Quinn (The Joker's nasty little lover), I might have gone evil myself and sued DC for the emotional damage caused by disappointment.

I recommend this movie because… 1) You should always check out the competition. There are so many good Marvel movies that watching them might actually dampen your GOTG2 experience because of high expectations. However, watching any modern day DC movie will surely make you appreciate what Marvel has actually accomplished with their cinematic universe… and, 2) it's always fun to point and laugh at the loser. Everyone drop what you're doing and go see the best DC has to offer these days… Did you see it yet?... Ok, now point and laugh. Ha ha, DC. You're just like most of those dudes I slept with in my 20's; you're not as good as I hoped you'd be, I've definitely still watched worse than you, I'll watch you again a few times just to make sure you're not as good as I remember when I'm bored and lonely, but eventually I'll realize you kind of suck and that makes me really happy I found true love with Marvel and am now engaged.

3) Star Trek: Into Darkness (2013)

We did the Marvel movie and we did the competition. Into Darkness, the sequel to the Star Trek reboot, checks the box for most comparable movie from the same space-action genre. I never saw any of the early Trek movies or TV shows (I assumed you could only like that OR Star Wars, and my dad raised me as a Star Wars baby) but being a teenager in the early 2000's primed me for my JJ Abrams obsession. I was going to recommend a Star Wars movie (the most recent of which was also directed by Abrams) but those are about a specific family, not a merry band of misfit strangers. When I was doing research for this article, I remembered Into Darkness is the great sequel to a great reboot, is directed by one of my nerd gods, and also stars GOTG alum Zoe Saldana. Three birds with one stone!

Where Into Darkness and GOTG2 are similar, aside from the misfit strangers in space thing, is they are both sequels to surprise success stories that were well reviewed (Trek is 95% and GOTG is 91% on Rotten Tomatoes); both are a tad less positively reviewed than the first (Trek2 was 86% and GOTG2 is 85% at the time of writing) but still strong enough to get excited over; and both promoted a new character as a big selling point (we all knew Khan was part of Trek2 and everyone is freaking out about Kurt Russell playing Chris Pratt's "living planet" father in GOTG2). Where they differ is that Trek2 made less domestically than the first and there is literally 0% chance that happens here with GOTG2. Trek2 is not just a recommendation for a comparable film or just a generally great movie to watch, but also serves as a cautionary tale to Marvel about how even great starter films with great follow ups can still somehow underwhelm.

4) Stargate (1994)

So why does anyone care that Kurt Russell is in GOTG2? Well, somehow the studio had to figure out how to make Peter Quill's "living planet" father into a character fit for film which is a very intriguing concept. Also, Kurt Russell is a great actor with film credits going as far back as the 1960's. He is well known for comedy (I loooooved Overboard) and action (Escape from New York and Big Trouble in Little China), which makes him a perfect fit for the father of the newly minted king of action/comedy, Chris Pratt. This is a master stroke of casting and is being heavily publicized for a reason.

When I was nine years old in 1994 and Stargate came out, I was just the right kind of young and easily impressed that made the movie enjoyable. I haven't seen the movie in more than fifteen years so I can't speak for my adult opinion here, but I have fond memories of watching it with my dad. To quickly recap the movie, it's about the discovery of a teleportation device which leads to a distant planet that looks like a futuristic ancient Egypt. It's crazy, I know, and probably much worse than I remember but it's directed by summer blockbuster extraordinaire, Roland Emmerich (Independence Day, Godzilla, The Day After Tomorrow, 2012… the list goes on). Most of his movies aren't that well reviewed but people eat them up so how bad can Stargate? Listen, it's Kurt Russell; it's Roland Emmerich; it's a sci-fi movie. You know it's watchable.

5) Passengers (2016)

Speaking of action/comedy superstars in a non-Marvel sci-fi film, we have Chris Pratt in Passengers. Like Stargate, it is by no means a comedy and by no means the biggest hit of the star's career. I don't understand how this movie didn't make more money, given Chris Pratt and Jennifer Lawrence's involvement, but it's likely because of over-saturation of the space genre since Rogue One: A Star Wars Story made a mint during the same month of release. Its reviews were pretty bad as a result of some shanty scrip work and Stockholm Syndrome themes, but even still the movie is much better than the bad rep it received. Sure, when Pratt's character wakes up alone on a spaceship with ninety years to go, he probably shouldn't have woken up a fellow passenger so he could get his rocks off. That was a bad move but it is not an outright disaster of a movie.

When a movie is bad, it makes most of its money in the first week and then word gets out so it tanks after the fact (see Suicide Squad's $134 million debut, $325 million finish and 2.42 multiplier). Passengers debuted to a shockingly soft $15 million but finished with $100 million, leading to a 6.7 multiplier that proves both the power of the Christmas season on multipliers and that the few that did see it spread some decent word-of-mouth. However, what I love most about this movie is the behind-the-scenes story. Lawrence's $20 million payday over Pratt's $12 million earnings was the direct result of the Sony hacking that brought Hollywood's unfair gender pay structure to the forefront and unleashed the fury of Lawrence's A-list status.

It's also proof that studios don't just care about profits, they care about NUMBERS! It took four weeks for the movie to get to $90 million in earnings and ten weeks to get to $99 million but, by golly, the studio needed at least $100 million to save face and I'm sure both celebrities preferred that number for their resumes. After thirteen freaking weeks the movie was at $99.5 million and went from 90 screens to 506, one last ditch effort to get that paper. On week sixteen, it finally hit the mark and exited theaters the following week. I watched EVERY WEEK as the movie fell down the box office ranks, knowing full well the studio wouldn't give up on this movie. And, for many reasons not advertised by trash talking critics, you shouldn't give up on this movie either. It's got great effects, charismatic stars, some moral dilemmas worth discussing and isn't nearly as bad as Suicide Squad.

And with that, my friends, you are ready for GOTG2. Check back next week when box office numbers come back down to earth with much smaller debuts and see if I chose the new King Arthur movie or Snatched as my pick of the week. You can also check me out on Instagram (RoseByAnyName) for article updates and pictures of me geeking out at the movies. Until then, have fun at GOTG2! I know I will.