Weekend Wrap-Up
Fate Wins by Default as Guardians Assemble
By John Hamann
April 30, 2017
BoxOfficeProphets.com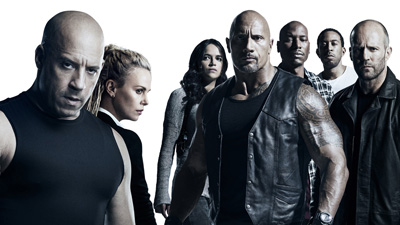 ---
Who is the winner at the box office this weekend? Guardians of the Galaxy Vol. 2, and it doesn't open domestically until next weekend.

Universal could not have picked a better weekend to release The Fate of the Furious. It has been in release for 17 days, and in terms of weekend box office, nothing has even approached it. Until Friday – when it smashed into Baahubali 2: The Conclusion, an Indian film that had an opening day only $250K back from the Furious blockbuster. However, fellow opener How to be a Latin Lover from Pantelion moved up, as did the Tom Hanks, Emma Watson thriller The Circle, but that one is DOA - due to one of the worst Cinemascores in recent memory. There is little good news at the box office this weekend, so if you listen really close, that sound you hear is the Guardians preparing for utter domination next weekend, as Marvel will likely have a fifth film join the top 15 openers of all time.

The first five Fast and Furious Films never repeated at number one, they were always one and done openers (except for Tokyo Drift which didn't even make it to number one). Fast & Furious 6 was the first to see two consecutive number ones, but only because Will and Jaden Smith's After Earth flopped, and the first Now You See Me film over-performed, barely leaving Furious 6 on top. Furious 6 opened in May over Memorial Day Weekend, leaving it to get pounded by other blockbusters. Like Fate, Furious 7 opened on Easter weekend, and carried the ball for four consecutive weekends, before Marvel's Age of Ultron showed up a month after its open and debuted to $191.3 million. Is this sounding familiar to anyone, with another Marvel film waiting in the wings, and Furious 8 stringing together number one weekends?

This weekend, The Fate of the Furious earned $5.1 million on Friday night, but was still off a hefty 54% from the Friday previous, due to the powerful opening days of the Indian film Baahubali 2 and the Mexican film How To Be A Latin Lover. Another anchor was the $173 million Furious 8 had already earned prior to the weekend, and a loss of 252 venues, and the Friday drop seems rather reasonable. For the weekend, Furious 8 earned $19.39 million, off 50% when comparing weekends. Furious 6, which had been the best comparison for Furious 8, dropped 44% in weekend 3, and carried its domestic total beyond the $200 million mark. Furious 7, which had a much higher opening weekend and gross-to-date than Furious 8 - but a similar release date, fell 51% in weekend 3. So, compared to other Furious films, The Fate of the Furious seems to be dropping off quicker than some of the other films in the series, but still has an impressive domestic take so far of $192.72 million, and should finish near the $238.7 million that Furious 6 finished with.

The big accomplishment this weekend for The Fate of the Furious comes with the worldwide gross, as it crossed the $1 billion mark globally. Furious 8 had some competition in many overseas markets from a little film called Guardians of the Galaxy Vol. 2 which got a head start in some markets due to holidays. Still, Fate of the Furious's international total now stands at $867.6 million. Guardians 2 picked up $101.2 million million from a handful of markets, and will go much wider next weekend, joining the domestic open. Domestically, some analysts are looking for a Guardians open as high as $150 million, with the overseas forecast to be in the $100 million ballpark. This is going to be a case of the billion dollar earner Fate of the Furious passing the baton off to the sure-thing billion dollar earner in Guardians Vol. 2. With Furious 8, it will be interesting to see if it can match the $1.5 billion earned worldwide by Furious 7, considering it will come up $100 million short on the domestic side.

Finishing a stronger than expected second is Panelion's How To Be A Latin Lover, which was looking for a result similar to the studio's Instructions Not Included, which exploded at the domestic box office, opening to $7.8 million from only 346 screens – leading to $44.5 million domestic and another $54.6 million away from the US and Canada, leaving it with a $99 million worldwide gross. The key was that Instructions Not Included had a $5 million budget, which means the small studio offshoot could fund another five films off the profit of one. Lionsgate and Pantelion would be looking for a similar open for Latin Lover this weekend, and it surpassed it easily, handily beating estimates and earning $12.02 million (which includes the $450,000 from Thursday previews). This time around the venue count was much larger at 1,118, and while budget data isn't available, this one carries a cast that includes Salma Hayek, Rob Lowe and Kristen Bell, so cost may have doubled.

For How To Be A Latin Lover, I think it's safe to say reviews can be thrown out. RottenTomatoes only has 14 reviews counted, 7 to the good and 7 to the not so good, which is similar to Instructions Not Included, which has a 55% rating from only 20 reviews. Latin Lover earned an A Cinemascore which will help its legs and put it on the same path as its leggy predecessor. Instructions earned an open to total multiplier of 5.7, although it did expand from its initial 348 screens to a wider pattern of 978 screens at one point in its run. Instructions Not Included actually added to its total in weekend two, a luxury Latin Lover will likely not have on the domestic side, as Guardians is gobble up 4,200 venues. The key for Latin Lover will be the gross away from North America, as it looks to beat the $55 million earned by Instructions Not Included.

The second big surprise of the weekend sees the Indian film, Baahubali 2: The Conclusion, into third after having that stunning Friday. As indicated above, the Baahubali sequel picked up an astonishing $4.75 million on Friday night, however $2.5 million of that was from the Thursday preview. That takes the punch out of the overall weekend number, as it means that the sequel earned more from the preview than it did the Friday and would likely be frontloaded. Baahubali 2: The Conclusion earned $10.14 million over the weekend proper, and did it from only 445 venues – giving it a very strong venue average of $23,854. The original perished domestically after the opening frame, earning only $6.7 million after the $3.6 million open.

Tom Hanks and Emma Watson limp into fourth with The Circle, whose gross is really disappointing. After a fourth place Friday at $3.2 million, The Circle finished the weekend with only $9.32 million, low considering Watson's current role in Beauty and the Beast, and the Hanks renaissance in films like Sully, Captain Phillips and Bridge of Spies. The Circle got hammered by critics, earning an ugly 17% fresh rating at RottenTomatoes, which was followed by the death blow – a D+ Cinemascore – so rare that you barely see that score handed out. The good thing is that the budget here is somehow only $18 million, so there shouldn't be too much pain at the end of the day - the only pain will be for those who see it.

The Boss Baby slips to fifth but holds decently. The DreamWorks release earned $9.05 million in its 5th weekend, and drops a respectable 29%. The domestic total has hit $148.47 million, and the international haul reaches $248.16 million this weekend. It cost $125 million to make, so is reaching the point where producer DreamWorks and distributor Fox will get to celebrate a financially successful picture.

Beauty and the Beast drops into sixth. This weekend, its 7th, the Disney release earned another $6.4 million, falling 34%. Everything now is gravy for Disney , as Beauty has earned $480.1 million on the domestic side, and had a stunning $630 million gross overseas before the weekend began, for a combined total well beyond $1.1 billion, moving it further and further up the all time worldwide biggest grossers list, pulling ahead of Skyfall (15th all time) and Lord of the Rings: Return of the King (14th).

Seventh is Going In Stle, as the senior citizen heist film starts to make its way toward the exit. Style earned another $3.58 million and drops 27% compared to last weekend. The New Line release has earned $37.32 million stateside against a budget of only $25 million, but has an additional $20 million from overseas theatres.

Eight is The Smurfs: The Lost Village (which we are thankfully almost done with), and it earns $3.32 million this weekend, dropping 32% compared to the last frame. The $60 million film has earned $37.32 million stateside, but before Mom and Dad cheer about the death of this franchise, remember that overseas has pulled in more than $100 million, which will help with the $60 million budget.

Coming in at ninth is Gifted, the Fox Searchlight flick about a genius child. After a $4.55 million gross last weekend, Fox Searchlight added another couple of hundred screens, but the film still fell 28% compared to last weekend, earning $3.3 million. Gifted was made for only $7 million, so a gross so far of $15.83 million is looking pretty good, in a market where many films like this simply come to die.

That means in tenth is Unforgettable, the movie audeniences love to hate, whether they've seen Katherine Heigl's latest project or not. The Warner Bros. film limps out of the weekend adding only $2.35 million to its take, which now stands at an anemic $8.89 million.

Overall this weekend, the top 12 films at the box office earned $82.83 million, as the box office took another weekend off in anticipation of the Guardians of the Galaxy sequel. Last year over the same weekend, the top 12 earned $99 million, as Keanu and Mother's Day both opened softly, and the 3rd weekend of The Jungle Book which earned $43.7 million. Next weekend, I think we all know what's coming, and if you're like me, can't wait for this losing streak to end.