5 Ways to Prep: How to Be a Latin Lover
By George Rose
April 27, 2017
BoxOfficeProphets.com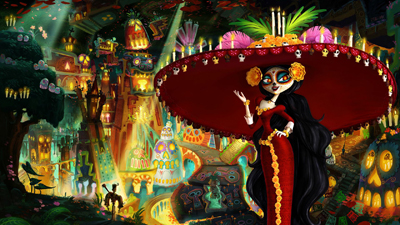 ---
Uuugggghhhh, is the summer box office season here yet? With Guardians of the Galaxy Vol. 2 still over a week away and the summer bonanza about to begin, we find ourselves in the Hollywood dumping ground that is the final weekend in April. May, you can't come soon enough.

This week I found myself stuck between the two releases. First we have The Circle starring Emma "I just made a billion dollars with Beauty and the Beast so I'm the biggest star in the world" Watson and Tom "I was the biggest star in the world over a decade ago before I got old" Hanks. So, yeah, that seems like a pretty good choice. I mean, two huge stars should be interesting to watch but then again we've already seen movies about what happens when one entity has control over all the information in the world.

That was interesting ten years ago when the internet was still developing and Eagle Eye (2008) came out and showed us how attaching artificial intelligence to such a knowledgeable databank can prove to be disastrous. In 2017, Emma Watson finds herself working for Tom Hanks' company, The Circle, and isn't happy that they have this level of access to information… or something. Um, do people still worry about that?

OBVIOUSLY there are companies and governments that have access to all our info (Facebook , the FBI, etc.) and OBVIOUSLY it's scary but don't we all sort of assume this is going on and no longer care? You'd basically have to be a drug addict, a pervert or a terrorist for this concept to be scary anymore. Everyone else has moved on and is pretty comfortable sending d!cK pics online to random strangers so I can't imagine boring you with already outdated movies that could compare to and prepare you for The Circle. All I can say is start watching anything/everything Emma Watson has ever starred in because she's my current lady crush.

So with The Circle proving too boring for me, I am left with How to Be a Latin Lover. Is there any chance you or I are going to see this in theaters? Probably not. But if you should know one thing about my "friendly" days before falling in love and getting engaged, it's that I once found myself crazy for Latino men. Spanish, Mexican, Puerto Rican… it didn't matter. Latino men have a special place in my heart and on the notches of my bedpost. Since you probably won't be seeing this movie, we can consider this article to have a secondary purpose; not only will it prepare you for Latin Lover (I'm already tired of writing the full title) but it could help provide you with something to talk about if you find yourself lucky enough to be in the arms of a Latin lover.

1) Fools Rush In (1997)

Latin Lover is about a slutty con artist named Maximo (Eugenio Derbez) that gets kicked to the curb by his older sugar mama. He must now go live with his sister, Sara (Salma Hayek), and her son while he plans his next con. Something tells me the power of family helps him clean up his act, which would be a shame because the world needs more Latinos running around trying to share their sexual powers. If you don't know what I'm talking about, stop reading this article and go have sex with the nearest Latino you find. You can thank me later.

What I have learned in researching this article is that, despite my love of dipping a burrito into my taco salad, is that I don't know much about Latin cinema. Sure, I have a large selection of DVDs in my collection about Chinese kung-fu masters and black comedians that jump brooms at their wedding, but I don't really have any that feature the Spanish language and or those that speak it. However, one movie I do have and remember fondly is Fools Rush In.

Salma Hayek stars in this feature as well about a young Mexican-American woman that has a one-night-stand with a white dude, disappears for three months and then shows up pregnant on his doorstep. They get married, their cultures clash, hilarity ensues and then their marriage starts to fall apart. It's actually quite funny, thanks in large part to Matthew Perry's turn as "WASPy white bachelor that can't handle responsibility." Since Latin Lover is about a Latino guy that takes advantage of old white women, it's bit of a gender/cultural reversal. However, Fools Rush In is a romantic and funny way to brace yourself if you've never been integrated enough in the world to have your own understanding of what happens when white people get a taste of the salsa flavored Cool Aid.

2) The Book of Life (2014)

The best way to brace yourself for a clash with another culture is to learn about that culture. Obviously, my advice for you learning about Latino's is not limited to bumping nasties with them. One of my favorite writer/producer/director's in Hollywood is actually Mexican and has a great filmography for helping you learn about said culture. Guillermo del Toro has directed some great action movies (Blade II, the Hellboy movies, Pacific Rim) and has been referred to as a "visionary" director. If you read my last article, you know I don't like the bad version of "visionary" that implies manipulating imagery to imply some secret hidden meaning that only the art house independent movie fan would like. Guillermo is the kind of "visionary" director that creates visual eye candy. He isn't hiding his meanings in the picture, he is blowing your mind with the picture!

If you've seen The Book of Life then you know what I'm talking about. Though only a producer, the movie has Guillermo written all over it. The movie doesn't use the traditional appearance of humans in this tale of a young man fighting his way out of the underworld to find his way back to his true love; he uses animated marionettes. It's a bit jarring at first but grows on you quickly as you realize the Mexican culture around their famous Day of the Dead explodes with vibrant colors and creative creatures. As a Greek man, I love mythology and the Gods and demons of the Mexican culture are as interesting as any of my own.

Most animated movies are targeted at children and are meant to humor you. For example, Toy Story is a classic but it doesn't teach you about any real culture while it entertains you. The Book of Life is a wildly entertaining movie from an incredible Mexican talent that also happens to teach you about the culture of our neighbors to the South. And if for some reason you're a racist or hater of children's movies then you're really missing out because The Book of Life is a lot of fun to watch, especially in 3D. It also stars three of the most famous actors working today; Diego Luna (Rogue One: A Star Wars Story), Zoe Saldana (Guardians of the Galaxy), and Channing Tatum (Magic Mike). If I still don't have you convinced, I might just have something else that will tickle your fiesta fancy…

3) Pan's Labyrinth (2006)

When I started preparing for this article and realized I hadn't seen many Mexican/Spanish movies, I Google-d "best Latin movies" and found several lists. On those lists, some as big as thirty, I only recognized maybe five and hadn't seen any. Some include Biutiful (2010) starring Javier Bardem, City of God (2002) starring nobody you know, and Pan's Labyrinth directed by my man Guillermo del Toro. What these movies have in common is that they were all awards contenders during their respective Oscar seasons, mostly in the foreign film categories. What I also learned is that, outside of the occasional Latin movie that gains Oscar attention, there isn't much that's comes from the South that has been mainstream enough to get my attention or that of the masses.

Now, I have built my entire love for Guillermo del Toro around the frenzy surrounding Pan's Labyrinth upon its release. It was so widely acclaimed and praised for its visual prowess that it was hard to ignore and yet I never saw it because I usually don't like reading subtitles. However, when it was released I learned that Guillermo was one to watch and since then I have followed his career and loved every second of it. That was, until this article. I finally decided to watch this movie and OH MY GOD IT'S AMAZING!

Pan's Labyrinth is set in post-Civil War Spain and is about a young girl named Ofelia. Her mother is pregnant with her army captain step-father's baby and she must survive this family dynamic as the military outpost they are staying at must survive the nearby rebellion. Normally I don't like movies about war but that's all going on in the background as Ofelia learns she is the long, lost spiritual daughter of the king of the underworld and she must battle through three trials before she can reclaim her throne. Given its modest budget, the production value and monster make-up effects are beyond top-notch, helping the movie win three Academy Awards (Cinematography, Art Direction and Makeup). It's a modern day Mexican-Spanish fairy tale, akin to Alice and Wonderland, and comes with the highest of recommendations from me. Seriously, it might be the best $3.99 I've spent on an OnDemand rental.

4) Instructions Not Included (2013)

I remember a few years back there was a hit Spanish movie that also had a yellow poster with red lettering. It took some Google searching but then I found it. Instructions Not Included was one of those rare foreign films that struck a chord with American audiences (or, rather, the Latin audience that lives in America) and made a pretty penny. I never saw the movie but when I looked it up on IMDB, I learned that the star of Latin Lover is also the star AND director of Instructions Not Included. This makes it a great recommendation for how to prepare for Latin Lover and a movie I wish I had more time to see before writing this article.


Instructions is about Valentin, a man who had a daughter left on his doorstep years ago only to raise her alone and have his world turned upside down when the birth mother resurfaces. While it has an interesting enough plot, it seems to have some of the same emotional beats as Latin Lover and had just enough white people in it to get some attention in America. It's crazy how the Hollywood system works but Americans suuuuure do love their white actors. The movie was a hit and, given the similarities in their posters, Latin Lover seems to be the direct result of that success. Same actor, comparable posters, some white people… basically, if you don't feel like paying to go to the theater you can watch this movie at home instead. Instructions got great reviews though so I do plan on renting it sometime in the near future.

5) Marry Me: Season One (2014-2015)

Speaking of white people, I was shocked to learn the ultimate white guy directed Latin Lover. It's kind of funny (yet predictable) when another culture has a surprise hit movie and white people everywhere want to jump on the bandwagon. Ken Marino is a guy you probably don't know by name but would recognize if you searched for him online. He's starred as "recognizable yet funny white guy" in movies like Role Models (2008) and We're the Millers (2013), and has only ever directed a handful of random TV show episodes. I guess after the surprising success of Instructions he decided to finally direct a movie and Latin Lover was the one he chose. He isn't the only one trying to tap into this Latin craze as, aside from the main character, the movie is littered with white faces that are famous enough to know but not famous enough to anchor their own white blockbuster (Rob Lowe, Kristen Bell and Michael Cera to name a few).

I'm not thrilled how Latin Lover seems to be another example of how white people take advantage of Mexican people (if you need examples, Google search "Trump" and "wall" and see what comes up) but I really do like Ken Marino and am interested in how his directorial debut goes. There aren't any reviews available yet, which is a bad sign, but Ken Marino is a proven comedic talent and the best example of that is his (failed) TV show Marry Me. Starring the equally funny Casey Wilson, the show was about a newly engaged couple and the hilarity that situation lends itself to. As a recently engaged person, I can attest that there is definite horror and humor to be found within being engaged and this TV gets everything right out of the latter. It broke my heart when the show was renewed but it remains one of the funniest first seasons of television I've seen in the last few years. If Ken has half the talent directing that he does making me laugh, Latin Lover could be a surprise comedy gem.

And with that, my friends, we come to the end of the article and the end of the Spring movie season. Next week kicks off Summer in a big way with Guardians of the Galaxy Vol. 2. For at least the next few months we have nothing but potential blockbusters which should give me plenty to work with. I'll see you again next week with a great big smile on my face.