Weekend Wrap-Up
Furious 8 Cleans Up Over Very Slow Weekend
By John Hamann
April 23, 2017
BoxOfficeProphets.com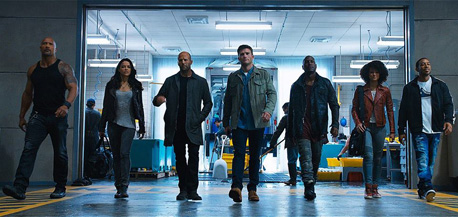 ---
Did anyone think the completely forgettable Unforgettable was going to take down The Fate of the Furious? If you did, go find another website. Now. I mean it.

This weekend's first place positioning of The Fate of the Furious was preordained long ago, despite five pieces of junk being hauled out of a large garbage truck and dumped into theaters. Actually, there were two well-made films in release this weekend, at least according to critics. Thumbs up were given to the latest Disneynature film, Born in China, and Brie Larson's latest Free Fire, which narrowly stayed fresh at Rotten Tomatoes. Another opener, The Promise, came in as Rotten, but the Cinemascore was an A-, showing that divide between audiences and critics. The other two openers, Unforgettable and Phoenix Forgotten, were negatively received by both audiences and critics. Lastly, The Lost City of Z expanded from four theaters last weekend to 614 this weekend, making for lots of activity - at least for the folks that book films into theaters.

Openers were ignored this weekend, so The Fate of the Furious had pretty much the entire playground to itself, considering the number two and three films had been out for four and six weekends respectively. One might think that with the rest of the darkness surrounding the box office, Furious 8 would perform admirably in its second weekend, but it had a rough one as well, but it got set up somewhat by opening on Easter weekend. The Friday-to-Friday drop for the eight-quel came in at a massive 76% drop compared to opening day and Thursday preview, earning $11.1 million on its second Friday. Furious 7 was off 72%, but was dealing with higher numbers. The better comparison is Furious 6, which fell 72% from first Friday to second, but opened on Memorial Day weekend in late May, which skewed the numbers. So all in all, Fate of the Furious saw a big drop, but it was in line with the previous films for the most part, at least on Friday.

Fate's Saturday number came in at $17.15 million, giving it a Saturday-to-Saturday drop of 46%, improving on the Friday. Furious 7 dropped a similar 45% but earned a much larger $25.5 million. The bigger the numbers, the tougher the hold, so while Furious 8 was keeping percentages similar, it was a loaded fight, just tougher to see the real battle. Furious 6 opened on May 24th 2013 - because of Memorial Day, more people had time for movies, so the follow-up weekend saw drastic drops. The Saturday-to-Saturday drop for the sixth film was an extreme 56%, as Furious 6 headed toward a 64% drop from weekend-to-weekend. That remains the worst of the series to date, as even Tokyo Drift was less at 59%.

In the end, Furious 8 fell a not too extreme 61%, the second highest of the series, but it also holds the second best opening frame. Furious 7 fell 59.5%, and as mentioned Furious 6 fell 64%, which remains the high point for the series. Furious 8 earned $38.7 million over three days, where Furious 6 picked up $35.2 million. Furious 7 remains the king of the second weekend, as it earned just short of $60 million over its second weekend. The domestic total has now reached a large $163.6 million since opening. Furious 7 had taken in a massive $251.5 million over the same amount of time, which is truly mind-boggling.

Speaking of mind-boggling, the foreign total for Furious 8 is out-of-hand large. This weekend alone, the overseas weekend pulled in $163.4 million, which is eerily close to the domestic total. That brings the international amount up to $744.8 million, and the worldwide take is pushed to a ridiculous $908.4 million. That puts Furious 8 at #43 on the all-time worldwide earners list, and the film has only been out for 10 days. If there was ever any concern about the $250 million production budget (and likely a similar number for marketing), Furious 8 is already easily profitable through its theatrical release. It's interesting now to hear about the different spinoffs and ideas to keep the series fresh as it pushes forward to close out the decade and then find some sort of rebirth, which is a smart move on Universal's part.

The Boss Baby remains in second for the third consecutive weekend, as no film seems to want to take on either the Boss or the Beauty. The DreamWorks release earned another $12.8 million, and fell a very slim 21%. The domestic total for the $125 million film has reached $137 million, and overseas it has earned $221 million for a worldwide total just short of $360 million.

That means Beauty and the Beast remains in third, as it comes through its sixth week of release. Beauty earned another $10 million in its sixth frame, and dropped a minor league 27%, as it follows the same path as Boss Baby. The domestic total for the Disney release sits at $471.1 million, and overseas it has earned $630 million, for a stunning worldwide take of $1.1 billion.

Fourth brings our first new feature and only new release in the top six this weekend. That feature is the Panda movie called Born in China, from the Disneynature label, and it earned $5.1 million from only 1,508 venues. These are prestige pictures for Disney, with less demand for them to open big and crank out a profit. No budget data was released, but we know that Bears and the Chimpanzee movie both cost $5 million, so that plus a few million for inflation puts this one in good position to make some money.

Finishing just behind in fifth is now three-weekend-old Going in Style, which also recovered this weekend. After getting pounded with a 47% drop last weekend, it bounced back this frame, picking up $5 million and dropping only 20%. That puts the old folks comedy on track again to be profitable, as the $25 million film now has $31.8 million in the domestic kitty, and it has earned almost $20 million away from North America, for a global take of $50.9 million.

Those damned Smurfs fell to sixth in its third weekend, as the film fell 28% and earned $4.9 million. After three weekends, Smurfs: The Lost Village has earned $33.4 million domestically, and one might think it would be in trouble versus its $60 million budget. Once again, overseas revenue is going to save another film, as The Lost Village has crossed the $100 million mark as of today, and brings the worldwide tally to $133.7 million. It still has some work to do and has some overseas markets to roll out to yet.

Unforgettable, a film that really didn't live up to its title, turned and flopped with the rest of the openers. The WB film earned only $4.8 million from a light 2,417 screens. Critics hated it, giving it a rotten rating of 25%. The Cinemascore was a complete disaster as well, as Unforgettable earned a C rating, one of the lower Cinemascores in memory for this genre. Personally, I am happy to see Katherine Heigl take another career hit, but this time she takes Rosario Dawson down with her, as well as Denise DiNovi, long time producer and first time director. DiNovi's fourth film was Heathers, and her sixth film was Edward Scissorhands, so she has a warm place in my heart.

Eighth, then, is Gifted, which expanded this weekend from 1,146 to 1,986 venues and saw its bounty returned. After earning $3.1 million against Furious 8, its weekend tally rose to $4.5 million this weekend, and the 46% uptick in business was just the news the studio was looking for. Gifted cost $7 million to make, and now has earned $10.7 million domestically. The fact Gifted beat three new films and a large expander this weekend by adding 840 screens (and missed Unforgettable by $300,000), simply boggles the mind. At first I thought Fox Searchlight had screwed themselves opening against Furious 8, but it's the opposite - likely in-theatre marketing pushed audiences back to watch it. Another important driver here is that the family films near the top also brought in a combined $30 million last weekend and have been setting the stage for a film like this one for the last month and a half.

Ninth is The Promise, the film that probably had the most going for it. It starred Christian Bale and Oscar Isaac, whose last two films were Star Wars: The Force Awakens and X-Men Apocalypse, which earned about $2.7 billion worldwide combined. The Promise found nowhere near that kind of success, opening to a paltry $4.1 million - against a scary budget of $90 million. It is scheduled to open in Europe and Argentina next weekend, but it has got to set the continent on fire if has any chance of succeeded. There is a story in Variety this morning that states that the backers of the film aren't worried about losing $90 million; they are happy that The Promise has created awareness of Armenian genocide. Sounds like something you folks in Hollywood say ALL the time.

Tenth is our other expanding film, The Lost City of Z, which puts two brand new releases to shame again this weekend, as Z added 610 screens. For comparison's sake, Phoenix Forgotten started with 1,592 screens and Free Fire debuted with 1,070 venues. The Lost City of Z earned $2.1 million, giving it a huge increase over the $110,000 it earned last weekend from four screens.

Phoenix Forgotten finishes 11th, earning $2 million from those 1,592 venues. While it opened poorly, it cost only $2.5 million to make, so it's on its way already. Reviews are currently split 50/50 at RottenTomatoes (but only 10 reviews are in), and the Cinemascore was a deadly C-. This one is dead, Jim.

Free Fire, the latest film from Ben Wheatley (HIgh Rise with Tom Hiddleston) and starring Brie Larson, Sharito Copley and others, finished 17th this weekend. It went out to 1,070 screens, had decent reviews (66% fresh), but didn't get a Cinemascore. It imploded, as the studio failed to market the picture. Free Fire cost $7 million to make and has made $1.1 million in the UK, so it will need some assistance to earn that budget back.

It was an ugly weekend at the box office overall. The top 12 dipped below the $100 million mark at the box office for the first time since the first week of February, earning $95.6 million. Over the April 22nd weekend last year, the top 12 earned $119.9 million, which makes this year look even worse. Next weekend brings three more films looking for a foothold prior to the release of the Guardians sequel: The Circle, which brings Belle back to the ball as Emma Watson joins Tom Hanks in The Circle, Pantelion releases How To Be A Latin Lover, with Kristen Bell and Rob Lowe taking work away from the Mexicans, and Sleight, a Blumhouse film being released by BH Tilt.