Weekend Wrap-Up
Fate Can't Match Furious 7 Domestically But Box Office Still Stellar
By John Hamann
April 16, 2017
BoxOfficeProphets.com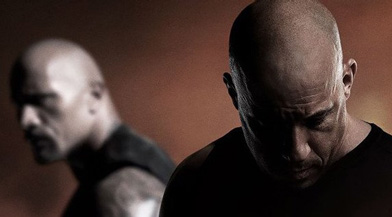 ---
If you were expecting The Fate of the Furious to open to Furious 7's $147.2 million, I will get that disappointment out of the way right now. It wasn't going to happen, as Fate is not Paul Walker's last film. Yes, The Dark Knight Rises outpaced The Dark Knight even after the death of Heath Ledger (it was more like a tie, at $158/$160 million opening weekends), but The Dark Knight Rises was closing out Chris Nolan's trifecta of Batman films, and that carried its own weight. The Fast and the Furious movies are like the Energizer Bunny – they just keep going and going (and earning boatloads of money along the way). Furious 9 is already scheduled for 2019, and Furious 10 will be in theaters in 2021. Why? These films area license to print money, as the last three films have consumed $3 billion in worldwide sales - not bad for five years' work.

If we remove the unfortunate third film, Tokyo Drift (which I think we would all like to), the Fast and Furious franchise has only grown since it started way back in 2001. That year, a small, car thieving film – starring a fairly unknown Vin Diesel (Pitch Black had been released but didn't become a cult hit until home video) - opened to $40 million, matching its budget over opening weekend, before going on to earn $144.5 million domestically and another $63 million overseas for a $200 million plus franchise opening. Two years later, 2 Fast 2 Furious opened to $50 million, this time against a higher budget at $76 million. It finished a little lower than the original on the domestic side ($127 million) but pushed the overseas take up to $109 million, so the worldwide total was higher at $236 million. With the higher budget and lower domestic gross, you would have thought that result might cause a little bit of grief at Universal. Then, things changed with the third film, as the race car went off a high cliff, one would think to never be seen again.

Fast and Furious: Tokyo Drift was the third film, but they lost stars Vin Diesel (who took a break for the second and third film) and Paul Walker to other projects. In came Lucas Black to headline, and the setting moved to Japan. These changes threw the core audience off, and it almost killed the series. Tokyo Drift opened to $24 million (less than half of 2 Fast), and topped out domestically at a franchise low $62.5 million. The overseas box office was lower as well at $96 million, for a worldwide total of $158 million against an $85 million budget. After advertising (and prints at the time), that worldwide gross would have made Tokyo Drift the only F&F film to not make a profit theatrically. The reboot in 2009 showed the way of the future for the franchise: $70 million opening, $155 million domestic, and $363 million worldwide, all against a similar $85 million budget.

Fast Five cost more at $125 million, but also changed the game again: $86 million opening, $210 million domestic, and a powerful $626 million worldwide, as the overseas gross cleared the $400 million mark. The sixth film matched the upward trend, despite carrying the number six in its title: $97 million opening, $239 million domestic, $550 million overseas, for a worldwide tally of $789 million, against an also growing budget of $160 million (but still entirely profitable through theatrical release).

Then, in late November 2013, Paul Walker passed away during filming of Furious 7. While tragic, it sent awareness of the film through the roof, which pushed the debut weekend to $147 million, the domestic gross to $353 million, and the worldwide take to $1.5 billion – all against a budget of $190 million. That worldwide amount is the seventh best all-time and is only $2 million behind Marvel's Avengers. The $1.16 billion that Furious 7 earned still stands as third best overseas total ever, outpacing mega blockbusters like Star Wars: The Force Awakens ($1.13 billion) and Jurassic World ($1.01 billion overseas). Why the big jump between the Furious 6 overseas total ($550 million) to that of Furious 7? China, of course – Furious 6 was the first time a Furious film had opened in the Middle Kingdom, and it took in a decent $66 million there. Then came Furious 7, and the Chinese drove their portion of the foreign gross up to $391 million. That's $265 million more than The Force Awakens earned there ($124.1 million).

I had questions going into the opening weekend of Fate of the Furious. Compared to Furious 7, how much lower would the domestic opening weekend be? Would $100 million over three days be too much to ask? What would the China result be? The debut in China for the Furious 7 was on Sunday, when it earned $65 million. The following weekend came in at $182 million, and it remains the top opener. This time, the opening is day and date as the US, with Thursday previews and an opening day Friday. Thursday preview amounts came in at an estimated $8.7 million, and the opening day (combined Thursday/Friday) was recorded at $64 million, which means it was on pace with Furious 7. With this kind of weekend expected in China alone, I think all the worries about a production budget rumored to be as high as $250 million are all for naught.

Let's start with the domestic totals. The Fate of the Furious (aka Furious 8) got started on Thursday, earning a solid $10.4 million, again as expected, behind Furious 7's Thursday preview amount of $15.8 million. Let's keep in mind that Fast & Furious 6 is likely the better comparator for F8. Its Thursday preview amount came in at $6.5 million, quite a bit lower than Furious 8. The preview does align with Captain America: The Winter Soldier, which earned $10.2 million when it opened on April 4th, 2014, before going on to have an opening day of $36.9 million and an opening weekend of $95 million. Keep those numbers in mind as we go forward.

The opening day for Furious 8 is reported at $45.6 million, putting it well off of Furious 7's opening day at $67.4 million by $22 million, but ahead of the $38.7 million that Furious 6 opened to over its first Thursday/Friday. If we strip out the Thursday preview numbers, the true Friday for Furious 8 came in at $34.8 million, whereas Furious 7's was $52.4 million, and Furious 6 had a true Friday of $27.9 million. On Saturday, Furious 8 is estimated to have earned $31.8 million, again lower than Furious 7's $46.6 million and slightly higher than the $31.7 million earned by Furious 6. You can however see the gap closing between Furious 8 and Furious 6.

The weekend total for The Fate of the Furious came in at a powerful $100.2 million. As expected, this total is lower than Furious 7 but higher than Furious 6. I think Universal and producer Neal Moritz of Original Film, will be very happy to have Furious 8 debut where it did, right at the century mark, as the opening-to-total multiplier for the last three films has ranged between 2.4 and 2.45, which means that this one should finish with about $260 million stateside. As described above, though, home is not where the money is for the Furious franchise. Things have changed significantly since the first film was released. The three-day weekend in China was worth $190 million, a record opening there, and the overseas haul came in at $432.3 million, which means the global first three days of this blockbuster is already $532.5 million.

There are a couple of different estimates on the budget for Furious 8. I've seen a figure of $190 million earlier this month, but all I see now is the $250 million number. Given that reports have Dwayne Johnson earning $32.6 million (a guess would be $10-15 million plus a large back end) for Furious 7, and it is said that Vin Diesel earns $15 million to act, and then he would take another large salary and chunk of the back end for his producing role as well (Diesel has been listed as a producer since the reboot Fast & Furious). The cast alone here is impressive and costly, as the aforementioned Diesel and Johnson would be up for $30 million minimum. Add Jason Statham and Kurt Russell, plus the franchise stalwarts of at least the last three or four films - Michelle Rodriguez, Ludacris, and Tyrese Gibson. This time around, we have to add Charlize Theron, so adding it all up, it looks like an actors' budget of $75 million before you even start shooting. The rest of the money is literally up on the screen.

How will Fate of the Furious do going forward? It's always very hard to tell, but here are the clues we have to work with. Over the next two weeks, we see eight new releases open, none of which will pull from Furious 8's power. The biggest of the eight is likely The Circle, with Tom Hanks and Emma Watson, but that is two weeks out. Reviews don't really matter, but Fate of the Furious is 64% fresh at Rotten Tomatoes, lower than the last five resurgent Furious films, which are led by Furious 7's 79% fresh rating, and the lowest being the reboot, Fast & Furious at 28%. The Cinemascore is key – this one earned an A, which keeps it in line with the last two films (parts 3, 4, and 5 earned an A-). This tells us that word-of-mouth should be similar, but I have seen some online grumbling about some of the stunts and excess. In the end, thanks to a higher gross in China than stateside, everybody involved will make out like bandits, and we will be back again in two years, discussing the dominance of Furious 9.

There were other films in release this weekend. Our running kid film battle continued, as The Boss Baby and Beauty and the Beast continued their dogfight. This weekend, though, The Boss Baby extended its lead, as the DreamWorks Animation title managed to take in $15.5 million in its third weekend, off by 41%, whereas Beauty earned $13.6 million in weekend five, off by 42%. The Boss Baby got by the $100 million mark on Thursday, its 13th day of release, and it now has $116.3 million in its coffers, against a budget of $125 million. Beauty crossed the $450 million mark on Saturday, its 30th day of release. It becomes only one of ten films to clear that amount, and does it in the seventh fastest time. It will eventually join the eight films that have earned $500 million domestically, but that is still a few weekends away yet. Beauty also cleared the $1 billion mark in global sales, as it has earned $588 million overseas.

That puts the Smurfs 3 in fourth, The Sony release earned $6.5 million and dropped a rough 51%. The total for the animated kids flick stands at $24.7 million, but overseas venues have already picked up more than $70 million, so the global tally has easily surpassed the $60 million production budget.

Going in Style drops harder and faster than I thought it would. I thought the comedy about old men robbing banks would prove to be effective counter-programming against Furious 8, but the first night that they faced off against each other, Going in Style dropped 50% when comparing opening Friday to its second. Over the weekend, the WB/New Line release earned $6.4 million, off 47% compared to its opening $11.9 million frame. The good news? This one cost only $25 million to make, a number it is at least closing in on domestically, as it has earned $23.4 million after ten days.

Gifted, the new drama from Lionsgate with Chris Evans as the uncle/guardian of a gifted daughter, didn't expand overly well from its limited release last weekend. Out to 1,146 theaters this weekend, the drama earned $3 million, giving it a venue average of $2,618. Reviews are mixed, with Gifted scoring a 65% fresh rating at Rotten Tomatoes. Gifted was shot back in 2015, so I imagine that no one really knew what to do with it, and the release shows that there wasn't much that could be done. Made for $7 million, no one will get too hurt by this one.

Get Out holds strong in seventh this weekend, its eighth of a mighty release. Get Out turned in $2.9 million this weekend, down just 28% compared to last weekend. This $4.5 million horror flick has now earned $167.5 million stateside, and it has made $16 million overseas.


Power Rangers is eighth, as it got beat up by Furious 8 as well this weekend. The Lionsgate release earned only $2.8 million in its third weekend, and was off 54% compared to the previous weekend. It doesn't look like its going to match its $100 million production budget stateside with its domestic gross, as that stands at $80.6 million to date. Overseas hasn't helped much so far, but still may be its savior. So far, it is sputtering overseas with only $48 million to date. However, it still has Korea, China and Japan to come, but will have to pull $150 million from those three markets to prove a success for Lionsgate, who has been beaten to death on these expensive wannabe franchises.

Depending on turnout on Easter Sunday, and the way estimates are made, The Case for Christ could finish as high as high as sixth when estimates come out on Monday, or as low as tenth. The estimated weekend gross came in at $2.7 million, with a potential drop of 31%. So far, the small, faith-based release has earned $8.4 million.

Finishing tenth is Kong: Skull Island, another of our holdovers that has had an excellent run. This weekend, Kong earned another $2.7 million, down 52%. The domestic take for this $185 million release has hit $161.2 million, with the overseas hitting $391 million - $160 million of that amount coming from China.

Overall, the box office was down slightly compared to last year, when The Jungle Book debuted with $103.3 million. The top 12 this weekend managed a strong $160.8 million. One year ago, the top 12 was pushed to $167.9 million. Next weekend, we are pummeled by mid-tier openers. Disney gives us their latest Earth Day film, Born in China, A24 issues Free Fire with Brie Larson, Cinelou releases Phoenix Forgotten, a horror/sci-fi release from producer RIdley Scott, Christian Bale and Oscar Isaac star in The Promise, which appears to be another "made for Oscar" misfire, and finally we have Unforgettable with the forgettable Katherine Heigl.