Weekend Wrap-Up
Beauty, Beast, Baby Face Off Again While Audiences Wait for Furious
By John Hamann
April 9, 2017
BoxOfficeProphets.com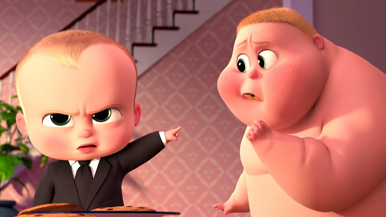 ---
It's that weekend between one stretch of aging blockbusters, like The Boss Baby and Beauty and the Beast, and the even bigger upcoming one, as The Fate of the Furious looks to turn in that franchise's second consecutive $100 million plus opening, despite being the eighth time a Fast/Furious film has been released.

We knew we were in for a quieter frame this time around, as openers did not have the cachet of Beauty, the marketing campaign of Boss Baby, or the $185 million budget of something like the Kong: Skull Island. No, openers this weekend included the third film in what appears to be a quickly dying Smurfs franchise, as terrible moviemaking has left a stench on what was once a beautiful, smurfy thing. The only reason Sony put out another one is the foreign sales, as the second film's $275 million overseas gross bailed out the floppish $71 million domestic gross.

Also opening is Going In Style, a good idea for a blockbuster transition film, as this is a comedy about senior citizens, which is an underserved demographic during blockbuster season. Films like this don't have to open strong - Grumpy Old Men put up a $4 million debut and closed with over $70 million in sales, and the more recent Last Vegas had a similar result. The last one up is The Case for Christ, another faith-based flick that cost $5 million to make, will serve the converted, and find a profit for the filmmakers. The only difference this time is that most critics (so far) seem to like this one. No, really.

We knew it was going to be slow at theaters this weekend. We knew that The Boss Baby would likely finish at number one, ahead of Beauty of the Beast, with the new releases showing up further down the list. What I didn't expect was Boss Baby and Beauty almost finishing on top of each other, leading to a photo finish at the box office this weekend How close? On Friday, the two films, aimed at exactly the same demographic, finished within $13,000 of each other despite both earning $6.85 million. That's about 0.2% of each film's Friday total. To guess at a winner, we look at last weekend's results, however the animated film was opening, whereas the Disney musical was in its third frame. Boss Baby increased its daily gross last Saturday by 29%, while Beauty jumped 52%. Before you make your guess at this weekend's winner, don't forget that Boss Baby earned $1.5 million from previews on Thursday, which get rolled into the Friday number, artificially lowering the Friday-to-Saturday increase. Without the preview amount included, the jump from Friday to Saturday is 43%, much closer to Beauty's 52%.

That was then, and this weekend is this weekend. Saturday numbers have been reported at $11.8 million from The Boss Baby (an increase over Friday of 71%), and $10.6 million for Beauty (increase of 55%). Last weekend, The Boss Baby declined less on Sunday than Beauty, and the same thing happened this weekend, making the DreamWorks the de facto winner. In its second weekend, The Boss Baby, DWA's ninth $50 million plus opener in 35 tries, took in $26.3 million in its sophomore frame. That gives it an alarming for animation drop of 48%, but not all that alarming for DreamWorks. In 2015, the studio's Home dropped an identical 48% in weekend two, and all it had for competition was Disney's Cinderella, which was in its fourth weekend, earning only $10.2 million. The Boss Baby not only has to deal with Beauty and the Beast, it also had to face off against the pesky Smurfs movie, which was targeting Boss's demo even more than Beauty.

The question now for The Boss Baby and DreamWorks Animation is if it can turn its $125 million production budget into a win for the studio. At this point, it would appear that the Alec Baldwin-led animated feature will finish in the same ballpark as Home, which finished domestically with $177 million. Home cost an even more ludicrous $135 million to make, and earned $386 million globally, maybe (and I mean maybe) eking out a small profit for the companies involved (Fox distributed both Home and The Boss Baby domestically, but won't be doing that anymore, as Universal has picked up the rights). The Boss Baby has earned $110 million overseas. This movie still has a long way to go, but we will know more after it faces off against a gargantuan like the Fast/Furious movie and the second weekend of Smurfs, a franchise that somehow, some way has shown ridiculously good legs with the first two films.

That means that Beauty and the Beast finishes in second place, though the numbers could change with actuals tomorrow. With Beauty destined to gross more than $20 million this weekend, which is a rare thing for a film released in March. Only The Hunger Games ($21.1 million fourth frame) and Zootopia ($24 million) were March releases that hit $20 million in weekend four. Beauty and the Beast took in $25 million, off a decent 45%, considering the smash brought $407 million into its fourth weekend.

The weekend gross puts it at 15th on the all-time domestic grosser list, as it passes huge films like Toy Story 3 ($415 million) and Hunger Games: Catching Fire ($424.7 million). This flick is a brute, smashing its way up the record lists like nobody's business. Overseas totals have cracked the half billion mark already, and Beauty will be crossing the billion dollar worldwide mark at any time. It still has a lot of gas left in the tank, too. A stateside finish around the $500 million mark still seems possible to me, with higher totals still possible. Beauty and the Beast will still be in the top ten when Guardians of the Galaxy Volume 2 hits theaters, as the baton is passed from one Disney billion dollar winner to another.

Third spot goes to Smurfs: The Lost Village. Sony got a lot smarter with the third film in the franchise, as they figured out that these films can be completely and utterly terrible, and the under 12 fanbase will bring them $562 million worldwide. With the pressure off, the latest Smurfs film still stinks (according to reviews), but it at least beat the first two with critics. Smurfs: The Lost Village earned a 39% fresh rating, whereas the first film came in at 22% fresh, and the second was a woeful 13% fresh. In terms of box office, the second film caved compared to the first moneymaker, earning $347.5 million worldwide compared to the the original's $562 million. And that my friends, is the saddest part of all of this. The first two films made over $900 million worldwide against a combined budget of $215 million, so you are going to lose your job in you don't make a third. Too bad they didn't invest just a tiny bit more into a solid story for the third picture. The core audience loved it though, as the Cinemascore was an A.

So, after abusing audiences (twice!) with the first two films, did anyone come out for the third? You betcha - kids love the little blue creatures with the cute voices, but the law of diminishing returns was active again as I would assume parents were quick to get off this horrific bus. Opening day for the first Smurfs came in at a wild $13.3 million, likely due to the nostalgia factor, the second film got cut sharply (nostalgia was replaced with horror) earning $5.2 million on a first day Wednesday, and $5.5 million on opening Friday. Smurfs: The Lost Village earned $4.2 million on opening day, continuing the steps down.

As for opening weekends, the first came in at $35 million and the second is recorded as a $17 million opening, but it had a five-day debut at $27.1 million. The latest release, which is a bit of a reboot, opened to a lazy $14 million, as the road just gets steeper and steeper for this franchise. However, with a much reduced $60 million budget, Sony has a chance to make some money. On the first film, France and Germany alone turned in box office of $58 million $43 million on the second. The first two films earned $700 million overseas, and the legs compared to opening weekend stateside have been ridiculously good, so there is no reason to call this a failure other than the negative impact to humanity overall and our children's well-being.

Warner Bros.' Going in Style is filler for blockbuster season, carrying a low budget ($25 million), so it provides effective relief for audiences not interested in Furious 8 (is anyone else struggling with The Fate of the Furious?). Given the warm and fuzzy feelings brought on by a remake of a 70s release and stars like Morgan Freeman, Michael Caine and Alan Arkin, this movie should be senior citizen bait for weeks. For these types of films, opening weekend is less important; word-of-mouth is the key (it's a bit of an oxymoron - needing word-of-mouth, but not needing an opening weekend). Going In Style actually opened better than expected, clearing the $10 million mark with a three-day take of $12.5 million. This is a pretty solid start for a film that looked to be opening significantly lower.

So Warners and New Line got off to a better start than they were planning on, but would they get the word-of-mouth? Reviews did not foretell good news in the WOM category, as only 41 of 94 critics liked this one, leaving it a 44% fresh. However, the studio was likely looking for a result similar to 2013's Last Vegas as a comparison, which came in at 46% fresh (but top critics were nasty at 29%). The opening for the Robert De Niro/Morgan Freeman comedy was $16 million, and it had legs to $63.9 million on the domestic side. It also earned $70 million overseas, all likely thanks to an A- Cinemascore - audiences liked what was served up and told their friends. Going In Style's Cinemascore came in at a B+, not far off of Last Vegas or even Grumpy Old Men, which also earned an A. That film turned a $3.9 million opening into a domestic score of $70.2 million, and Going in Style will be looking for a similar result domestically. It will also hope to match that score overseas. With this opening and a $25 million budget, it looks to be a minor hit for Warner Bros.

That moves Ghost in the Shell down to fifth as it gets massacred in its second weekend, despite zero new competition moving into its territory. After Ghost debuted to a soft $18.7 million last weekend, the bottom fell out on Friday, with Ghost earning only $2.1 million and dropping 72%. It came back a bit over the rest of the weekend, picking up $7.4 million, but it fell a disastrous 61%, sealing the fate of the sci-fi actioner stateside. Overseas added $50 million last weekend, but save for China and Japan, Ghost was out everywhere except in these key markets, and given the accusations of whitewashing, one has to wonder if this will break out in those countries. Ghost in the Shell cost $110 million to make, and Paramount is going to take it on the chin, as it has a domestic take to date of $31.6 million and a worldwide gross of $124.4 million. Paramount is really going to need Baywatch and the Transformers sequel to click, as they have yet to have a film earn more than $45 million on the domestic side in 2017.

Lionsgate's Power Rangers drops to sixth, as this film has been pounded since opening to $40.3 million a few weeks ago. Last weekend, it fell 65% to $14.2 million, and this weekend it falls another 56% to $6.2 million. The result here has been similar to the last Teenage Mutant Ninja Turtles movie, Out of the Shadows. That one opened to an okay $35 million, then fell 59%, 64%, and 53%, as there simply aren't enough viewers beyond the fanbase willing to support the idea. Overseas, it appears Power Rangers is just as tough a sell, with only $42 million in ticket sales to date, as that $100 million budget - which looked fine on opening weekend - looms large now.

Kong: Skull Island dips to seventh, but crossed some key milestones this week. First, let's talk about the weekend. Kong earned another $5.8 million and declined a decent 32% compared to last weekend. After opening to $61 million, Kong needed some legs and a good overseas performance to earn back its $185 million budget. It got both, as the domestic side hit $150 million on Wednesday, and Kong's domestic total increased to $156.6 million following the weekend. Overseas, the total has hit $378 million, pushing the worldwide gross well beyond $500 million, a number the $185 million Warner Bros. Film had to take down if was going to hope for profitability. Kong will likely finish with $175 million on the domestic side.

Eighth and ninth are Logan and Get Out. Logan earned $4.1 million and brings its domestic total up to $218.1 million. Get Out earned another $4 million to get it to $162.9 million.

Our last opener debuts in tenth, as The Case for Christ fails to open beyond its faith-based demographic despite five positive reviews out of a possible six at Rotten Tomatoes. No, really - both Variety and Forbes threw down positive reviews, something rather unusual for faith-based films, as usually the score is more like The Shack (20% fresh) or God's Not Dead 1 and 2 (15% and 9%). Unfortunately, box office results were normal, with The Case for Christ pulling in $3.9 million from the standard 1,174 venues. Budget data was not released by distributor Pure Flix Entertainment.

Overall, the top 12 films at the box office earned $114.5 million, as this crop of films makes room for Furious 8 to debut to what will likely be $100 million plus. The box office chose the right weekend to take a breather, as last year's top 12 could only muster $95.3 million. Melissa McCarthy's The Boss flopped with $23.5 million, and Hardcore Henry disappointed with $5.1 million. Next weekend, blockbuster season begins, as Furious 8 will likely be champ until Guardians opens in May.