March 2017 Box Office Recap
By Steven Slater
April 5, 2017
BoxOfficeProphets.com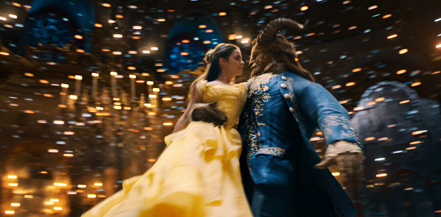 ---
Like a sunrise piercing the cold dark winter above the arctic circle, March has shattered the box office doldrums of 2017. First this year told us to Split, then it yelled at us to Get Out. Now, it is singing "Be Our Guest!" as Beast and Wolverine claw up the charts. How many more awful metaphors can I conjure up for this column before it sheds its final rose petal?

The number one movie of the month eviscerated expectations, delivering a performance that is truly beyond belief. Beauty and the Beast has earned just shy of $400 million if you include the first two days of April, and $360.8 million for just the month of March. Beauty is yet another large feather on Disney's cap, as many of their films in the past year have reached a billion dollars in worldwide grosses, and this film will surely join that group. It will be the 29th film, the 14th Disney film, and the fifth Disney film in the past year to reach that mark (yes, Disney released about half of the movies in the billion-dollar worldwide club). And The Jungle Book was a mere $34 million from that goal post. Let us just say that Disney asked "Mirror, Mirror, on the wall, how shall we earn the most money of all?" and got some great answers. The fact that a film that is practically a shot-for-shot remake of an animated classic can reach a billion dollars is mind-blowing. You bet I was one of those butts in a seat opening weekend.

Beauty and the Beast laughed heartily at industry predictions, opening about 50% higher than expected at $174.8 million, which just barely makes it the sixth biggest opener of all time above Iron Man 3, and the biggest for the month of March, beating last year's Batman v Superman. Consider this; Beauty and the Beast earned about 70% of what Star Wars: The Force Awakens or 85% of what The Avengers earned opening weekend. That's how huge it was and is. Or think of it this way; before this month, the top 20 domestic films of all time were released during the summer or Thanksgiving-Christmas seasons. Beauty will be the first outside those lucrative periods in the top 20; if its current pace continues, it should become the sixth or seventh highest grossing film of all time in North America, perhaps topping Rogue One. It will easily pass Alice in Wonderland to become the largest worldwide grosser from Disney's batch of live-action adaptations, and could even become the biggest of their more traditional fare if it exceeds Frozen's $1.28 billion. Oh, right, it also became Emma Watson's biggest movie by just about every metric (the final Harry Potter film did earn a massive $1.34 billion globally, but I would bet money on this film beating that).

Shift gears from singing and dancing to blood, guts and riding off into the sunset. The number two earner this March is Logan, the swan song for a character portrayed by Hugh Jackman almost enough years to vote. Although it pales in comparison to the number one film, Logan was no slouch, opening at $88.4 million and earning $207.4 million for the month (again, not including those first two days in April which were part of this past weekend's totals). It will be the biggest of the three Wolverine movies by far, it should slot somewhere around position three for domestic X-Men films (not including Deadpool), and it will probably be second worldwide, unable to reach the pinnacle of Days of Future Past's $748 million. This proves definitively that harder edged superhero movies can be very successful if they are done properly *cough* not Zach Snyder *cough*, and it is a fitting send-off for Hugh Jackman to be able to leave this character and franchise on his own terms. Has any actor played the same character for so long and in so many films?

Third place goes to Kong: Skull Island, which unfortunately feels like it may get drowned out in all the buzz from the first two films. That is not to say that Kong isn't a success in its own right. After opening to $61 million, which is more than Peter Jackson's version accomplished, it has tallied $141.4 million this month, and ultimately will fall short of the 2005 film's domestic total. Kong is doing pretty well overseas, so Warner Bros.' attempt at some sort of monster franchise between this and Godzilla should still be alive and kicking. In fact, both films will have eerily similar grosses, which tells you the audience size for this genre is stable.

Fourth is our first holdover, and a movie whose box office may be even more remarkable than Beauty and the Beast. Get Out opened quite well in February, and has had ridiculous holds weekend after weekend. For the month of March, Get Out managed over $110.4 million, bringing its domestic total up to $152.8 million, all on a budget less than Scarlett Johansson's makeup assistant was paid on Ghost in the Shell. Get Out is probably going to gross more than Kong when all is set and done. It feels amazing to see an original film do so well, especially in this genre, especially because it is a great film, and especially because Jordan Peele made a film eerily relevant for this era in America.

Fifth is Power Rangers.

Sixth is...oh, whoops, did I forget something? Beauty, Logan, Kong, Power Rangers. Maybe I am jumping on the haters parade, but I would guess that one of these character sets will not be remembered in 20 years. Lionsgate keeps trying to make lightning strike again for their franchise dreams after Summit's Twilight series and their own Hunger Games franchise, but calling for six Power Rangers movies before the first one even opens is quite a bit of hubris. This $100 million dollar film opened with a damn good $40.3 million, all things considered, finishing out the month with $54.6 million after just eight days. I doubt this film will be profitable, and Dear God Walter White what happened? You breakdown from a cancer diagnosis, devolve into a horrific power hungry drug dealer, and then...Zordon? Seriously, though, how many people would have gone to see a film where the Power Rangers do battle Walter White?

Sixth is The Shack, which is not a hip comedy about retailers at Radio Shack. This one opened right at the start of the month with $16.2 million and has played steadily throughout to the tune of $51.5 million. I think Sam Worthington wandered into this film accidentally thinking this was the Avatar sequel, and nobody told him otherwise. Seriously, he wants to know when that is starting up.

Seventh and Eighth are from a LEGO movie, and a movie that would have been better with LEGOs. LEGO Batman earned most of its coin last month, but stuck around to add $36.8 million to its coffers in March. With about $175 million domestic and $300 million worldwide, this one has been fairly successful if not wildly so, and continues an odd trend of Batman movies doing a higher percentage of their business in North America than other superhero movies. Life, which is not a hip comedy about yummy cereal, opened with $12.5 million and ended the month with about $18.4 million. I mean, when you know an Alien movie is coming out in two months, did this one ever have a chance?

Ninth and Tenth both star thespians having a bit of a resurgence of late. Boss Baby, which they really should have just cashed in on and called President Baby, has only been out for one whole day in March, yet still wound up with the ninth highest box office at $15.6 million (including those pesky Thursday sneaks which now start on Tuesday, I think). This is Dreamworks Animation's last film being released by Fox, as Universal picked up the once-mighty animation giant to exist under its own Illumination brand. I suppose they are the new ugly duckling to the Disney Animation/Pixar duo, as those two are both under one man, John Lasseter, and DreamWorks Animation will be under Illumination's Chris Meledandri. Que Minions-Shrek crossover movie (forget Sing! anymore). Anyway, tenth is John Wick: Chapter 2, which opened last month but carried enough goodwill for $14.4 million this month, bringing its domestic total up to $91.1 million. Every dog has its day.

To round out the top ten movies that debuted in March, add Before I Fall and CHiPs, two movies you probably already forgot about, or wish you could. And in the unfairness of categorizing box office exactly by month, Ghost in the Shell would normally be listed somewhere except it only played for one day in March. So look for the spectacular results of that next month!

March came in and went out like a lion, flipping the adamantium bird to January and February. Total box office for the month came in at a stellar $1.02 billion dollars, which is the 4th highest result ever seen in the month of March. It is quite a turnaround, although March 2017 is about 7% behind last year's third month, when Zootopia was on top, and overall 2017 is still about 5% behind 2016. Almost all of the credit is due to the massive ongoing success of Beauty and the Beast, though a healthy slate of well-reviewed films certainly helped out. April looks to have its own huge success, but I don't think The Fate of the Furious will be able to top Disney's crown jewel for the year. The only thing that can kill Disney is Disney.