Weekend Wrap-Up
Boss Dumps Beauty From Top Spot
By John Hamann
April 2, 2017
BoxOfficeProphets.com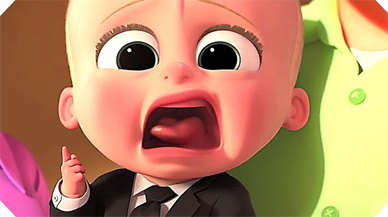 ---
Looks like the box office roll is going to continue thanks to The Boss Baby, which got off to a fabulous start this weekend.

It's hard to believe that the box office struggled as bad as it did through January and February, as March was lights out, and now April is off to a grand start. Openers this weekend include The Boss Baby, the latest animated kids flick from DreamWorks Animation, Ghost in the Shell, the Scarlett Johansson futuristic actioner, and The Zookeeper's Wife, one of those seemingly Oscar caliber films that gets an April release date as the final product didn't come together all that well. Looming in the background is Disney's Beauty and the Beast, which entered the weekend having earned almost $350 million domestic in only 14 days of release, putting it on pace to be one of the biggest earners of all-time, rivaling huge films like Marvel's Avengers, The Dark Knight, and Jurassic World. A big part of where Beauty would end up would depend on DreamWorks' The Boss Baby, as this is the first time the Disney mega hit has seen real competition.

Our number one film, and the first newcomer to knock Beauty and the Beast off its perch is The Boss Baby, the new $125 million animated feature. The Boss Baby is a little different that other big budget animated releases over the last couple of years – it isn't very good. The Boss Baby got started on Friday, beating reigning champion Beauty and the Beast by $2.5 million. The Boss Baby earned an opening day gross of $15.5 million, a neither very good or very bad score. That's just slightly less than the $15.7 million opening of DreamWorks' Home, the animated release about a little girl and an alien. That film delivered $51.1 million over its opening weekend, and there was no reason why The Boss Baby shouldn't find the same.

The Boss Baby followed almost exactly the same pattern as Home, finishing the weekend with a strong three day total of $49 million from 3,773 venues. The debut is toward the higher end of DreamWorks Animation's non-sequel opening weekends, with the first Kung Fu Panda being the top dog at $60 million, followed by Monsters vs Aliens at $59.3 million, Home at $52.1 million, and Shark Tale at $47.6 million. These releases don't hold a candle compared to what Pixar/Disney, Disney Animation or Illumination/Universal put out, and after The Boss Baby, DreamWorks Animation will transition from Fox to Universal, as in August 2016, Universal purchased the animation studio.

The opening for The Boss Baby is nothing drastic but okay, and it looks like legs may fall into the same category. Reviews were drab with a 49% overall fresh rating at Rotten Tomatoes, and the top critics score was worse at 39%. This is another similar result to DreamWorks' Home, which landed at 47% overall and a 39% fresh score from top critics The Cinemascore was close to Home, but not quite. The Boss Baby earned an A- Cinemascore, whereas Home chimed in with a better A. Home earned a terrible-for-animation opening-to-total multiplier of 3.4, giving it a domestic total of $177 million. Overseas venues chimed in with another $208 million, giving it a global theatrical tally of $386 million, probably just good enough for a film that cost $135 million to make before marketing. There is no reason not to think that The Boss Baby won't follow Home's pattern around the world, but it cost $10 million less than Home at $125 million.

That pushes Disney's Beauty and the Beast down to second for the first time, but the blockbuster is doing fine regardless of ranking or the competition. In its third weekend, despite being seemingly already seen by every human on the planet, the live action musical still managed to earn $47.5 million and fell only 47% compared to last weekend. The Disney phenomenon records the sixth biggest third weekend of all time, coming in just behind the third frame of Rogue One: A Star Wars Story, which pulled in $49.6 million last Christmas. Spider-Man now has the seventh biggest third frame with $45 million. The domestic tally for Beauty has grown to an out of hand $395.5 million, as it will cross the $400 million mark on Monday, its 18th day. That ties it for sixth fastest, narrowly missing Rogue One's 16 days, and matching The Dark Knight's 18 days. Overseas, Beauty and the Beast is approaching the $500 million mark, and it should earn $1 billion in no time.

Third goes to our second opener, Ghost in the Shell, which misses slightly despite a huge marketing campaign and having one of the biggest female stars in the world above the title. The live-action remake of the animated classic earned only $19 million this weekend, as mixed reviews and cries of whitewashing may have held it back. Personally, the PG-13 held me back from buying a ticket, as this is not a film that should be PG. The $110 million Paramount release picked up only $7.7 million on Friday night, indicating that Paramount was in for a long walk if they hoped to get it to profitability. Overseas, it did better, earning $40 million. Paramount has to be disappointed with this result, even if they don't say it publicly.

What happened? To start, reviews weren't great at 42% fresh at Rotten Tomatoes, which may have put off the fanbase. Paramount had an embargo on reviews for the longest time as well, which never bodes well. Then, when the fanbase showed up on Friday night, they seemed to like it even less. The Cinemascore came in at an ugly B, which is going to kill this one with The Fate of the Furious coming on April 14th. The weekend gross likely didn't cover Scarlett Johansson's salary, who records her lowest open since Hail, Caesar! earned $11.4 million, and before that, Don Jon's $8.7 million in 2013. Ghost in the Shell cost $110 million, so this is going to have to hustle to work for Paramount.

Power Rangers is fourth, and expectedly dropped hard in its second weekend. The Lionsgate release earned $14.5 million in its second frame, falling 64%. Obviously, the demo and die hards showed up last weekend, and didn't come back. The one-two punch of The Boss Baby and Beauty and the Beast wouldn't have helped, either. The $100 million Lionsgate feature has now pulled in $65 domestically, and it has found another $32 million overseas.

Kong: Skull Island has another solid weekend in holding mode. The $185 million Paramount release picked up $8.8 million in its fourth weekend and fell 40%. Since opening, Kong has earned $147.8 million on the domestic side and a powerful $330 million overseas.

Logan is sixth, as the big hitter that started this renaissance drops 840 screens this weekend, but still holds decently. The Fox release earned $6.2 million and declined 40% in its fifth frame. That brings the domestic total up to $211.9 million, while the overseas amount has reached $374 million. Made for $97 million, Logan is a huge winner for Fox.

Get Out is seventh, as Jordan Peele's horror flick continues to do wonderful things. The Universal/Blumhouse flick earned $5.8 million in weekend six, and fell 34%. The $4.5 million release continues to outgross its budget on weekends, and has now earned $156.9 million stateside. It is also seeing screens overseas now, and has earned $10.3 million outside of North America.

Eighth and ninth goes to last weekend's openers that didn't work. Life is eighth, earning $5.6 million and falling 55%. The $58 million Sony release has picked up $22.4 million on the domestic side, and is thankful for $28 million overseas. Ninth is CHiPs, which earned only $4.1 million. It fell 48%, and has earned only $14.4 million to date.

In tenth is the small Focus Features release, The Zookeeper's Wife, with Jessica Chastain. This one looks like someone was thinking Oscar, but instead they ended up thinking April. Zookeeper earned $3.3 million, which is a solid score, considering it debuted on only 541 screens. It was the best reviewed film of the weekend, but still earned only a 59% rating at RottenTomatoes.

Overall, the top 12 films earned $166.9 million, much better than last year when the top 12 for the April 1st-3rd weekend picked up only $122.8 million, as Batman v Superman fell 69% in its second frame. Next weekend is a bit of a breather before The Fate of the Furious hits. Openers include The Smurfs: The Lost Village, which hopefully doesn't cause too many parents to hurt themselves, Going in Style, one of those geriatric comedies that suck, and The Case for Christ, and I am sure you can figure out what that one's about.