Friday Box Office Analysis
By Kim Hollis
April 1, 2017
BoxOfficeProphets.com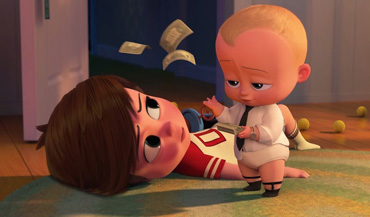 ---
No, this is not an April Fool's joke, no matter how much we might want it to be. Yesterday's top film at the box office was... sigh... The Boss Baby. It will do battle with Beauty and the Beast this weekend for the top spot, and it's likely to be a very tight race.

Yes... sigh... The Boss Baby managed to earn $15.5 million in its first day of release, well ahead of what tracking was indicating it would do (though it had started to trend up in recent days). That number does include $1.5 million from Thursday night previews, so its "actual" Friday total would have been $14 million. That still places the animated film about a spy baby who is for some reason at war with puppies $1 million ahead of Beauty and the Beast. Of course, Beauty and the Beast can be held a little bit responsible, as trailers for... sigh... The Boss Baby were being shown ahead of the Disney princess film. People who might not have had awareness of this monstrosity learned more about it by virtue of a truly big box office behemoth.

A great analog for The Boss Baby is the 2015 DreamWorks/20th Century Fox release Home. It debuted in theaters at an almost identical time of year and is from the same studio/distributor. It even made a similar amount on its opening day - $15.7 million. Home finished the weekend with $52.1 million, which amounts to a 3.32 weekend multiplier. If The Boss Baby does the same, it will come in with a weekend total of $51.4 million.

So, that means Beauty and the Beast is in a fight for first place. It actually had a much improved hold over last Friday, when it declined 63%. Yesterday's drip was only 45%, so it should be looking at a better hold even with The Boss Baby's interference. If Beauty and the Beast has a similar multiplier to last weekend, it should finish with $50 million. It's all going to come down to estimates and which studio is most willing to lie the most. I'm betting that Disney goes with a $52 million estimate to just take the weekend, and they'll account for the overage in daily box office reporting.

Ghost in the Shell had some controversy to overcome, and it didn't really do a great job of it. Yesterday's total for the Scarlett Johansson manga/anime adaptation was $7.7 million, about in line with my own expectations. Look for a weekend total right in the $20 million range. It's going to have a tough time of it moving forward since reviews are middling and the Cinemascore was a B. Apparently the top notch special effects aren't enough to make up for a so-so story.

Finally, The Zookeeper's Wife exceeded expectations by finishing Friday with $1 million. The Focus Features film features Jessica Chastain and is directed by Whale Rider's Niki Caro. It will just find a spot at the bottom of the top ten with around $2.9 million.