Weekend Wrap-Up
Beauty Dominates Power Rangers - LIfe and CHiPs Barely show up
By John Hamann
March 26, 2017
BoxOfficeProphets.com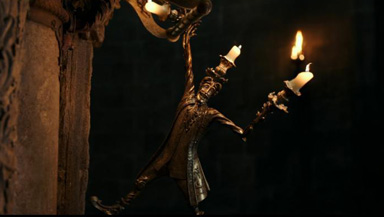 ---
Disney's Beauty and the Beast dominated the three other openers this weekend and is primed to finish not just as a huge hit, but as one the biggest movies in history at the box office.

Last weekend, the live action remake of Disney's Beauty and the Beast not only became the biggest opener in March. It became the sixth biggest opener ever at $174.8 million, eclipsing Marvel's Iron Man 3 by a few hundred thousand and beating Rogue One: A Star Wars Story by almost $20 million. Beauty also pulled in $180 million overseas. Since then, it has continued to roll at an amazing pace. It had $228 million in the domestic kitty before the second weekend began. A $72 million gross in its second weekend would push it past the $300 million domestic mark in only 10 days, the same time it took The Dark Knight and Avengers: Age of Ultron, and only one day slower than Marvel's Avengers, and that film opened almost $30 million higher than Beauty and the Beast. With strong word-of-mouth, the Disney musical could hold despite that amazing opening, and set its pace toward the top five domestic grossing films of all time.

Beauty would have competition this weekend from a film targeting a similar demographic. Saban's Power Rangers opened at 3,693 venues, but it has always been a question mark as to how it would perform. The cheeseball TV show had its lovers and haters, and with two Power Rangers movies already released in the mid-'90s (combined domestic gross an uninspiring $46 million), one might think its time had come and gone. Bring on Lionsgate, never a company to shy away from a possible franchise, and the studio (and partners) dropped $100 million into making this popcorn flick, hoping fans of the original would show up with their kids and reinvigorate the franchise.

The other opener this weekend is an even worse idea, that being CHiPs. This movie is another retread of a TV show, a remake that no one wanted, with Dax Shepherd and Michael Pena (why, Michael, why?), as what I assume are the characters named Ponch and Jon. Our last opener is Life, a horror sci-fi with a strong pedigree of actors supporting it. Jake Gyllenhaal, Ryan Reynolds and Rebecca Ferguson appear in this one, but despite massive amounts of marketing, audiences stayed away, likely because it looked like every other movie they ever seen. So, with only the Power Rangers movie creeping in, Beauty and the Beast had the platter set in front of them to feast on a huge second weekend at the box office.

And feast it did. Disney's blockbuster Beauty and the Beast started its second weekend with a strong $23.6 million on Friday, off an expected 63% from its preview-aided opening day, which came in at a ridiculous $63.8 million. Remember that Beauty turned in a stunning $16.3 million from its preview, which means that the "true" opening day could be considered at $47.5 million, giving it a regular drop at right around 50%, a stunning figure considering the size of the numbers we are talking about and the era we live in. Comparisons are tough when dealing with titles in this stratosphere, but the very similar opening Iron Man fell 71% from first to second Friday, and Captain America: Civil War, which opened $5 million higher than Beauty, fell 74% from first to second Friday. Of the five films that opened better than Beauty, only Star Wars: The Force Awakens had a better Friday-to-Friday hold, at 59%, and Beauty and the Beast tied Marvel's Avengers at 63.8%. Beauty and the Beast is well within the mix of the biggest, most iconic releases of all time, and its weekend was just getting started.

Over the remainder of the weekend, the $160 million Disney film pulled in a downright amazing $88.3 million in its second frame, dropping only 49% compared to its massive opening frame. This is the fourth-biggest second weekend of all time, behind only Marvel's Avengers $103 million, Jurassic World at $106.6 million, and the not going to be caught for some time, Star Wars: The Force Awakens with a second weekend at a crazy, Christmas-assisted $149.2 million. Batman v Superman, the former number one opener in March, fell 69% following opening weekend, and its Friday-to-Friday drop came in at 82%.

After only two weekends of release, Beauty and the Beast has already earned $317 million on the domestic side, crossing the $300 million mark on only its 10th day, joining Avengers: Age of Ultron and The Dark Knight – two summer superhero flicks – to accomplish the feat in the same amount of time. That puts it up with the other 65 films that have earned $300 million or more, an extremely elite group of films. After only 10 days, Beauty has already outgrossed films like the first Hobbit movie, An Unexpected Journey ($303 million), all the Twilight movies – the highest being Eclipse at $300.5 million, and Harry Potter and the Half Blood Prince ($305 million), just to name a few.

Beauty and the Beast isn't just dominating at home, it is killing it overseas as well. Its current international total is $373 million, which puts its global total just $10 million shy of the $700 million mark. I'm sure Disney didn't fantasize having this much money this early in Beauty's run. This one is sure to be a billion dollar winner, joining sure billion dollar hits for 2017 like Guardians of the Galaxy Vol.2 and Star Wars: The Last Jedi (yes, even if they stink – see Pirates of the Caribbean: On Stranger Tides, for example). Speaking of Pirates, the next film in that franchise has an outside shot in May, and Cars 3, Thor: Ragnarok and Coco will be good earners, but not billion dollar babies. Disney also have a shockingly strong 2018 coming, with Han Solo, Incredibles 2, Jungle Book 2 and Mary Poppins all on the schedule. When we talk again next weekend, Beauty will be approaching $400 million domestic, and will be in eyesight of that billion dollar figure.

Finishing second this weekend is Lionsgate's Power Rangers, and reading the press this weekend, I think I am supposed to be pretty excited about how it did at the box office (but hmmm, no). I am in the camp of anything Power Rangers shouldn't exist in the first place, so it pains me to have to talk about it as a success this weekend, when really it is only a success for Lionsgate and its partners, including Saban, whose name I think I am supposed to be putting before the title (like Trump White House – not going to do it, ever). So, the facts: after a ridiculous amount of advertising, Power Rangers earned $3.5 million on Thursday night, which was folded in to an opening day total of $15 million, a number that likely saved some jobs in the Lionsgate organization, as there was likely a huge sigh of relief that the $100 million film didn't kick over and die immediately (like most of their slate released over the last two years, save La La Land). $15 million likely meant at least $40 million at home, and acceptance overseas. However, a film that costs $100 million, with this kind of marketing push behind it, is going to have to do huge business, with this one looking for $300 million around the globe.

Over the weekend, the rebooted Power Rangers, complete with a token LBQT character, pulled in $40.5 million from 3,693 venues. That amount was about what the two earlier failed reboots earned during their entire domestic runs (the first managed $38.2 million, while the second, Turbo, earned a give-this-franchise-a-funeral domestic total of $8.3 million). That's a decent opening weekend for a reboot of a TV series (just ask the makers of CHiPS), but I can't see this one having much legs, as I would imagine (and could be wrong) that the demo for this is probably pretty small - maybe some families where the parent remembers the TV series and kids who were taken by the trailer. Reviews were better than I expected at 46% fresh, but the really good news is in the Cinemascore, which came in at an A (but I have my own theories about Cinemascores for fan-fueled reboots – they all show up the first day, and what are they going to say? I think the same thing happens with faith-based films).

Anyway, Power Rangers opens decently, but I am sure if we look back on those '90s Power Ranger films, we will see sad legs and disposable movies. Well, hold the phone – the 1995 reboot – Mighty Morphin Power Rangers opened to $13.1 million and finished at $38.2 million=, giving it an open to total multiplier of 2.9. Reviews for that one were also terrible, but it still managed an opening-to-total multiplier of 2.9. If this version manages the same, Power Rangers finishes at the domestic box office with over $100 million, something I did not believe possible prior to its debut. I thought Power Rangers would go the way of the Josh Trank version of Fantastic Four, the 2015 release that opened to $25.7 million, and then fell off a cliff, earning only $56.1 million, giving it an opening-to-total multiplier of 2.18 (before going to earn over $110 million overseas). In this case, Lionsgate did the usual, selling off foreign rights to reduce risk on the budget, and they should end up doing quite well with this release. Some have talked about a six-film arc for Power Rangers, so I guess for me, suicide is an option.

Third is Kong: Skull Island, which is in its third weekend. When Skull Island opened, it looked like it was off to a shaky start, then surprised me with a strong weekend multiplier, opening to $61 million. Then, I thought it would fall of in its second frame, but it fell a solid 54% to $27.8 million. This weekend it holds strongly again, despite a whole bunch of new product - arguably, Kong's biggest competition at the box office was the Power Rangers. The Warner Bros. release still held well – it earned $14.4 million, and fell a not bad 48%. It has a domestic total now of $133.5 million, and it could see $165-$175 million at the stateside box office. Made for $185 million, normally we would think it would be in trouble, because it didn't look it would match its production budget at home.

However, overseas audiences have really supported Kong: Skull Island, with it clearing $250 million on foreign shores this weekend. You see, Kong earned $22 million in China on opening day alone (previews included, of course), heading for a much better debut that Godzilla, which opened to $32 million there. It also opened in Japan this weekend, and those two countries alone will likely contribute $200 million to Kong's coffers. Warner Bros. And Legendary will see a return on investment, and maybe we will see a Kong/Godzilla mashup in the future.

Sony's Life died in fourth this weekend, as plot familiarity, bad reviews and poor audience reaction are going to send it to its grave. This letdown got started with a slow $4.4 million on Friday, which led to a disappointing $12.6 million from a quite wide 3,146 theaters. Given this stars Jake Gyllenhaal and Deadpool himself, I thought the opening would be better (and I thought the film would be better). RottenTomatoes has it at 66% fresh, but "top critics" at the site were only 48% fresh. Cinemascores were worse at a C+, which likely this means is going to disappear pretty quickly. Life cost $58 million to make, so Sony will likely struggle to find a return. However, the star power here may help, including the Swedish-born Rebecca Ferguson, along with Reynolds and Gyllenhaal. LIfe is a disappointment for me, as writers Paul Wernick and Rhett Reese did two of my favorite screenplays, Deadpool and Zombieland.

Logan is fifth, and for the first time see a drop that is not higher than 50%. In its fifth weekend, the Hugh Jackman fade out earned another $10.1 million, dropping a better 43% after losing 53% and 57% in previous weekends. The domestic total for the $97 million Fox hit has reached $201.4 million, crossing the $200 million mark today, its 24th day of release. That's one day slower than X-Men: Days of Future Past, which finished right where Logan should, at $233.9 million.

Sixth is Get Out, which has become a phenomenon. This weekend, Get Out earned another $8.7 million, dropping a mere 35%. The Universal/Blumhouse release has now seen drops between 15% and 35% over its run, simply unheard of for modern horror. The small $4.5 million film has now earned an insane $147.5 million, more than the original Blair Witch Project, which finished with $140.5 million.

Seventh is our last opener, the unfortunate CHiPs, which crashed and burned a bit this weekend. The comedy, written and directed by former flavor of the week Dax Shepherd, could only manage $7.6 million from 2,464 venues. That venue count leaves me to think that Warner Bros. Didn't have a lot of faith in this one, and critics didn't either, leaving it with a 20% fresh rating at RottenTomatoes. The B- Cinemascore says it didn't work with audiences, either, but with a negative cost of $25 million, the pain shouldn't be too bad if they can get some revenue out of international audiences. Dukes of Hazzard this is not, as the Duke boys opened that one to $30 million for WB and finished with a domestic take of $80 million. CHiPs won't be as lucky, and it will quickly be a memory.

The rest of the top ten are the sad sack holdovers. Eighth is The Shack, which has its best hold at 37% as it earns $3.8 million. The $20 million film has now pulled in an impressive $49.1 million. Ninth went to The LEGO Batman Movie, which dropped about 1,100 theaters as Beauty and the Beast and Power Rangers took over. The result is a gross of only $2 million and a drop of 57%. Totals now for the Warner Bros. release have hit $170.8 million stateside and another $121 million and counting overseas. The original LEGO Movie grossed $470 million worldwide, leaving the sequel well back. The Belko Experiment is tenth, as it earned $1.8 million and fell 56%. This one cost only $5 million to make to make, so no one will get really hurt by it.

Aptly timed basketball movie Slamma Jamma finishes 11th. The documentary, a first-time release by a company called River Rain, earned $1.7 million from 562 theaters. It averaged only $3,361, but an almost top ten finish may create some awareness. Too bad they couldn't help Kansas on Saturday night, as yours truly WAS in the 99th percentile of the ESPN bracket challenge.

Overall, the top 12 films earned a solid $192.3 million, but well back of last weekend's $253 million. Last year was Easter weekend, the frame that Batman v Superman opened in. That weekend earned $245.3 million, so if we compare that number to last weekend, the box office stays ahead, and if we slot in last year's pre-BvS weekend against Beauty, this year holds up well there, and this weekend handily beat last weekend's comparison, which came in at $118 million. Whatever weekend we compare it to, Beauty and the Beast is putting all others to shame.
Next weekend we have two more big films opening, as Alec Baldwin and the liberal entertainers club open the animated Boss Baby for Fox, while Scarlett Johansson's Ghost in the Shell is prepared to dominate the start of the April schedule.