Friday Box Office Analysis
By Tim Briody
March 25, 2017
BoxOfficeProphets.com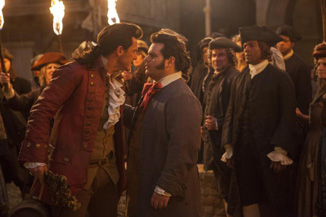 ---
Beauty and the Beast

After last week's record-breaking opening, Beauty and the Beast drops 63% from last Friday, but it's still a strong Friday of $23.8 million. It's already at $252.4 million, meaning it will be 2017's first $300 million movie by the end of the weekend (it was our first $200 million film on Monday, the same day it passed Logan as the top earner of 2017). Beauty and the Beast wasn't especially leggy over the weekend, mainly due to larger than anticipated earnings from Thursday night, fueling a big Friday. That won't apply this weekend, and with a strong Saturday and Sunday, it's going to have great second weekend of $77.1 million.

Power Rangers

The '90s nostalgia wave continues (and we're still two months away from Baywatch) as Power Rangers earns $15 million on Friday. I'd like to think there's some sort of morbid curiosity at work here, but we do have to remember that Teenage Mutant Ninja Turtles made $191 million two years ago (though last year's sequel topped out at $82 million), so there's still a lot of untapped resources at work here. Also, this is the weekend that the last three years Lionsgate unleashed the Divergent franchise upon us, and instead of the fourth movie (or second half of the third movie), they chose to release Power Rangers instead. That turns out to be a considerably wiser financial decision. Anyway, Power Rangers is still going to have a fine weekend, but it's a distant second to Beauty and the Beast with a weekend of about $42 million.

Life

Unfortunately not continuing the '90s trend by being a remake of a Eddie Murphy/Martin Lawrence movie, but instead a sci-fi film starring Jake Gyllenhaal and Ryan Reynolds, Life earns $4.3 million on Friday. Neither lead has been a major draw on their own (Reynolds in particular has generally been box office poison outside of Deadpool), but you can account for most of this box office performance on their starring roles. It's headed to a weekend of about $12.5 million.

CHiPs

The postmodern comedy update of '70s drama series CHiPs crashes and burns as it earns just $2.5 million on Friday. This is all Dax Shepard's baby, as he wrote, directed and stars in the film, but it was met with awful reviews and a general shrug. Look for a weekend of $7 million.