Weekend Forecast
By Kim Hollis
March 24, 2017
BoxOfficeProphets.com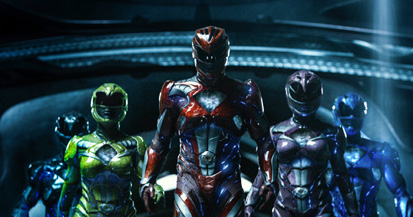 ---
We take a brief hiatus from our March of high-powered openers so that studios can release a few middling titles. Actually, that's really quite okay, since Beauty and the Beast will continue to be a juggernaut, bringing much joy and happiness to the powers that be at the Walt Disney Company.

The first of our new films, debuting in 3,693 locations is Power Rangers, a theatrical adaptation of the TV show from the early 1990s. Have we already gotten to the point where the '80s are out and the '90s are in? Beauty and the Beast is a 1991 release remade in 2017. This weekend, Power Rangers will be the poster child for the decade. It's not the first time that the franchise has come to the big screen. Mighty Morphin Power Rangers: The Movie earned a little over $38 million in 1995 (with a $13.1 million opening), but Turbo: A Power Rangers Movie only made $8.4 million during its entire time in theaters.

For the 2017 version of the Power Rangers, everything has been updated to bring a more polished, modern feel to the proceedings. Alas, the reaction to the film's trailers when I've seen them in theaters has ranged from somewhere between scornful and bemused. Reviews are so-so (44% at Rotten Tomatoes), but there does seem to be some sort of weird demand for the movie amongst the millennials who grew up with the show and have some lingering nostalgia for its cheesy action. I'm looking for a weekend right around $28 million.

Also new this weekend is the latest sci-fi adventure, Life. Featuring Jack Gyllenhaal, Ryan Reynolds, and Rebecca Ferguson, Life looks to offer a story that is a cross between Gravity and Alien. The marketing has been intriguing enough, although not enough to turn the film into any sort of massive hit. It's relying somewhat on the combined star power of Gyllenhaal and Reynolds to draw people in, but the two of them have never been particular box office draws on their own. Still, the prospect of a creepy extraterrestrial film in space does have its appeal. $18 million for the weekend seems like a pretty good one here, especially on a shoestring $58 million budget.

Our final new release is one that might just be better left forgotten. CHiPs is a reboot/remake/re-imagining of the late 1970s to early 80s era TV cop drama that featured California Highway Patrol cops on motorcycles. Ponch and Jon were a lot of fun to watch, and was a staple of the NBC lineup for a period. They even got a made-for-TV reunion sequel in 1999. Now, Dax Shepard writes, directs and stars in CHiPs 2017, and judging from the previews and a weak 2,464 venue count, Warner Bros. is just putting this one into theaters to fulfill contractual obligations. This 21 Jump Street wannabe should come in with around $6 million… if it's lucky.

So, we've come a long way round to saying that Beauty and the Beast will repeat as the number one film. It became the sixth-highest opening film of all-time last weekend with a bonkers total of $174.8 million. It is already the highest grossing domestic film of 2017 (by nearly $20 million), and it might pop into the same position internationally over the weekend. Now, with such a massive debut, it would be tempting to say that Beauty and the Beast is front-loaded, but it's shown no signs of underperforming so far. It was underestimated by almost $5 million on the debut weekend, and should come in with a strong second frame total of $80 million to $85 million.