Weekend Wrap-Up
Beauty and the Beast Sets Box Office On Fire
By John Hamann
March 19, 2017
BoxOfficeProphets.com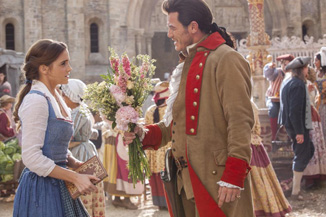 ---
Wow. We knew Disney's Beauty and the Beast was going to be big, but this debut is stronger than anyone expected. This is $170 million big, the seventh biggest weekend ever.

On the heels of the huge Logan and decent Kong: Skull Island comes Disney's much anticipated Beauty and the Beast, the live action re-imagining of the animated Disney film. It had the place all to itself this weekend - Logan has faded since opening, and Kong: Skull Island wasn't going to mess with the Beauty and the Beast demographic. The only true kid-friendly competition is The LEGO Batman Movie, but it was in its sixth weekend and only earned $7.4 million last weekend. The other thing working in Beauty's favor was all the in-theater marketing that would have occurred over the last four weekends, ever since Get Out woke up the box office with a $33.4 million opening. In-theater marketing is not just trailers, it is the stand-ups and posters that litter cinemas, creating awareness for upcoming films. Disney positioned Beauty perfectly date-wise, and they are reaping the rewards.

We knew Disney had something very big on its hands on Friday morning when Thursday preview grosses were announced. Beauty and the Beast managed to pull in a crazy $16.3 million from previews alone. If we look at a film like The Jungle Book, which opened to $103 million, the Thursday comparison is brutal, with Jungle Book earning $4.2 million on Thursday preview night. For a Thursday preview, Beauty was running with the likes of The Hunger Games ($19.7 million preview), was right on target with Star Wars: Revenge of the Sith, and just behind The Dark Knight's $18.5 million. Now, I should say that over the years, the Thursday preview has turned more into opening night, as Beauty started at 7 p.m. (with specialty theaters at 6 p.m.), whereas The Dark Knight actually started its screenings at midnight. Regardless, a $16.5 million Thursday puts all other Disney films to shame (but not Marvel Disney), with it challenging the combined Thursday/Friday of films like Cinderella ($23 million Thursday/Friday), Oz the Great and Powerful ($24 million opening day) and Maleficent ($24.3 million opening day). Beauty was set to break out. The question how big would the movie be? Was the DC Comics March record of $166 million – picked up by Batman v Superman one year ago - already in trouble?

The good news for Beauty and the Beast is that it did not stop or even slow following Thursday night. The Disney release became the 20th biggest opening day of all time, earning $63.8 million, the single biggest day for a film aimed at kids and for a musical. It also beat all of Emma Watson's Harry Potter films save for the last one, and Deathly Hallows Part 2 debuted to $91.1 million on opening day, but a massive $43.5 million came from the Thursday preview. The opening day was bigger than Deathly Hallows Part 1 ($61.7 million opening day), way bigger than Finding Dory ($54.7 million debut day) and Minions ($46 million). The opening day it couldn't beat was Batman v Superman, which fired up $81.6 million on Friday thanks to $27.7 million from Thursday previews. After Friday, though, the DC Comics mistake fell 38% on Saturday to $50.7 million, and then fell another 33% to $33.8 million. Would Beauty and the Beast experience the same trajectory? No way.

Spring break is impossible to nail down, with some students off this week, some next. Some have already finished, and some wait for April. We can't say that Friday was open season for kids on Beauty and the Beast, but we know some were out of school. If we continue with our Batman v Superman comparison, the DC Comics release opened over Easter weekend, so we know that Good Friday influenced its weekend. That huge turnout showed up on Thursday night, all day Friday, and then would have swooned somewhat on Easter Sunday. Beauty's Saturday came in at $62.7 million, off 2% from its massive $63.8 million opening day, but way up from the $50.8 million – the Friday with the Thursday previews removed . This is an excellent score, which shows that the weekend is behaving a like a traditional family film weekend, with a strong internal multiplier. The Sunday came in at $43.5 million, challenging its opening day Friday (with the previews removed).

That means that Disney's Beauty and the Beast becomes the top March opener ever, earning $170 million, and if the estimate holds, it becomes the seventh biggest opener ever and kicks Batman v Superman to the curb at what is really the very first opportunity to do so. This princess has been crowned queen, as what once looked to be an expensive and risky $160 million release from the Mouse House now looks like it could possibly recoup its budget stateside. That is rare for $150 million plus films, as I look for earnings at three times the budget to account for distribution and the large marketing costs associated with a blockbuster like this. Avengers: Age of Ultron looks like it did well domestically, except it cost $250 million to make, and earned $459 million stateside, which means it had to wait for overseas grosses for profitability (which it got in spades, earning $1.4 billion globally). A big surprise for me is that Beauty becomes Emma Watson's biggest opener of her career, ahead of all of her Harry Potter films. Emma Watson is 27-years-old, and when looking at films she was a major star in, that opened on more than 1,000 screens, she is averaging about $100 million per opening.

Outside of summer and Star Wars, we have the biggest opener of all-time. How the heck did Disney manage to break this out so well? Beauty and the Beast earned a positive score at RottenTomatoes – 71% at the time of this writing - but compared to the other blockbusters this month, that's not a great score. Get Out came in at 99% (my hate for Armond White only grows), Logan earned a 92% (another Armond White negative review), and Kong: Skull Island, which came in at 78% fresh, is still better than Beauty and the Beast. I think Disney has proved that these films are pretty much review proof – the audience has either aged with the original animated classic, or has passed on those feelings to their own kids. The nostalgia factor runs deep here, as not only do we have a remake of a classic, they kept the musical element and updated some of the characters for 2017. The Cinemascore delivered what Disney really wanted – an A – which will bring with it Jungle Book type legs. That most recent live-action adaptation earned a 3.5 opening-to-total multiplier, which would put Beauty up with some of the biggest films ever released. Beauty and the Beast was also massive overseas, picking up $180 million, for a global debut of $350 million. Disney could not have asked for a better result.

Finishing almost $140 million back in second is Kong: Skull Island. After opening to a higher than expected $61 million last weekend, there would be no miracles this weekend given the weight of Beauty and the Beast. Remember that even if a competing film stays away from the demographic, theater owners will still adjust what film is playing on what screen in the hopes of maximizing profit. On Friday, the writing was on the wall, as Kong earned $7.3 million on its second Friday, off 64% from its first, even though its Thursday was not Kong-sized ($4 million). Like last weekend, a strong Saturday/Sunday lifted it back up a little, with the final estimate coming in at $28.9 million. That gives the $185 million Warner Bros. Release a decline from opening weekend of 53%, about where it was expected to land. It has a running domestic total of $110.1 million. WB will likely be looking at a domestic tally at less than $200 million, which will mean another $300 million plus will be needed overseas. The overseas total stands at $149 million, so Kong: Skull Island has a long way to go to find success.

Logan is third, and like all X-Men films, it is struggling a bit in the legs department despite the awesome reviews. Logan earned another $17.5 million this weekend and has a weekend-to-weekend drop of 54%. That tally brings Logan's domestic score up to $184 million, and its overseas total has surpassed $340 million already. So, this $97 million effort from Fox is going to be all green for the studios involved. I think it's really great that Jackman leaves the series with a critical and financial hit.

Get Out takes its step down to fourth, and even it feels it in the legs department this weekend. The Universal/Blumhouse release picked up another $13.2 million in weekend three and fell 36% from the previous frame. The total now for the micro-budgeted $4.5 million film has hit $133.1 million, and it is just getting started overseas.

The Shack is fifth, and held okay versus the blockbusters, proving how niche a film like this is. The Shack earned another $6.1 million in its third weekend and dropped 39%. The faith-based release from Lionsgate now has a total of $42.6 million.

The LEGO Batman Movie is sixth, and after a long time flying solo, it finally gets some direct competition. The Warner Bros. release earned another $4.7 million in its sixth weekend and fell 38% compared to last weekend. The domestic tally for the $80 million film has hit $167.4 million, and with an overseas tally that has surpassed $120 million, the studio and LEGO have their second consecutive money winner before the film leaves theaters, and will be ready for another happy run on VOD.

We have our other opener in seventh. The Belko Experiment is a film that cost only $5 million to make, but it failed to reach that figure over opening weekend. This BH Tilt release could only find $4.1 million over its opening frame, from a very small theatre count of 1,341. Reviews were decent for the subject matter at 41%, but there wasn't enough studio backing to push this through the clutter. A Cinemascore wasn't released, but this is from Guardians of the Galaxy writer/director James Gunn, who has been involved in some cult hits like Slither and Super, this may find some value for the studio on VOD.

Eighth is Hidden Figures, which is wrapping up after an amazing run. This weekend it earned another $1.5 million and dropped 46%, but the battle was won long ago. The domestic total has now reached $165.6 million, and the overseas tally is approaching $50 million, all against a Fox budget of only $25 million.

Ninth is John Wick 2. The Keanu Reeves flick added another $1.2 million and fell 55%. The domestic total for the actioner has hit $89.8 million, and it has cleared the $65 million mark overseas. Tenth is Before I Fall, the very quiet teen movie with Zoey Deutch. Before I Fall earned $1 million and fell 66%. The Open Road release has now earned $11.3 million.

Overall, the box office had some major power. The top 12 films managed an out-of-this-world $249.5 million, not only thanks to Beauty, but the Beasts as well (Kong, Logan, Get Out). During the same weekend last year, the top 12 only managed $118 million. Next weekend, we are back to flinging titles at the wall and seeing what sticks. Openers include Power Rangers from Lionsgate, who found $105 million to throw away, CHiPs, with Dax Shepherd and Michael Pena, Slamma Jamma, a sports drama from a studio called River Rain, and finally, Life, with Jake Gyllenhaal and Ryan Reynolds, in a film that looks like a cross between Alien and The Thing. These films will have to contend with what will likely a be a returning film that makes $90 million plus.