Weekend Wrap-Up
Logan vs Kong: Battle of the Blockbusters
By John Hamann
March 12, 2017
BoxOfficeProphets.com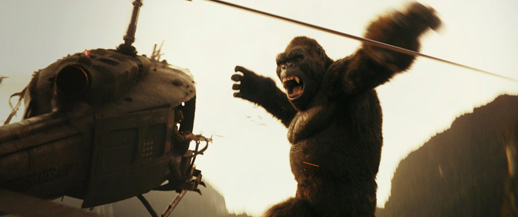 ---
Hearts at Warner Bros. must have sank last weekend when Logan broke out with a $88.4 million open, the fourth biggest ever for an R-rated release. Would there still be room for Kong: Skull Island and its massive $185 million budget?

Yes, with Logan looming large in its second frame, the pressure was even bigger for Warner Bros. and Legendary's Kong: Skull Island, as March blockbuster weekend part two of four got going this weekend. Studios went crazy this March, with big budget films peppering the schedule. Things got started with Logan and its $97 million budget last weekend. This weekend, Kong hits at a cost of $185 million. Next weekend brings Beauty and the Beast with a $160 million budget, followed by Life with Jake Gyllenhaal and Ryan Reynolds and Power Rangers, at a cost of $105 million. Big budget releases are everywhere this March, so Kong: Skull Island was not only going to have to deal with Logan this frame, it would have to deal with all the others in the weekends to come, putting a ton of pressure on the big ape to have a big opening weekend - both at home and abroad.

Because of Logan's largeness last weekend, there were concerns mid-week that Kong: Skull Island might not even finish in first, should Logan post a drop akin to its Cinemascore (A-), and reviews (92% fresh). A 50% drop for Logan would put it at about $44 million, but given the massive opening weekend and big Thursday preview ($9 million) last weekend, the smart money was a on a bigger drop than 50% for Logan and Fox. Kong: Skull Island certainly didn't see a $9 million Thursday preview like Logan did. It had to settle for $3.7 million, less than half of Logan's good start, while carrying almost double the budget. While the swan song for Hugh Jackman as Wolverine might make it more front-loaded, this is still a pretty dismal Thursday preview for a film as big as Kong: Skull Island is. Logan earned just short of $5 million on Thursday night, already burying Kong despite being out for a week.

Kong: Skull Island's combined Thursday preview/Friday came in at a decent but unspectacular $20.2 million, not coming close to Logan's $33 million Thursday/Friday. Peter Jackson's version of King Kong had an opening Wednesday of $9.8 million – 10 days before Christmas, and that debut also struggled against a large budget, as it cost $207 million to make. King Kong went on to have a first Friday of $14.5 million, on its way to a Friday-to-Sunday opening of $50.1 million and a five-day of $66.2 million.The 2005 version of Kong likely lost money, given the $550 million worldwide take against that ridiculous budget. 2014's Godzilla makes Skull Island look puny as well, as it had an opening day of $38.4 million, as it rode toward an opening weekend of $93.2 million. Comparisons to monster movies were not looking good for Skull Island, as Warner Bros. became more and more dependent on overseas grosses as the weekend continued.

Kong: Skull Island's only hope was that with Logan being rated R, maybe the kids would come out on Saturday and Sunday and push the weekend multiplier up. Jackson's King Kong multiplier was skewed due to opening on Wednesday near Christmas break. That multiplier was 3.4 (but should be thrown out). Godzilla had a Thursday included multiplier of 2.42, which shows that it was a May opener that was front-loaded. If the PG-13 Skull Island could pull a 2.7 or 2.8 multiplier, the blockbuster might be able to save face. It had the right things going for it. At Rotten Tomatoes, reviews were decent (but again, no Logan) coming in at 78% fresh with 171 positive reviews out of a possible 219. The Cinemascore was also just a touch off of Logan's A- score, with Kong: Skull Island earning a B+. Had it been any other weekend, Kong: Skull Island would be in decent shape; however, with Logan and Get Out taking $60 million out of the box office bag, Kong was destined to struggle, despite its size.

The $185 million Kong: Skull Island finished the weekend with a decent but unspectacular $61 million, though it still managed to get well past the $45 million tracking estimate. Warner Bros. Put Kong out to 3,846 venues, a count that also felt light for such an expensive film. Logan and Get Out would also be taking up some of the bigger theaters in multiplexes, again pushing Kong down. Kong ends up as the 11th biggest March opener, falling between Monsters vs. Aliens' $59.3 million and Cinderella, which opened to $67.9 million two years ago.

To be blunt, this opening is not big enough for a $185 million film - Kong: Skull Island needed at least a $75 million to start. For a film to be profitable, a blockbuster like this needs to make three times its budget worldwide to make up for those expensive marketing costs. Using that formula, Skull Island would need to finish with $550 million worldwide, so a $150 million domestic finish (if it's lucky) would mean the overseas box office would need to be at $400 million, a number that neither King Kong or Godzilla saw in their runs. Early reports have the opening weekend overseas at $81.6 million, so maybe there is still hope yet for old Kong, but it's doubtful.

That puts Logan in second for the weekend, but I don't think anyone at Fox will be complaining. After charging out of the gate last weekend with a $9 million preview and $33 million opening day, Wolverine was bound to tumble, mostly due to that out of hand Thursday showing. Logan earned $10.4 million on Friday, off a whopping 69% from opening day; however, if we pull the preview amount out, the drop is closer to 57%. Over its second weekend, Logan managed $37.8 million, giving it a second weekend drop of 57%. The second film in the series, The Wolverine, dropped 60% in its second weekend, but was working with much smaller numbers, opening to $53.1 million and dropping to $21.3 million. X-Men Origins: Wolverine opened to a similar $85 million and dropped 69% to $26.4 million. Logan will do better than the Origins film did, as the first film earned $180 million domestic, and Logan has already earned $152.7 million after 10 days of release. Overseas, Logan has already posted an out of hand score of $286 million, easily putting the $97 million budgeted Fox film in the black before the second weekend began.

Get Out is no slouch in third, as the horror film with something to stay continued to stay relevant in weekend three. The Universal/Blumhouse release earned another $6 million on its third Friday ($1.5 million MORE than its production budget), and was down only 25% from its second Friday at $8 million. The weekend amount came in at $21.1 million, off a slim 25% compared to last weekend. The Jordan Peele release crossed the $100 million mark on Saturday, its 16th day, the same amount of time it took Fifty Shades Darker to hit the same amount. The domestic total for Get Out has now reached $111 million and is destined to be the biggest Jason Blum flick ever, as it chases Split, which has earned $135 million so far. Get Out also starts to get some overseas play next weekend.

Lionsgate's religious themed flick, The Shack, drops one spot to fourth this weekend. The Octavia Spencer as God film earned another $10 million, dropping 38% compared to its $16.2 million opening. That's not terrible for a religious flick that often gets its disciples out over opening weekend, especially a terribly made film like this. The Shack has now earned $32.3 million stateside.

The LEGO Batman Movie enjoys another weekend as the only kids' flick out there. In its fifth weekend, LEGO Batman earned another $7.8 million and fell 33%. The $80 million Warner Bros. flick has reaped $159 million stateside and has crossed the $115 million mark overseas, as it approaches $300 million worldwide.

Before I Fall manages a repeat sixth place finish, finding itself in the same spot it opened to last weekend. The teen Groundhog Day managed to pick up another $3.1 million in its second frame and declined 34%. The $5 million film has now earned $9 million, and no one should get harmed from this result.

Hidden Figures holds nicely considering it lost 160 or so theaters in its 10th weekend of wide release. Hidden Figures picked up another $2.8 million and fell a slim 28% compared to last weekend. The domestic gross now sits at $162.9 million, and the worldwide has crossed the $200 million mark – all against a budget of only $25 million.

John Wick: Chapter 2 is eighth and picks up another $2.7 million. The sequel dropped 44% compared to last weekend and lifted its domestic total up to $87.4 million. The $40 million film will be nicely profitable for Lionsgate, considering it has earned over $65 million overseas and still has some markets to come.

La La Land is our ninth place film. The almost Best Picture winner earned $1.8 million in its zillionth weekend of release and fell 41% compared to last weekend. The domestic total has reached $148.4 million, and overseas revenue has crossed the $268 million mark – all against a tiny $30 million budget.

Fifty Shades Darker is tenth, as Universal has to be thankful for overseas audiences supporting this one. Fifty Shades earned another $1.6 million and declined 54% compared to last weekend. The domestic tally for the $55 million film has hit $112.5 million, but the driving force overseas crossed the $255 million mark this weekend.

Overall, the box office remains up compared to last year, due to a strong top 3. The top 12 films earned $152.4 million this weekend, where last year's comparable weekend managed $122 million. Next weekend, another log hits the fire, as Beauty and the Beast is sure to dominate when it goes out to more than 4,000 screens. It is joined by The Belko Experiment, the horror flick adapted by the writer/director of Guardians of the Galaxy, James Gunn.