Friday Box Office Analysis
By Kim Hollis
March 11, 2017
BoxOfficeProphets.com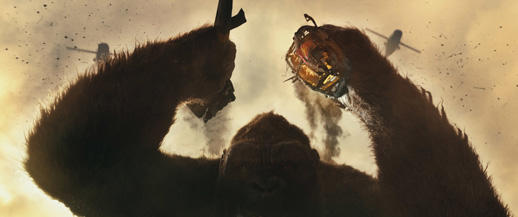 ---
Kong was indeed king on Friday, though probably not with as dominating a performance as Warner Bros. would have liked to see.

Kong: Skull Island, Warner Bros.' continuing effort to bring giant, scary creatures to the big screen, debuted on Friday with $20.2 million. That number does include $3.7 million from Thursday night previews, which puts the "real" Friday number at $16.5 million. That's probably not as strong a start as the studio was hoping to see, particularly given the reported $185 million budget.

If we compare Skull Island to other recent monster movie opening days, it earned more than Peter Jackson's 2005 version of the story ($14.5 million) but substantially less than 2014's Godzilla ($38.4 million). If we throw Pacific Rim into the mix for the heck of it, that film performed pretty similarly to the 2005 edition of King Kong, earning $14.6 million on its debut Friday. If we look at multipliers for both Godzilla and Pacific Rim, they averaged about a 2.5 to a 2.6, while King Kong was a bit of an exception at 3.5 since it debuted in December and on a Wednesday. Since Kong: Skull Island is getting decent reviews, we can perhaps bump it up ever so slightly to a 2.65, which would give it $53.5 million on the weekend. It will assuredly do well overseas, but domestic grosses are going to need that assist if the film is to recoup any of the investment put into it.

Our big holdover from last weekend, Logan, saw a significant decline despite great reviews and fantastic word-of-mouth. Yesterday's total was down 69 percent to $10.4 million, which is a headier fall than most prognosticators were expecting. The X-Men fanboy rush is real, folks. Anyway, over the three-day portion of the weekend, we should be able to expect Logan to level out some as it earns $38 million. Considering this 20th Century Fox project's budget was under $100 million, they're still going to continue to be pleased with the results here.

Get Out keeps on keeping on, and it's already fair to call it one of the biggest box office stories of the year. It was down a mere 25 percent from last Friday, and if it follows the trajectory it did last weekend when it had a similar decline, the horror film from Jordan Peele will earn a weekend total of $22.6 million. It will pass the $100 million mark today.

Our smaller openers from last weekend, The Shack and Before I Fall, will hang out in the middle of the chart. The Shack earned $2.7 million, down 51 percent from last weekend's surprising $16.1 million debut. It should end up with $8.9 million. Before I Fall dropped 44 percent from last Friday, earning $929,677. Its total for the weekend should be in the area of $2.8 million.