Weekend Wrap-Up
Logan Goes Out WIth a Box Office Bang - Get Out Holds Despite Wolverine
By John Hamann
March 5, 2017
BoxOfficeProphets.com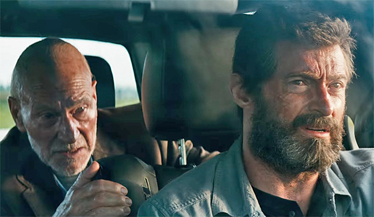 ---
Wow - you can tell February is behind us, as it's an unexpectedly large box office weekend for Wolverine, as our retiring hero claws his way into the record books.

Ask yourself this: Would Logan still have broken out if Get Out hadn't dominated the box office last weekend? The very hot Get Out has a similar audience and is a movie that people love to talk about. Add to that the hoopla around Jackman's retirement from the character and strong marketing, and awareness was out of this world heading into the weekend.

Logan reigned, but there were other openers at the box office this weekend, and a strong follow up weekend for last weekend's breakout, Get Out. First the openers: Fox took Logan out to a very wide 4,071 venues, as they looked to get as many eyeballs on Wolverine prior to Kong: Skull Island opening next weekend. Also opening is Before I Fall, a Groundhog Day type film set in high school with Zoey Deutch, with a day repeating over and over (that's what I remember high school actually being like).Lionsgate tries to keep its hot hand going with The Shack, a man meets god fable with Octavia Spencer and Sam Worthington. Would the faith-based crowd attend despite the almost universal bad reviews?

After one of the bleakest Februarys in a while, Logan opened for previews on Thursday, March 2nd, and if I was a betting man, I would say Wolverine kicked off what will likely be the biggest moviegoing March since… well, last March, which saw both Zootopia and Batman v Superman debut, and collectively those two films alone started with $243 million. This year, along with Logan, March openers will include Kong: Skull Island, Beauty and the Beast, CHIPs, Power Rangers, LIfe (with Ryan Reynolds and Jake Gyllenhaal), and Ghost in the Shell; however, that last one opens on March 31st. There are some very big titles coming down, and with Get Out and Logan getting people into theaters, that in-house marketing takes effect, and the box office could start to roll.

Logan's Thursday preview amount came in at larger than expected $9.5 million, an excellent number for a cold Thursday night in early March. The Thursday was better than X-Men: Apocalypse ($8.2 million Thursday) and Dr. Strange ($9.4 million), two similar films that opened to $65 million (X-Men) and $85 million (Strange). The last Wolverine film could only manage $4 million on Thursday night; however, when Wolverine opened in 2013, previews were still previews. Wolverine didn't open until 10 p.m., whereas Logan got started at 7 p.m.. Logan hadn't even been in release for an entire day, and Fox's weekend estimate of $60 million was looking like it was going to throw way under the actual.

I am not surprised Logan got out of the gate in such a hurry - Wolverine is the most popular X-Men character, and carries his own fanbase. Hugh Jackman is one of the big reasons why the X-Men franchise (I don't count Deadpool) has earned $1.45 billion domestically and $3.6 billion worldwide from eight films. One question remained: How front-loaded would Logan be?

X-Men Origins: Wolverine opened in early May of 2009, and earned about $5 million from midnight previews. Its opening day was reported at $34.4 million, and was a shrinking daisy after that. The Saturday fell 15%, but without the previews, was flat with Friday. The Sunday dropped another 27% from Saturday, giving Origins: Wolverine a internal weekend multiplier of 2.47, not very good for a film targeted at teens (and older), and released when school was in (which usually drives multipliers higher). Word got out quick that this film was terrible, and audiences reacted. The opening weekend multiplier was poor, and the follow up weekend was worse, dropping an abysmal 69% in its second weekend. The film, which cost $150 million to make, opened at $83 million and closed at the domestic box office with only $179.9 million, a terrible opening-to-total multiplier of 2.11. X-Men Origins: Wolverine barely doubled its opening weekend over its entire domestic run. Overseas wasn't much better, and against that budget, the first Wolverine probably lost money for Fox.

Jump ahead four years to The Wolverine, a film that actually had some thought put into it, but opened to less than the crappy original. James Mangold (Copland, Walk The Line) stepped into the director's chair, and saw an opening day of $20.7 million, about $15 million less than the original. The opening weekend followed the same progress down - a 12% drop on Saturday to $18.1 million, and a 21% drop to Sunday. The opening weekend was reported at $53.1 million, and it finished with $132.6 million, giving it a better internal weekend multiplier of 2.6, and a better open to total multiplier of 2.5. Overseas revenue bailed this version of Wolverine out, with the international total coming in at a massive $282 million, foisting the overall total up to $415 million against a $120 million budget. This one would have made money for Fox, and brings us to Logan.

Logan's combined Thursday/Friday number was reported at a massive $33 million, which is a lot more than Zootopia earned on opening day ($19.5 million), Other opening days for big March titles: 300 earned $28.1 million, and Oz the Great and Powerful earned $24.1 million on opening day; however, Logan could not catch Alice In Wonderland, which had an opening day of $40 million on its way to a weekend of $116.1 million. Compared to the X-Men films, Logan just missed Days of Future Past, which had an opening day of $35.5 million and a debut weekend of $90.8 million. On opening day, Logan earned more than half of the biggest weekend so far in 2017, with that record formerly belonging to The LEGO Batman Movie, which had an opening weekend of $53 million. Logan was off to a great start, but would the legs dry up immediately like with the first two Wolverine films?

Logan's Saturday was reported at $31.3 million, off 5% compared to the Thursday/Friday figure. Before we get too excited about the drop, keep in mind the Thursday preview amount doubled the amount earned by last two Wolverine films, creating more of an atmosphere for front-loading. For March, the Saturday number is good enough, as it pushes Logan into the top four opening weekends for films released in March and sets the stage for a super March. I guess if you are Hugh Jackman, this is the way you want to go out.

The weekend estimate for Logan comes in at a massive $85.3 million, the third best debut for March, behind only Batman v Superman, The Hunger Games, and Alice In Wonderland. It squeaks by Oz the Great Powerful, which debuted to $79.1 million. Logan earned that vast amount from 4,071 venues, the widest ever release ever for an R-rated film. For Hugh Jackman, this is his second biggest opening, squeaking ahead of X-Men Origins: Wolverine and behind X-Men: The Last Stand, which opened to $102.8 million. Director James Mangold, who also directed The Wolverine, will get his first big hit with Logan, as this will easily overtake the $132.6 million Wolverine earned domestically and will overtake his other $100 million plus earner, Walk the Line, which turned in $119.5 million. Logan cost $97 million to make before prints and advertising, which means it will need to make $300 million worldwide for Fox to see a profit.

While yes, this is a Wolverine movie, which means the fanbase shows up, like last week with Get Out, we have a successful movie because the people behind Logan stepped and made a very good movie. Logan is 94% fresh at Rotten Tomatoes, and we have two wide release films released within weekends of each other, that scored a 99% fresh rating (Get Out) and now Logan at 94% fresh. Also like Get Out, Logan earned an A- Cinemascore, good enough for what it has to do going forward. The legs should be plentiful, but it does have some blockbuster competition to face off against next weekend (Kong) and the weekend after (Beauty and the Beast). I think Logan will approach $250 million stateside before all is said and done, and then find another $400 million overseas.

Finishing well back in second is Get Out, but its story is just as fascinating as that of Logan. After being estimated at $30.5 million before being bumped up to $33.4 million, Get Out was a bit of a mystery heading into the weekend. Would it behave like a traditional horror flick and drop 55-60%? Or would it behave like a critical darling, expand slightly and only drop 35-40%? How about a result better than both of those scenarios? Get Out pulled in $8 million on Friday (despite Logan), and finished the weekend with a wild $26.1 million. That gives the Jordan Peele flick a drop from opening weekend of only 22%, a number usually reserved for kids flicks or Oscar nominees. This is reminiscent of The Blair Witch project, when it dropped 17% from $29.2 million to $24.3 million. The difference, though, is that Blair Witch added over 1,000 venues, whereas Get Out added 157 screens. Get Out has now pulled in $76 million after 10 days of release, and shows no sign of slowing down.

Faith based flick The Shack shows up in third, as religious fanboys and girls do not buy tickets based on reviews. Lionsgate released the drama, starring Octavia Spencer as God and Sam Worthington as the tormented disciple. It got out of the gate strong on Friday, picking up $5.5 million, That's a lot better than the $2.8/$2.9 million earned by God's Not Dead and its sequel earned on opening day. Heaven is for Real opened on a Wednesday, but still earned $7.9 million on its first Friday, on its way to $22.5 million over its first Friday-to-Sunday to period. The Shack was not going to match that, but was likely going to do okay considering the $20 million budget. .

Over the weekend, The Shack earned $16.1 million from a quite wide venue count of 2,888. The faith-based crowd liked what they saw, as The Shack managed an A Cinemascore, the best result of the weekend. The 32 critics that recorded their opinion at Rotten Tomatoes hated it, leaving The Shack looking more like an outhouse with a 16% fresh rating. Again, this was made economically and marketed to the target audience, and like the others before it, the faith-based release will be successful.

The LEGO Batman Movie finishes fourth, and sees another fairly heavy drop considering no kid competition is being released. The LEGO Batman Movie picked up another $11.6 million but fell 40% in the process. The LEGO Movie earned $20.8 million in its fourth weekend, and fell 34% that weekend. The original had earned $210 million after four weekends, where the spin-off is lagging with $148.6 million in the kitty thus far.

Fifth is Before I Fall, the new released aimed at teens. Groundhog Day in high school finished below expectations, picking up only $4.9 million from 2,346 venues. Before I Fall at least achieved a fresh rating - garnering a 68% rating from all critics, and it did manage an 82% rating from what RT calls "top critics." The budget here is only $5 million before P&A, so at least the makers won't have far to fall given this result.

Sixth is John Wick: Chapter 2, as the Keanu Reeves sequel starts to wind down, especially with blockbuster competition coming now. John Wick 2 picked up another $4.7 million but declined 50% due to the arrival of Logan. The action sequel has done very well, earning $82.8 million stateside, and another $50 million and counting overseas.

Hidden Figures is seventh as the post-Oscar glow remains for another weekend. The movie about black women working for NASA earned another $3.8 million this weekend and dropped 34%. The total for the Oscar nominated film has reached $158.8 million against a budget of only $25 million.

Ninth is The Great Wall, as the secondary host of the Oscars, Matt Damon, got a lot of screen time on Sunday night. Unfortunately, it didn't help his film. The Great Wall also got massacred by Logan, as it earned only $3.5 million and drops a nasty 62%. The Great Wall has now earned $41.3 million in North America, and $270 million overseas.

Dropping hard to number nine this weekend is Fifty Shades Darker, which sees the bottom fall out as it moves from $7.7 million last weekend to $3.5 million, giving it a drop of 55%. The romantic thriller has now earned $109.9 million domestically and another $225 million overseas. Given that Fifty Shades Darker cost only $55 million to make, Universal will be just fine with this result even if it is lagging behind its predecessor.

Almost Oscar winner La La Land finishes tenth. After picking up $4.7 million last weekend, La La Land earned $2.9 million this weekend, leading to a drop of 38%. It's of no concern, as La La Land has now picked up $145.6 million domestically and another $230 million overseas.

Overall, the box office is way up over last year, thanks to Logan. The top 12 films this weekend took in $167.8 million, way up over last year's top 12 (led by the first weekend of Zootopia), which found $146.9 million. Next weekend brings Kong: Skull Island, with the schedule to itself, but with its $190 million budget looming large.