Friday Box Office Analysis
By Kim Hollis
February 25, 2017
BoxOfficeProphets.com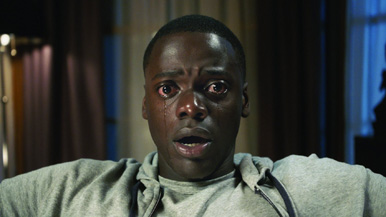 ---
Horror fans got a unexpected surprise this weekend, as Jordan Peele's theatrical directorial debut Get Out was released. Yes, he's that Jordan Peele. The one from Key and Peele, the comedy series best known for their love of Liam Neeson and creating such characters as Donkey Teeth and Ozamataz Buckshank. Peele has directed a horror film that deals with racial issues, and it happens to be 100 percent fresh at Rotten Tomatoes. I believe that cats and dogs may also be living together. Up may also be down - I haven't checked yet.

For those of us who have been following Key and Peele for several years, this result isn't necessarily surprising. The two of them have sublime talent and a keen, acerbic with that unabashedly takes on racism and race relations with a take no prisoners approach. So, we're extra excited to say that along with its outstanding reviews, Get Out debuted with a fantastic $10.8 million yesterday. It will easily finish the weekend in the top spot and is yet another killer (ha ha) result for Universal and Blumhouse Productions. Producer Jason Blum has turned horror into a cottage industry of sorts, and he does so by funding good movies that audiences enjoy. Kudos to him for snapping up Peele's project, which might have seemed like the unlikeliest of movies to most prospective production companies.

Get Out likely had a bit of a rush factor to see it since there are people (like me) who are Peele fanboys. The great reviews will combat that somewhat, but we do know that horror doesn't always hold up well over the weekend. Along with that, the Academy Awards will take a pretty significant bite out of Sunday's box office. The weekend total should be $27 million, and hopefully a nice long life in theaters for several weeks to come.

Two other films were released this weekend, not that you'd know unless someone told you. Unlike Get Out, which had a solid marketing campaign both on television and on streaming video pre-roll, Rock Dog and Collide were afterthoughts that were barely supported by the studios that distributed them. Rock Dog is a Chinese animation production that received release in that country last year (to little support). Apparently, Lionsgate seemed to think it was a good idea to go ahead and bring it to America with such voice talent as Luke Wilson, Eddie Izzard and Lewis Black. The animation looks terrible and reviews pretty much support that notion, as Rock Dog is just 44 percent fresh at Rotten Tomatoes. It made $901,000 yesterday, will earn about $3.1 million for the weekend, and will be forgotten in about a minute.

Of course, that's a longer shelf life than Collide will have. From Open Road films, Collide features Nicholas Hoult and past Oscar nominees/winners Felicity Jones, Ben Kingsley and Anthony Hopkins. It has lousy reviews and word-of-mouth from those who could be bothered to see it, which amounted to only $539,000 worth of tickets on Friday. Collide might manage to make $1.5 million this weekend before slipping away into oblivion.

For holdovers, The Great Wall declined 59 percent, Fist Fight fell 54 percent and A Cure for Wellness fell off the map with a hefty 72 percent drop.