Weekend Forecast for February 24-26, 2017
By Reagen Sulewski
February 24, 2017
BoxOfficeProphets.com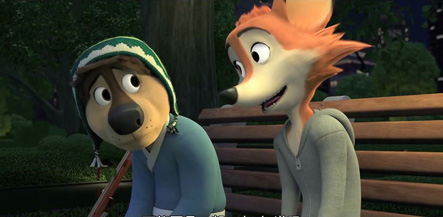 ---
A second straight weekend of modest opening films leaves us with just one solid weekend in February, an unusual stretch for what's started to become a strong period for box office. At least one of this weekend's films is strongly acclaimed. But there are three new films this weekend? Yes. Yes, there are.

Jordan Peele, half of the comedy duo Key and Peele, releases his directorial debut this weekend that in a swerve, isn't comedy but a satirical horror movie. Get Out stars relative unknown Daniel Kaluuya as an African-American man on a trip with his white girlfriend (Allison Williams) to her parents' (Bradley Whitford, Catherine Keener) suburban estate where he's assured that everything's cool, no one will have any issues at all with their relationship, ha ha Obama was cool and isn't that Drake a wonderful artist.

However, once they arrive, everything is not... quite...right, and the subtle and unthinking jabs at his race are matched by the strange behavior of their (African-American) maid and gardener, who veer between being far too helpful and wild rage. Meanwhile, how sure can he be that the clueless comments are really clueless, and not calculated to provoke and get under his skin?

Neatly inverting several horror tropes, Get Out posits suburbia as the real danger zone, especially for those marginalized by the dominant culture and the constant, subtle drum beat to conform to the majority's standards. Peele is no stranger to dealing with this topic, and several skits on his show dealt with the pervasive, unobserved racism of society with a sharpness that cut to the bone. Here, he turns that same notion into fear in what looks like a racial twist on The Stepford Wives with some of the genre savviness of The Cabin in the Woods. It's horrific, but all too close to real. In a rare twist, the film has received universal acclaim, with its smart social awareness adding to the genre fun. This has a chance to take top spot on the weekend but will likely fall a little short with around $18 million.

Last weekend saw China attempt to break into the North American action market with The Great Wall, to modest effect. This week, they try to crack the family film market with what can safely be said to be... not as much success. Rock Dog (that title, ugh) stars Luke Wilson as the voiced of animated Tibetan Mastiff that's fated to guard the sheep in his village despite his dreams of being a rock star. That is, until a radio falls from a passing plane (OK, this is starting to feel a little subversive, given the context) bringing him news of the outside world and the existence of a rock star cat in the west (Eddie Izzard).

With the generic "follow your dreams" message that makes up 87% of family entertainment these days, an underwhelming voice cast and a curiously flat animation style, this China-U.S. co-production (directed by the co-director of Toy Story 2, who's barely worked since, so there you go) is likely to severely underwhelm with a weekend of around $4 million, joining the ranks of Doogal and Fly Me To The Moon in the category of "animated movies that should have never been," and might rank as the cruelest treatment of animals on screen in 2017... What?

In what looks like a straight-up dump, Collide rounds out our wide releases for this weekend. Starring Nicholas Hoult, Felicity Jones, Ben Kingsley and Anthony Hopkins, it's a film that seems to consist 50 per cent of scenes of cars flipping and people yelling while holding guns in other people's faces. Hoult plays a car thief wrestling with an American accent who's dragged back into a European drug smuggling ring when his girlfriend is kidnapped. If this sounds almost exactly like 2013's Getaway starring Ethan Hawke, well, you'd be pretty spot on, and also indicates you remember movies more than most people, as that lasted in theaters about as long as snowball in Mexico. With little ad support and something of a token release, this should gross only about $2 million this weekend.

The LEGO Batman Movie should be able to hang on to first spot for a third straight weekend after a solid hold over President's Day Weekend. On its way to around $200 million domestic, the LEGO Movie spin off should grab $20 million this weekend.

The Great Wall was a slightly better success than its terrible reviews and laughable looking campaign hinted at, starting with $18 million. Word-of-mouth is not strong, and action movies rarely get a bump, so I'd expect this to come in with around $10 million.

Fifty Shades Darker had the expected miserable second weekend, dropping to $20 million, although it has already done its predecessor one better by managing to double its opening weekend total, a meager feat that the original never achieved. Look for this to gross about $8 million this weekend.

John Wick 2 wasn't able to turn its impressive opening weekend into legs, so despite doubling the original's opening weekend, it's not looking to hit Taken-like numbers. It's still wildly successful, and should finish with around $100 million, so a return to this series seems likely if Keanu and Co. are up for it.

Fist Fight's weak comedy managed $12 million for its start, but the Charlie Day/Ice Cube teacher comedy should probably drop to about $7 million. Meanwhile, in its last chance before the Oscars, Hidden Figures should grab another $5 million to push its Best Picture leading domestic total to about $150 million.