Weekend Wrap-Up
Holdovers Rule Over Slow President's Day Long Weekend
By John Hamann
February 19, 2017
BoxOfficeProphets.com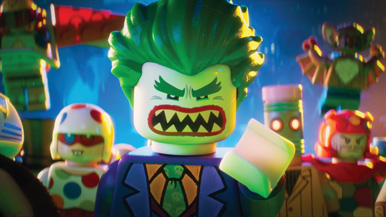 ---
Something seems missing at the box office over this President's Day long weekend - moviegoers.

Yes, last November, Stephen King's opus The Dark Tower got shuffled to summer, and no other big hitter swung in to take its place. That may be due to the calendar configuration this year, with Valentine's Day and the President's Day weekend being quite separate. The last time the two holidays were separate was in 2012. That weekend, three new films got buried by holdover weekends of Safe House, The Vow and Journey 2: Mysterious Island. This year, we have a similar release configuration, with holdovers The LEGO Batman Movie, John Wick: Chapter 2, and Fifty Shades Darker looking to best a weak crop of newbies.

The debuting group includes The Great Wall, with Matt Damon in a Chinese production, Fist Fight, a new comedy with Ice Cube and Charlie Day, and A Curse For Wellness, the latest from Gore Verbinski (Pirates of the Caribbean, The Ring). Unfortunately, after LEGO Batman opened to $53 million last weekend, they all knew the didn't have a chance at top spot over the long holiday frame.

Our number one film for the second weekend in a row is The LEGO Batman Movie, the animated film that launched last weekend with $53 million, and stood a great chance of holding well due to the long weekend this time around. The opening day-to-second Friday comparison is telling, as it fell 48% compared to opening day, pulling in $7.6 million. The Lego Movie fell only 34% opening Friday compared to the follow up, which is somewhat normal due to sequelitis. These LEGO Movies seem to have a bit of cult following, so everyone lines up over opening weekend, leaving the second Friday to drag a little.

Over the three-day portion of the long weekend, The LEGO Batman Movie pulled in a strong $34.2 million, off 35% compared to its $53 million opening. The original LEGO Movie fell a stellar 28% - earning $49.8 million in its second frame after opening to $69.1 million. The fact that both percentage drops are solid is very good news for the sequel. The original had fantastic domestic legs, earning a 3.7 open-to-total multiplier, but I do not expect the same for the sequel, as those that were revved up for it saw it over opening weekend, which reduces the multiplier. The original LEGO Movie cost $60 million to make, and earned $469 million globally. The sequel will likely finish shorter on the domestic side ($258 million), and longer compared to the original overseas ($211 million). If Warner Bros. and LEGO can continue to push out solid content like these two films, this franchise could go on for a very long time.

Fifty Shades Darker manages to hang on to second spot at the box office, despite Valentine's Day being in the rear view mirror. Before we get to its second weekend, let me tell you that Fifty Shades Darker did dominate Valentine's Day, earning $11 million on a Tuesday. After its first five days, the sequel had already earned $61.5 million on the domestic side. On its second Friday, though, Fifty Shades could only manage $6.8 million and was off 68% from its opening Friday and Thursday preview. The original opened the day before Valentine's Day in 2015, so its opening day was likely inflated at $30.3 million, and it fell to $8 million, a drop of 73%, five points higher than the sequel.

In 2015, Valentine's Day and President's Day landed on the same weekend, priming the box office for a huge drop in the second frame. The original fell 74% in weekend two, and the sequel was bound to do better due to the holiday weekend and the Friday result. Fifty Shades Darker finished its second weekend with $21 million, off a not terrible 55%, at least compared to Fifty Shades of Grey. After ten days of release, the original had earned $129.2 million. The sequel has tallied $89.7 million in the same amount of time. Fifty Shades has also dominated the overseas market, pulling in almost $190 million so far. The first film earned over $400 million internationally, cementing a path for a series of sequels. With a budget of $80 million, Universal is going to make another tidy profit of this one, and likely off the next one as well, which - surprise, surprise - opens next February.

The Great Wall debuted in third this weekend, following its $170 million run in China alone. The fantasy flick opened to $18.1 million in North America from 3,326 venues, about what Universal was expecting. The Great Wall cost a stunning $150 million to make and got killed by poor reviews (36% fresh at Rotten Tomatoes). The Cinemascore was a disappointing B, leaving it in a tough position to be financially positive against that huge budget. My guess is that The Great Wall disappears quickly on the North American side. It does have nearly $250 million overseas, though.

John Wick: Chapter 2 (or John Wick 2 in my book) started its second weekend with a $4.2 million Friday, off a respectable 62% compared to its opening day. That's better than the original, which fell 67% when comparing Fridays, earning a seemingly small $1.8 million; however, Wick's second Friday happened to be Halloween. Over its second frame, the sequel took in $16.5 million, falling 46%, which compares well with the original, as John Wick earned $8 million and fell 45% in weekend two. The sequel has already out-earned the original, as it has tallied $58.7 million so far, compared to the original's overall domestic total of $43 million.

In fifth we get our second new wide release of the weekend. This time, it's Ice Cube in Fist Fight. This is the second of our three new releases that failed with critics and viewers. Fist Fight is no Ride Along, as this one earned only $12 million from 3,185 venues for Warner Bros. Unfortunately for them, Fist Fight is currently a deadbeat 32% at Rotten Tomatoes and earned a terrible B Cinemascore. Ice Cube is often review proof, so it shouldn't be too hard to get it to a profitable session. The cost for Fist Fight was only $25 million.

I've got Hidden Figures in sixth this morning, but that may change once actuals roll in on Tuesday. Hidden Figures -aka the little train that could - keeps going today, its seventh weekend in the top ten, earning another $7.1 million and dropping only 11%. This film is a force of nature, having a domestic total of of $142.6 million to date.

Split continues its dominant run this weekend, landing in seventh place. Split earned another $7 million and dropped 26%, despite losing 500 or so screens. Split is moving from a North American phenomenon to a worldwide hit, as it has picked up $123.6 million stateside and another $70 million overseas.

Eighth is A Dog's Purpose, the film that started with a whole bunch of controversy, and has settled in to become a decent earner for Universal. This weekend, its fourth, A Dog's Purpose picked up $5.6 million and fell 24%. This $22 million film has now earned $50.7 million domestically, and has added $15 million or so overseas. It will continue its worldwide expansion with the UK opening on April 14th.

Ninth place goes to La La Land, our leading Oscar contender. La La Land earned another $4.5 million at the this weekend and brings its domestic take up to $133.5 million. It has also accumulated more than $200 million overseas.

Our last opener, A Cure For Wellness, debuts at an unhealthy tenth this weekend. With an opening gross of $4.2 million, this one is destined for failure. as it cost $40 million to make, and that fake news ad campaign couldn't have been cheap. Wellness is DOA, and its 38% fresh rating and C+ Cinemascore support that.

Overall, the totals are disappointing for a long weekend (or really any weekend). The top 12 films this weekend earned a miserable $136.6 million. Still, it's a better total than last year, which came in at $125.2 million, as new openers Risen, The Witch and Race all had middling totals. Next weekend brings some interesting titles as Get Out, the new horror flick from Jordan Peele debuts. We'll also see the opening of Collide, with Nic Hoult and Felicity Jones, and Rock Dog, one of those instantly forgettable animation efforts from Lionsgate.