Weekend Wrap-Up
BDSM = Lite versus LEGO, or Moms vs. Kids
By John Hamann
February 12, 2017
BoxOfficeProphets.com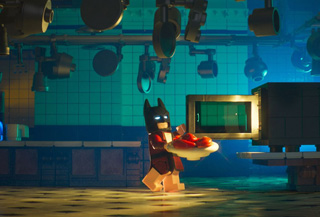 ---
We've got another "sequel weekend" where somehow, all three openers are the second film in their respective franchises. Why do we have three of them? Because the pre-Valentine's weekend has become incredibly popular.

So, it's the weekend before Valentine's Day (guys, the big day is Tuesday, I repeat, Tuesday), and the weekend before President's Day weekend, which often leaves this frame in a strange position. Before we get to that, let's talk about the huge amount of strength from the three opening films this weekend, all sequels, but only one expected to match or beat the open of its predecessor. Fifty Shades Darker, Universal's follow up to Fifty Shades of Grey was in position to conquer the weekend. The original opened to $85 million, but then word got out about how bad it was, and it failed to earn twice what it earned over its opening frame, at least domestically. Overseas though, it was a monster, earning $400 million overseas, and more than $150 million over opening weekend. The LEGO Movie was a bit more of a surprise, pulling in just short of $70 million over its opening frame, and finishing with $470 million worldwide. Our last sequel is the much smaller John Wick: Chapter Two (from here out known as John Wick 2) based on a sequel that opened to only $14.5 million and finished domestically with $43 million, nothing to really suggest a sequel. The overseas revenue brought another $43 million into Wick's coffers, though, and this $20 million film made money. Then, it became a cult revenge flick hit, and they greenlit the sequel as quickly as possible. This sets up what will easily be the biggest box office weekend of the year.

The race of the sequels got started on Thursday night, with Fifty Shades Darker spanking all comers with a preview amount of $5.7 million, followed by The LEGO Batman Movie and John Wick 2 with $2.2 million apiece. It is absolutely logical to say that a movie aimed at kids isn't going to pop on Thursday night, as kids have school on Friday. But wait, there's more. Warner Bros. started screening LEGO Batman at 5:00 p.m. on Thursday, so kids had two screenings instead of one to gobble up the action. Maybe most surprising is that John Wick 2 tied the blockbuster LEGO Batman Movie in Thursday previews. So, after day one of competition, Fifty Shades Darker was out ahead, LEGO might be fading, and John Wick has a large, built-in audience.

On Day 2, these three powerhouse sequels faced off again, now laying out there true weekend strategies, all based on results from questionable polling firms. The LEGO Batman Movie came out swinging, at least in the venue count department, as LEGO Batman opened at a very wide 4,008 screens. Fifty Shades Darker went out to 3,710 locations, as opposed to 3,655 for the original, with Universal hoping to catch lightning in a bottle twice. John Wick 2 opened at 3,113 venues, compared to the 2,589 for the first film when it opened.

That massive supply of venues turned Fifty Shades Darker's Thursday preview and opening day amounts into a first day of $21.5 million. While decent, it paled in comparison to the more whippish original, which took in $30.3 million. Universal will be pushing for a build towards Valentine's Day, with Fifty Shades Darker looking at a big Tuesday before it settles in for a bumpy ride down. The LEGO Batman Movie's opening day came in at $15 million for its combined Thursday/Friday. The LEGO Movie turned in a slightly stronger $17 million on opening day, so LEGO and DC have nothing to fret over. That leaves John Wick 2 , which earned $11 million over its combined opening days and shoots down the original's opening day at $5.5 million.

The analysis kicks in after those opening days are realized. We know Fifty Shades 2 is going to be frontloaded, and The LEGO Batman Movie is going to make most of its money toward the latter part of the weekend. But hold on just a second. With Valentine's Day approaching, we could see that lift toward the holiday. It could be negligible, but I think it's out there – as who wants to go see a play movie like this on Tuesday night? Ew. On the other hand, The LEGO Batman Movie did not have a lot of overage fanboys show up on Thursday night, but I like the Friday number. I believe that due the fanboy factor, we may not see the massive animated opening weekend legs like a Zootopia or a Secret Life of Pets type release. The older fanboy propelled the original LEGO Movie into a massive pile of box office, but I have to wonder if that market is waiting to see if Batman is cool or not.

John Wick 2's Saturday catapulted past the opening weekend take of the original ($14.4 million), likely by early afternoon, given the great start it had. Over the weekend, John Wick 2 managed a weekend gross of $30 million, very decent considering the original's amount, and coming in 208% ahead of the original. It found success the same way the original did – it's a hell of a movie from what I understand. At RottenTomatoes, John Wick 2 is a very solid 90% fresh (versus the original's 85%), and the Cinemascore came in at A-. The original was just so good, I don't know how fans of the first film miss out on seeing this in the theatre, and it is definitely on my go to list. The first film earned only a B Cinemascore, but I don't know a person that doesn't like the original. I think Lionsgate is going to have a global hit here, and rake in several multiplies against a budget of only $40 million.

So John Wick 2 finished third – would the Valentine's Day crowd lift Fifty Shades Darker up past LEGO Batman to secure number one? No. The number one movie of the weekend is The LEGO Batman Movie, which finds a decent enough sized success for the folks at Warner Bros. and LEGO. The weekend take was announced at $55.6 million, fantastic for a film that cost $80 million to make, but maybe a bit disappointing when looking at the franchise. Was the first film in the series so successful simply because it hadn't been seen before? Was it older fanboys and fangirls? The LEGO Batman Movie earned a 91% rating at RottenTomatoes, not quite the 96% the first one earned, but still great nonetheless. A very slight problem comes with the Cinemascore, as Lego Batman earned a A-compared to an A for The LEGO Movie, but if that's the biggest problem, they have no worries. LEGO Batman doesn't even have real competition until Fox's Boss Baby comes to town at the end of March – six weekends away.

That means Fifty Shades Darker gets the booby prize this weekend, as it has to settle for second, and didn't open anywhere near the original. Fifty Shades 2 opened to $46.8 million over the weekend, nowhere near the $86 million its predecessor earned over those days. However, Fifty Shades of Grey's second day – a Saturday – was Valentine's Day, and it earned $36.8 million from one day alone. That calendar trend makes this a little less embarrassing compared to the original - again, likely only on the domestic side. Fifty Shades Darker has been reported to have earned $147 million worldwide this weekend, so the $55 million budget will not go to waste. It will die quickly, though, as Fifty Shades Darker is 10% fresh at RT. It does speak to the fans, it seems, as the film took in a Cinemascore of B-.

Down to number four after three weekends at number one, Split took in another $9.3 million, and dropped a respectable 35%, considering the arriving films. Split lifts its total to $112.3 million on the domestic side and over $57 million internationally, all against a $10 million budget.

Fifth is Hidden Figures, as it continues its impressive run. Figures earned another $8 million, dropping a minute 22% compared to last weekend's $10.2 million take. The total now stands at $131.5 million domestically, and it is approaching $10 million overseas.

The rest don't matter that much: A Dog's Purpose picked up another $7.4 million and fell 30%; Rings continues its plummet, pulling in $5.8 million and dropping 55%; La La Land took in another $5 million and fell 32%; Lion tries to hold strong, earning $4.1 million and increasing 9%; andThe STX disaster, The Space Between Us earned only $1.8 million and dropped 53%.

The overall box office total is the key to the weekend. With a top three that were strong in their own ways, the top 12 films this weekend earned $176.9 million. Last year, Valentine's Day fell on Sunday, giving the top 12 an astounding $221.2 thanks to a super strong opening from Deadpool.

Next weekend brings three more releases, this batch a little sketchier than the last (which means none are sequels). Universal releases The Great Wall, the Matt Damon movie that was made with Chinese money; Fist Fight with Ice Cube; and A Cure for Wellness, the new horror thriller from Gore Verbinski.