January 2017 Box Office Recap
By Steven Slater
February 11, 2017
BoxOfficeProphets.com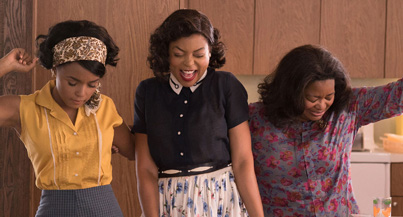 ---
Think fast! What's the most interesting month for movie box office! If you said January, you are wrong! Unless Sean Spicer said it, in which case it is absolutely true and believing otherwise is a betrayal of patriotism. January is often the month where big holiday blockbusters and Oscar hopefuls reap the biggest rewards, although you can get the occasional surprise like American Sniper (even if that technically opened in December). This year is no different, as 2017 starts off with most people seeing films that opened last year.

Continuing a trend that will likely persist until movies die, Star Wars takes the top spot in January for the second year in a row. Rogue One opened in mid-December, but still took the crown for highest domestic earnings in January, although not nearly by the same margin as The Force Awakens. Rogue One earned $112.8 million this month, bringing its domestic total up to $521 million. For comparison, The Force Awakens made over $243 million last January. Rogue One will probably squeak by The Dark Knight to become the sixth biggest domestic earner of all-time sometime in February.

Second place goes to Sing, another holdover from December, and it has quietly made a lot more money than you think it has. Quietly, that is, unless you have young children. In January it added $105.5 million to its stash, bringing its domestic total to $258 million, which is more Despicable Me earned back in 2010. Cue Minions Singing crossover. Ow, my ears.


Third goes to Hidden Figures, a nice little success story, where a PG-rated film showed it could play with the big boys (there must have been no swearing in the 1960s). The film about three black mathematicians proving their worth at NASA has shown its own mettle, picking up $106.8 million after being on top for two weekends. It actually opened in limited release in December, but didn't go wide until January, so it's really the top opener for the month. It is still chugging along and will probably be one of the more notable success stories for 2017, especially if it takes home some Oscar gold.

Fourth goes to Split, which provided a typical M. Night Shyamalan twist in actually being well reviewed and making a decent amount of money. Actually, the real twist is that no matter to whom it occurs, when someone makes a comeback in Hollywood it is quite an achievement (see Ben Affleck, known mostly as an actor, yet an Oscar winner for writing and producing). Despite only being out for the last 11 days of the month, it has accrued over $81.1 million and stayed at the top of the box office through February 9th.

La La Land, the favorite to win the Best Picture Oscar, has also secured quite a haul, which is commendable given that it is a musical and that its subject matter is Hollywood itself (not a topic known for large box office returns). $78 million gives it the fifth highest total for the month and brings its domestic total over $108 million. I guess a few stars are shining on this film… Given the likelihood that La La Land could earn double digit Oscar statues, this film could keep going for a couple of months. The last musical best picture winner, Chicago, finished with $170 million, so this one could reach that same plateau. The highest grossing musical of all time is actually Grease, with $188 million way back in 1978; could La La Land top the chart?


Surprising in sixth place is Passengers, a film most people probably thought had flamed out by New Year's. Despite having the hottest couple of stars in Hollywood, a bad movie is a bad movie, and Passengers could only drag in $41 million for the month. While that has doubled its domestic box office, it's probably still not enough to justify this film's price tag. However, as is often the case, international receipts may save this one from being a total disappointment on that front.

xXx: The Return of Xander Cage has made enough money to apparently warrant a sequel for next year, xXx: The Chronicles of Fast and Furious. Earning $35.3 million in January, good for seventh, it may be on the lower end of Vin Diesel's comeback franchises, though it will likely do just fine with international receipts added in (echo?) But seriously, who was asking for this movie? Are they asking for more? Please hire me to write it. I can bring serious depth to the character known only as Xander Cage.

In Eighth is a movie from the ancient time of November. Moana has been going strong since Thanksgiving, and added $34 million for the month of January, bringing its haul up to $240 million. This is a pretty good total for the Disney Animation Studios release, coming in third for their recent efforts behind Frozen and Zootopia, and adds another feather to their cap of incredible releases these past few years.


Ninth and tenth are a couple of recent releases that...well, I guess they were kind of there. $29.8 million is a decent enough start for the most recent Underworld film. I suppose it might finance Kate Beckinsale's next Jane Austen adaptation (double bill Underworld with Love and Friendship, you won't regret it!). $28.7 million for Monster Trucks is right behind it. This movie would have made a killing if Samuel L. Jackson had been in it. GET these mother-effing monster's outta my - okay, you get it.

In case you were wondering, the next batch of films on the charts are Why Him, Patriot's Day, Fences and The Bye Bye Man, all with earnings in the 20s of millions. To get the top ten wide openers for January, add A Dog's Purpose, Sleepless and Resident Evil to that list, each earning in the teens. And, incidentally, the biggest opening weekend for January 2017 was for Split, right at $40 million, which is oddly a very common number for this month (Split is fifth all-time for January opening weekends, the number two opener is Ride Along with $41.5 million).

There it is, the top ten for January 2017. It lives up to the history of recent Januarys, where you probably saw the films at the top of the list from December, and then a bunch of raw meat is thrown at the screen to see what sticks. Overall, movies made $270.7 million at the domestic box office in January, which places it 16th on the chart for all Januarys. Januaries. Januareez. Whichever one it is. Yeah, this January wasn't so good compared to just about every recent first month of the year. The last time January box office was lower was 2007, and I don't even want to think about adjusting for inflation. Let's hope February brings better films and more butts to the theater, but we may have to wait until the new summer season (which now apparently begins in March, by the way) for some box office heat. LEGO Batman to the rescue!