Friday Box Office Analysis
By Kim Hollis and David Mumpower
February 11, 2017
BoxOfficeProphets.com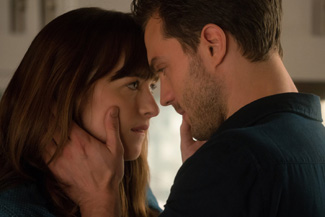 ---
We've got good news for the Joker on how to defeat Batman. Simply add lots of gratuitous sex scenes. The next Harley Quinn movie basically writes itself.

Yes, 50 Shades Darker somehow won Friday despite having a current Rotten Tomatoes score of 10%. For comparison, the legendary train wreck known as 50 Shades of Grey earned a somewhat questionable 25%. Yes, a lot of those critics clearly need more companionship, but that's not the point here. Fifty Shades Darker is the film that no one wanted, yet it's going to earn back its budget over opening weekend. This is just the latest example that people do extremely regrettable things in the days leading up to Valentine's Day.

50 Shades Darker earned $21.5 million yesterday, notably down from the first film's $30.8 million debut Friday. Given how tumultuous this production (and pre-production) was, they're breathing plenty of sighs of relief at Universal. Taking out the $5.7 million that Darker earned on Thursday, the "true" Friday total was $15.8 million. With a 2.5 multiplier for the weekend (and the previews added back in), 50 Shades Darker is looking at $45.2 million for the weekend, and a second place finish once it's all said and done.

As usual Batman lost the battle but will probably win the war. Christian Grey took the Dark Knight prisoner by $6.5 million. Batman's no one's submissive, though. The LEGO Batman Movie earned $15 million on Friday, $2.2 million of which came from Thursday previews. We're operating under the assumption that it will behave similarly to The LEGO Movie, which expanded a dazzling 80% from Friday-to-Saturday. Batman is dealing with (slightly) smaller numbers, so it's even more upwardly mobile. We're going to use that 80% increase as our baseline, but if that looks low to you, feel free to build your own estimate based on even more improvement. Kids are attending this in droves today, so there's no question that it will spike. The only debate is how much. Despite only opening to $15 million yesterday, The LEGO Batman Movie has a real chance at making $60 million this weekend.

Our final new release is John Wick Chapter 2, the "loser" of the weekend. The sequel to the film about the world's most violent dog lover expanded every bit as well as one would expect of a movie of such impeccable quality. The original John Wick debuted with $14.4 million for the entire weekend. Chapter 2 earned $11 million on Friday, including $2.2 million from Thursday night previews. John Wick 2 did have an ace in the hole with the promised reunion of Morpheus and Neo, aka Laurence Fishburne and Keanu Reeves, but don't believe for a second that Matrix fans front-loaded this. John Wick Chapter 2 is in a virtual tie with LEGO Batman as the best-reviewed movie of the weekend and will also likely wind up as one of the ten best-reviewed movies of the year. It should earn $26.8 million for the weekend. We're actually being pessimistic on this film because we're huge fans of the franchise. A $30 million weekend wouldn't shock us, especially with regards to estimates.