Weekend Forecast for February 10-12, 2017
By Reagen Sulewski
February 10, 2017
BoxOfficeProphets.com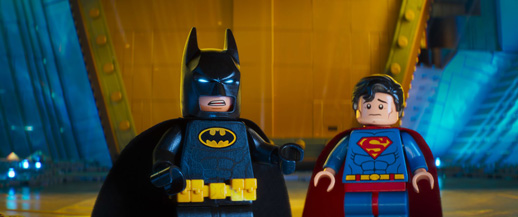 ---
While a large portion of the continent deals with a winter blast, the winter box office doldrums are definitely a thing of the past, with three high profile releases dominating this weekend's box office, chasing out one of the more mediocre three-week champs we've ever seen.

First up is a movie that, if you'd suggested three years ago would be viable as something other than a direct-to-digital release, let alone a potential blockbuster, would have made you sound like a crazy person. The LEGO Batman Movie follows on the heels of 2014's The LEGO Movie, which made a shocking amount of bucks for a movie about building block toys. But then, it was given to the infinitely creative hands of Phil Miller and Christopher Lord, two of the biggest demented geniuses in Hollywood right now, and who found the heart in the story of Lego minifigs, and the spirit of play.

While a sequel for that film is in the works, one of the central figs in that film gets his own spinoff, with Will Arnett returning to voice the plastic caped crusader in the LEGO version of Gotham, and in what is sure to be more successful and enjoyable than the vast vast vast (vast!) majority of live-action films in the DC Universe these days.

Half send-up, half throw-back, it pits the beleaguered Bats against a spectacular array of Batman villains, from the Joker (Zach Galifianakis) and Two-Face (Billy Dee Williams, reclaiming his birthright) to deeeeeep pulls, like Condiment Man – a real thing! – and a host of other familiar characters, such as Robin (a simpering Michael Cera), Batgirl (Rosario Dawson), Catwoman... look, I could go on, but there's a ton of voice acting talent here with some very very funny people. Directing duties go to Robot Chicken's Chris McKay, in his first proper feature, but Miller & Lord have stayed on as producers and their influence seems apparent in the trailers and commercials, with a bent and wacky sensibility running throughout.

While it's ostensibly a kids movie, like its predecessor, it's pitching a lot of jokes to the older crowds, and the path that's been blazed for it is an important one. While over-saturation is definitely a possibility in the future, this extension of the idea is a natural one given how well Arnett's Batman was able to integrate into this universe. While matching the first movie's $70 million opening is likely out of reach, a strong opening of about $58 million seems reasonable.

Further down the list of anticipation into the "ah, we're still doing this?" realm is Fifty Shades Darker, the sequel to the 2015 adaptation of the Bad Sex Writing champion/Twilight fan-fiction spinoff Fifty Shades of Grey. Giving a terrible name to BDSM practitioners everywhere, it turned a horrible novel into a dreary and boring movie, and horrifying at least one of its stars as he realized exactly what he'd signed up for.

The sequel goes further into the dime-story psychology of its white bread-bland protagonists, with visits from people in Christian Grey's past (Kim Basinger) and more somehow boring sex scenes, thanks to the total lack of chemistry between its leads. After the massive post-opening flop of the first film (barely doubling its opening weekend total) the curiosity factor has likely died down to zero, leaving just its core fans. We'll find out just exactly that is, and it's undoubtedly a fraction with a pretty large denominator. While the third film in the trilogy is still planned for a big release next year, don't think that circumstances can't change – just ask everyone waiting for that last Divergent movie.

Reviews are typically savage, hammering the sub-Hallmark writing and wooden acting, and saving special reprobation for the unsexiest sex scenes that ever sexed. A massive drop in opening weekends to around $38 million is likely in store here, as they have badly out-kicked their coverage on the desire for this movie.

Trending in the exact opposite direction is John Wick: Chapter 2, a sequel to 2014's most surprising action movie. Starring Keanu Reeves as a retired hitman brought back into action after his dog was killed by low-level mobsters, it looked for all the world like a cliched, quickie action flick with an ill-suited star. The big shock came when it turned out to be one of the most stylish and enervating films of that year, with its superior choreography (thanks to direction by the stunt coordinators of The Matrix) and fascinating "just enough" world building to make it an endlessly compelling watch. Reeves played the lead as a bit of a blank slate – playing to his strengths – but with a barely concealed rage and despair that served just what the film needed. And now he's got another franchise to call his own.

While it opened to just $14 million, it gained a decent following on its release on digital and cable, generating a legitimate word-of-mouth campaign, to the point where it's being mentioned in the same breath as films like Taken and Die Hard – an iconic role that drives a series.

Chapter 2 starts essentially right after the first movie ends, with Wick heading back into the criminal underworld in order to pay off a debt, but finding a rather significant bounty on his head, leading to some more artfully placed bullets. In addition to the returning Ian McShane and Lance Riddick, this film adds a couple of notable actors – Common and Ruby Rose, along with a bit of stunt casting in Laurence Fishburne as a vindictive New York crime lord. Reviews are stellar, stating that the film offers exactly what people loved about the first edition while adding just enough more, making this a candidate for a big boost in opening weekend. I'd look for around $31 million, bumping it into Taken territory.

All of this bumps Split out of first place for the first time since mid-January, having grossed $100 million in the meantime – the first true 2017 release to do so. It's seemingly inspired a resurrection of the idea of continuing the (loosely) connected Unbreakable universe, which is probably the most significant thing that could have happened out of this release. In its fourth week, it should drop to about $8 million.

Rings, the waaaay too late sequel to the Rings franchise, landed with a big flop at just $13 million. It's hard to imagine any recovery from here, and it should drop heavily to $6 million.

Similar numbers are in store for A Dog's Purpose and Hidden Figures, the latter of which is proving to be the *slightly* bigger box office hit of the Best Picture nominees, compared to La La Land, which lost ground this weekend (but should see a big boost for Valentine's Day).