Top Chef Charleston Recap: Episode 10
By Jason Lee
February 7, 2017
BoxOfficeProphets.com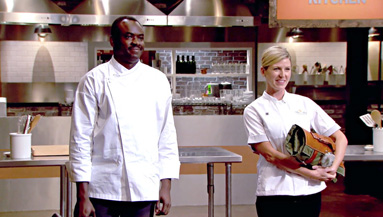 ---
And then there were six. Assuming that only three chefs will be advancing to the finale (per Top Chef's usual practice), there will be three chefs taken down, and three allowed to go. Included in that group is the lone rookie remaining, Sylva, who is the only person other than Brooke to have won two Elimination Challenges, including the one last week. He's feeling unstoppable.

But wait! There's a surprise! To all the chefs' astonishment, Tom enters the Stew Room, totally violating the unspoken terms of the safe space. He's got good reason, though. He'll be taking the chefs out on a boat tomorrow morning as a "treat."

Yeah, a "treat," Brooke and Shirley say. They both get totally seasick on the water and make many warnings about potential puke. But Shirley's got that covered - she takes some seasickness pills and is totally fine as the chefs experience their first "shrimping," which entails giant nets filled with shrimp and other poor, sad sea creatures, like sharks (*sniff*), squid, and other fish.

Aaaaaaand, it wouldn't be a trip on a boat on Top Chef without a visit to the dock for a Quickfire. But it's not any 'ole Quickfire. It's a SUDDEN DEATH QUICKFIRE. Holy crap. This seems absolutely crazy - we're only a few eliminations away from having our top three for the finale, and the judges are going to be sending someone home in a QUICKFIRE?

To say it again, holy crap.

Unsurprisingly, the chefs are tasked with coming up with a dish made from the shrimp they just caught. The chefs all start taking lessons from past challenges. Casey, recognizing that her dish was slightly underseasoned last episode, makes a dish packed with flavor. Sheldon is repeating a technique that worked so well for him during the finale in his season - smoking some pine branches when cooking his shrimp. And Shirley… poor Shirley, she's dealing with lethargy brought on by her seasickness pills.

Coming out on top are Brooke, John, and Sheldon, with Sheldon taking home top honors for his tomato-water poached shrimp with smoked pine. Brooke is happy that her shrimp with clarified shrimp butter kept her out danger, and John is thrilled to avoid another Sudden Death Quickfire with his shrimp ceviche with fennel and peppers.

The bad news, then, is for Casey (her red curry shrimp with coconut broth was salty and she can't believe it), Shirley (her garlic shrimp were really rubbery and not what Tom is used to getting from her), and Sylva (his orange-marinated shrimp with coconut broth was really, really salty). As the bottom three, they'll have another 30 minutes in which to cook another dish based on the discarded seafood that got trapped in their shrimp nets. There's shark, squid, other fish, etc. etc. The chefs immediately start rummaging around and get to work, exhausted (physically and emotionally) from the last Quickfire but determined to avoid elimination.


Except for Shirley, that is. She's still numb and woozy from the medicine. Curse those seasickness pills! She eventually serves a grilled baby squid with roasted fennel and mirin. Casey also picks squid but does hers charred with a mushroom soy broth and roasted fennel. Finally, Sylva goes with redfish, which he serves with tarragon butter and tomato-cabbage. Tom compliments the flavors in Shirley's dish, which had tons of acid. Casey's was an "umami bomb" - exactly the type of food she's been cooking all season. Finally, Tom thought Sylva went subtle, but not too subtle — it reminded Tom that not all food needs to hit you in the face with its flavors.

In the end, Casey is sent home for her squid being just a little chewy. So sad. Casey notes that she's basically grown up on Top Chef. It was one of the hardest things she's ever done, but it was so worth it. "I'll always have Top Chef," she says. Best of luck, Casey.

Ignoring the poignancy of the moment, Padma promises something fun (!!!) for the Elimination Challenge, introducing Dominque Ansel, this week's guest judge and the inventor of the cronut. Imagine Wylie Dufresne, but French and really focused on desserts. As brunch is his favorite meal of the day, the chefs will be asked to put their own spin on brunch with a mash-up meal that combines both breakfast and lunch. Tom notes that in his restaurant, he makes a dish called a "foie graffle," which is a waffle with foie gras. Har har har.

Dominque entreats the chefs to be creative and make a dish that the diners - Charleston's "hat ladies"—will remember. They'll have $400 and two hours to do so, which leaves many chefs feeling really rushed. Especially Brooke. She laments the fact that her almost-winning dish from last week's episode (the egg yolk crepe) would have been perfect for this challenge. She vows to do something equally impressive and creative this time around, though, even if she can't figure out what that is just yet.

Not so for the other chefs. Shirley is doing an Americanized version of a Chinese classic, taking pot stickers that you'd eat during dim sum and making a cheeseburger-flavored version. Sounds… interesting. Sheldon is doing a play on chicken and waffles where the fried chicken is pressed into the shape of a waffle using a waffle maker, with frozen waffles providing a crumb topping. Sylva starts prepping a frittata, which doesn't at all sound creative to me. Brooke, for her part, settles on doing a play on a yogurt parfait, where the creativity will all come in the plating.

Meanwhile, the hat ladies start filtering in. It reminds me of that famous racetrack scene in My Fair Lady.

Service starts, but not everyone gets their food. Sylva's frittatas are totally raw and he can't serve them. Twenty hat ladies don't get any dish. Meanwhile, Shirley is up first with the judges. She notes that Chinese people don't do brunch, they do dim sum, and she's doing an American-lunch version of Chinese dim sum with a beef and cheddar dumpling with bacon tomato jam. Tom loves the idea, getting a lot of cheeseburger flavor with a tomato relish instead of ketchup. Dominque loves how creative the dish is, and Gail likes the crunch inside of the dumpling formed by the melting cheese.

Sylva is frustrated but has to set that aside to serve the judges next. He's turned his raw frittatas into scrambled eggs, with a piece of arctic char on top . . . which looks fine, but not creative at all. Also, he tells the judges that his dish is a "arctic char frittata" when it's clearly NOT a frittata. Ughh. Though Dominque finds the fish cooked well, Tom notes that the dish overall screams that things were going wrong in the kitchen.

But it's not only Sylva. The plating strategy that Brooke wanted to employ is not working out at all, as the hibiscus sauce inside her matcha and chia seed yogurt parfait towers is leaking out all over the plate, including into her peanut butter crumbles. It's one big peanut butter and jelly, matcha yogurt, hibiscus mess. Dominque can't find any matcha flavor, and Tom notes that in light of the rapidly melting yogurt parfait towers, liquid nitrogen could have been Brooke's friend.

John is next with an octopus hash scramble. The octopus, he believes, makes the dish whimsical (cause really, when does an octopus not bring whimsicality to things?). Tom grills John about what most people like best about hash (answer: the crispy bits). Those bits are noticeably lacking here. Gail appreciates John's use of chorizo and octopus, which pair nicely, but wants more of the sour heat that he had tried to impart with his use of kimchi.

Finally, we have Sheldon, who's totally pumped about his Korean fried chicken with seaweed butter and waffle crumble, which he's sure is a winning dish. He's right. Gail finds it weird to be dipping friend chicken in butter (who says southern food isn't healthy?) but loves it here. Tom describes the dish as "cravable." Can't get much better than that.

At Judges Table, Tom notes that today was not the chefs' best day, as the food overall was not nearly as creative as they were expecting. In the end, only two dishes worked well: those from Sheldon and Shirley. Tom loved Sheldon's seaweed butter, and Gail appreciated the contrast between the soft butter and the crunchy chicken. As for Shirley, Padma thought her ode to cheeseburger flavors really worked, and Dom praises the amount of work that went into the dish (making the pot sticker dough, rolling out wrappers, cooking each batch to order).

Though Sheldon seems to have run away with the challenge, Shirley is surprisingly announced as the winner. She's stunned. She was up for elimination in the Quickfire the day before, and now she's on top (though, to be fair, Shirley is rarely ever good in the Quickfires).

As for the bottom three, John's octopus hash lacked inspiration, though his eggs and octopus were well cooked. Brooke's concept was not lunch-y in the least, and the hibiscus sauce totally overwhelmed the matcha flavor in the yogurt. The presentation was also, in Tom's words, sloppy. Finally, Sylva's execution of his dish was really lacking, with no frittata and overcooked eggs.

The deliberation over who should go home is hot and heated, with Padma saying that Brooke's dish "angered" her because it was essentially a yogurt parfait with peanut butter brittle, with no attempt to even try to follow the directions of the challenge. Despite Brooke's failure of conception, Tom is more perturbed by Sylva's failure of execution, wondering how anyone can excuse overcooked eggs and fish.

What's worse, Padma asks, not following the challenge or following the challenge and making a dish that tastes bad? As usual, Tom gets his way, and Sylva is sent home. He's devastated and asserts that he's as good as any of the remaining chefs in the competition - and he's probably right. At this point, only he, Brooke, and Shirley have won two Elimination Challenges. He's going to have to win a few more battles on Last Chance Kitchen if he has a hope of getting back in the thick of things. We'll see if he can.