Weekend Wrap-Up
Split Divides Openers for Third Consecutive Weekend Win
By John Hamann
February 5, 2017
BoxOfficeProphets.com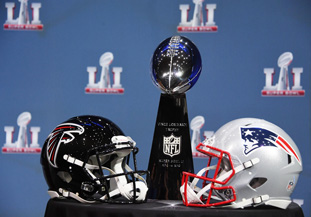 ---
What a sorry sack of openers we have for Super Bowl weekend. At least we already know that the game will be better than the crop of films pushed out by Hollywood this weekend.

The openers unleashed this weekend should be big hitters and should be providing big things at the box office. We've got a horror threequel in Rings, the follow-up to two successful horror flicks with Naomi Watts that combined for a massive global gross of $400 million against a combined $100 million budget. Also opening is The Space Between Us, a teen romance where one of the leads was born on Mars. There's also a new film you probably have never heard of: The Comedian, which features a cast that includes DeNiro, Danny Devito, Charles Grodin, Cloris Leachman, and Harvey Keitel. This one feels like an Oscar contender given the stars and director Taylor Hackford's involvement. The helmer was responsible for An Officer and a Gentlemen and Ray, but The Comedian nonetheless turned into a car accident for Sony Pictures Classics.

Our number one film of the weekend is not an opener. It's not an Oscar nominee. It's Split, M Night Shyamalan's horror thriller that stays on top for a third consecutive weekend. In weekend three, Split continued to work, pulling in a still impressive $14 million and dropping 43%. In the previous frame, Split earned $25.6 million and fell 36% from its $40 million opening weekend. Of course, the challenge Split had to overcome this weekend was the Super Bowl. A year ago, over the biggest football weekend of the year, The Revenant was in its fifth wide weekend, and saw its second biggest drop (46%) in its first 14 weekends of release. The year before, American Sniper saw the biggest drop of its run (53%) on Super Bowl weekend.

For Split, the 43% decline should be considered excellent for a couple of reasons. The first one is obvious - the Super Bowl. The game will gobble up eyeballs all over North America. Second, Split had already earned $84 million prior to the weekend, which is more than a film like 10 Cloverfield Lane earned over its entire run ($72 million). The figure heading into the weekend was producer Jason Blum's biggest since Paranormal Activity 3 in October 2011, and Split will soon overcome the entire domestic gross of the original Paranormal Activity ($107.9 million), which came out in 2009.

The domestic total has now reached $98.7 million, and word-of-mouth is hot, so Split could see another $30-40 million before all is said and done. Split will take down The Last Airbender's $131.8 million gross to become M Night Shyamalan's biggest hit since Signs earned $228 million domestically in 2002. Split has now earned $44 million overseas, and it will finish as a huge hit for all involved. The horror thriller cost only $9 million to make, so this will be a huge earner for Universal and Blumhouse productions.

Second goes to the only opener to earn more than $5 million at the weekend box office. The winner of that booby prize is Rings, but it is an utter failure regardless. After The Ring Two opened to $35 million in 2005, Paramount must have thought they had a no-brainer with the three-quel, but the ball was dropped, and now the studio may have an expensive mess on their hands. On Friday, the sequel earned $5.6 million, as it enjoyed its only day at number one, likely throughout its run. It peaked on opening day and faded over the remainder of the frame. Over the weekend, the PG-13 horror flick (scoff) took in $13 million, missing the sequel's opening gross by more than $20 million. The good news is that the third film cost much less than the second to make, with Rings having a pre-marketing budget of $25 million, whereas the second film came in with a budget of $50 million.

Why didn't Rings work? Paramount and partners made a terrible movie. The threequel earned only three positive reviews out of a possible 55, leaving the film with a 5% fresh rating from critics. Cinemascores were the same. The score for Rings came in at terrible-even-for-horror score at C minus, as even something like Resident Evil: The Final Chapter earned a B. Rings is going to collapse fast, as oddly enough, Gore Verbinski, director of the first Ring movie, brings out the horror title A Cure for Wellness from Fox.

Third is A Dog's Purpose, and after opening to $18 million amongst a whole bunch of controversy, it cools off this week against less negative talk. This weekend, Purpose earned $10.8 million, and fell 41%. That puts the $22 million picture beyond its pre-marketing budget, as it has a domestic gross of $32.9 million.

Fourth is Hidden Figures, which is one of the lone stars of the weekend. The small, $25 million film from Fox pulled in another $10.1 million and declined only 28%. While it's true that a film like Hidden Figures might be less impacted by the Super Bowl compared to a film like American Sniper, this hold is still massive, as the SAG Award winner only lost 11% of its audience last weekend. Now, after 43 days of various sizes of release, Hidden Figures has hauled in $119.4 million against that small $25 million budget. Its added a couple of million overseas so far, and goes wider over there this coming weekend.

La La Land stays in fifth this weekend, earning $7.5 million. It sees a bigger drop than Hidden Figures, as the musical falls 39% compared to last weekend. Both films have earned similar amounts domestically, with La La Land now at $118.3 million, but the Lionsgate musical is dominating the competition overseas, picking up $150 million there so far.

Sixth is Resident Evil: The Final Chapter, and like the last Underworld flick, this one is disappearing fast. After a $13.6 million opening last weekend, the latest Evil earned only $4.5 million and plunged 67%. The overseas sales, currently at $96 million, will bail out the $40 million production.

Seventh is Sing. The Illumination Entertainment release earned another $4.1 million this weekend, and fell 36%. The domestic total has reached $262.9 million, and the overseas is approaching $225 million.

Eighth is the Weinsteins' Lion, their last hope at Oscar glory amidst financial embarrassment. TWC expanded Lion from 575 theaters to 1,405, and the result was decent, with Lion earning $4 million, an uptick from last weekend of 71%. A first feature award at the DGA's for Garth Davis may help with momentum, but this smaller drama has already amassed $24.7 million domestically and $14 million overseas, against a budget of only $12 million.

Ninth is The Space Between Us, a nice-sounding teen drama, but it completely failed to connect with anyone this weekend, young or old. The usually very successful STX couldn't get this one off the ground, as the film earned only $3.8 million from 2,812 screens. That means we have another entry on the all time futility chart, as Johnny Depp's Mortdecai was the 20th worst opener ever on more than 2,500 screens at $4.2 million. The Space Between Us cost $30 million to make, but STX sold off foreign and other rights to reduce their impact down to less than $5 million plus marketing costs. Reviews were terrible at 18% fresh, but the Cinemascore was better, coming in at A minus.

Tenth is xXx: The Return of Xander Cage and his prompt dismissal. This weekend, Xander Cage earned only $3.7 million after taking in $8.6 million last weekend (-57%). The $85 million release has now earned only $40 million domestically, but at least has $112 million from overseas venues.

Robert De Niro's The Comedian is a disaster. The Sony Pictures Classics film earned only $1.1 million from 848 screens this weekend. I don't have budget data, but this one will carry a big loss and end up on Netflix some day.

Overall the top 12 films earned $81.1 million, about the same as last year when the 12 could only pull in $82 million. Next weekend's openers include some potential heavy hitters as three sequels open. Fifty Shades Darker opens from Universal, John Wick: Chapter 2 debuts, and so does The LEGO Batman Movie.