Weekend Forecast for January 27-29, 2017
By Reagen Sulewski
January 27, 2017
BoxOfficeProphets.com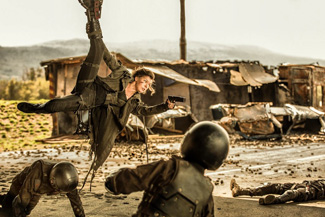 ---
Ordinarily, this is a weekend that would be dominated by thought about how the Oscar nominations will affect the box office charts – and that's still a large part of it, but a controversy about one of this weekend's films has reared its head in perhaps the most unexpected way.

We'll get to that in a bit, but other business first - while there's no direct connection between the Underworld and Resident Evil franchises, they're kind of spiritual sisters, having debuted around the same time, and sharing an aesthetic of ass-kicking female leads in gothic settings. Based on the popular video game series that's also getting a new entry (synergy!), Resident Evil: The Final Chapter purports to put this one to bed (any Friday the 13th fans will have seen this trick before). Mill Jovovich (in what has basically been her main gig for the past decade and a half) returns to take Alice back to the start of the zombie outbreak that has destroyed humanity and is about to finish it off once and for all.

Joined by Ali Larter, who's been part of the last two films, Ruby Rose and Game of Thrones' Iain Glen as the main antagonist, it once again combines its heavily stylized action scenes with zombie/monster carnage. Director Paul W.S. Anderson returns to finish what he started, for a series that's proven highly resilient, with each of the sequels opening over $20 million, even if the last entry finished just barely over $40 million. But back to that quasi-Underworld connection – the recent disappointing turnout for that long running franchise may indicate some cross-franchise fatigue. Resident Evil has a bit of an advantage in that it's been kept slightly fresh by its continuance as a video game, in the same way that a new Tomb Raider movie, for example, would still get some buzz.

Reviews are... sparse, but mostly negative, though it's unlikely to matter to its fans. The bigger problem is the five year gap between films, which has probably caused some viewers to forget about it or shed the franchise, as well as the general move away from theater viewing that's occurred in that time. With this in mind, I'd look for about $16 million this weekend.

Before last week, A Dog's Purpose was just a forgettable piece of manipulative entertainment about the many lives of a dog (voiced by Josh Gad), reincarnating over and over to try and get back to its original owner, played by KJ Apa as a teen and Dennis Quaid in modern day. And that's about it for plot – a bunch of cute dog scenes interspersed with it dying over and over and over again because life is pain. Thanks, Hollywood!

That is, until a video surfaced last week that purported to show one of the dogs used for a particularly dangerous looking stunt in artificial rapids terrified at the idea of being tossed into them. You know, like a dog naturally would. This raised questions about just how the animals on this set were treated. Since the film is trying to appeal specifically to animal lovers, this had the potential to be a killshot and for a while, it appeared like that might be the case, as premieres and advance screenings were cancelled. Even its director, Lasse Hallstrom, who wasn't present for the filming of the stunt, started asking for answers.

Some of this might have the potential to be overlooked if the film had redeeming qualities beyond "hey, puppy!" or Look Who's Talking with a dog, but unfortunately it's a bit of cinematic pabulum with the side possibility that you're supporting animal abuse baked into it. It's probably been knocked back from a high teens performer into around $12 million thanks to these allegations and the terrible reviews.

Finally, there's an expansion into wide release to deal with, as Gold arrives after an Oscar qualifying run. The film is a loose retelling of the Bre-X gold mining scandal (intimately familiar to Canadians, but a bit of a clean slate for everyone else). Matthew McConaughey plays the head of a small junior mining company that claims to have found a world-beating gold deposit deep in the Indonesian jungle. Billions could be at stake. The problem – it's all fraud, the result of salting the mines to get better results and fool Wall Street. Also starring Edgar Ramirez, Bryce Dallas Howard and Corey Stoll, it's a bit of a low rent companion piece to Wolf of Wall Street, and the chance to see McConaughey in a terrible baldcap and shouting like a crazed prospector. Directed by Stephen Gaghan, it was hoped to be a film with some Oscar potential, but has completely struck out, with only a Best Song Golden Globe nomination to hang on to. Opening in around 2,100 venues, it should land with a thud of around $5 million.

Last weekend, Split beat all expectations with a $40 million opening weekend for its multiple-personality horror film and the real-life horror of us having to deal with M. Night Shyamalan again, along with his too-clever-by-half twisty ways. Finally receiving good reviews for the first time in a while, the surprise result here probably won't end up with a leggy performance in weekend two, but might keep it from having the typical horror drop, and it should end up at around $22 million.

And now to films that will actually benefit from Oscars. Hidden Figures has emerged as one of the big winners of this season, taking its rather low-key biopic to close to $100 million so far, along with three Oscar nominations. While it's a big long shot to win any of them, it's a high profile nominee and popular already, which should help it hold at around $13 million this weekend. La La Land, with 14 nominations is the potential jackpot winner, however, even as it has almost $100 million itself so far. Expanding significantly to over 3,100 venues, it should see a huge boost to the point where it may threaten for top spot this weekend. I'd say it falls short with around $15 million, but as an original musical, it's already beaten expectations by a huge, huge amount.

Elsewhere in returning films we have xXx: The Return of Xander Cage, who we will soon be waving goodbye to again. With just $20 million in its opening weekend, it's proven to be no Fast and Furious, and will drop to about $9 million this weekend. Animated film Sing crossed the $250 million mark mid week, and should see around $6 million for its strong run since Christmas.