Weekend Wrap-Up
M Night's Split Surprises, Diesel's xXx Falters
By John Hamann
January 22, 2017
BoxOfficeProphets.com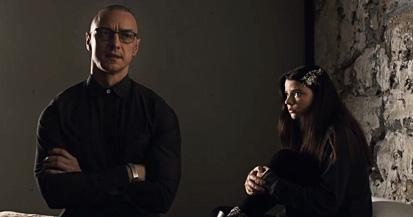 ---
After a wild MLK weekend, where seven films finished the three-day portion of the weekend with $10 million or more, and we had three net new openers and three more expansions, some might have believed that things were going to settle down this weekend. Not so much.

Openers this weekend include Split, the new horror/thriller from M Night Shyamalan and Jason Blum, and starring a wild looking James McAvoy. We also have the return of Vin Diesel to the lead role in the xXx series, this one titled xXx: The Return of Xander Cage. Other featured new films were The Founder, with Michael Keaton as Ray Croc, the brains behind the early days of McDonald's, and The Resurrection of Gavin Stone, a comedy that seems to have failed to advertise except to church-goers. Then we have the expanders, as Silence tries again this weekend, bringing its total up to 1,580 venues, while 20th Century Women expands to 650 screens.

Our number one film of the weekend is a bit of surprise, as the weekend winner is Split, the new horror film from M Night Shyamalan, who has his second consecutive hit following 2015's The Visit. That film managed to earn $100 million worldwide against a budget of $5 million. The Visit got started on a slow September weekend but still managed to open to $25.4 million, in second behind The Perfect Guy, which won out by only about $400,000. That was September 9, 2015. This is January, which can mean good results at the box office (it's about a 1,000 times better weekend to open a film). There was not going to be a second place finish for Split, so M Night Shyamalan is on top for the first time since The Village opened to $50.7 million way back in the summer of 2004.

Yes, Shyamalan's reign of inconsistency ends this weekend, with a number one film this weekend and a second place debut for his previous film. The latest reign started on Thursday night, when Split earned a very solid $2 million from previews. Ride Along 2 earned less from previews over a late January weekend last year, pulling in $1.26 million on its way to a $35.2 million opening frame. The comedy sequel had a first day take of $11.9 million, and Split did much better with its combined Thursday preview/first Friday gross, as it came in at a powerful $14.6 million. All of a sudden, Split was going to play amongst the bigger January titles of all time – Lone Survivor is currently fifth best all time in January with an opening frame of $37.8 million – a number that Split would be looking for over the remainder of the weekend. We learned last weekend through The Bye Bye Man that audiences were hungry for thrills, and Split more than proves that.

The weekend gross for Split came in at a totally unexpected $40.2 million, making it the fourth biggest opener all-time for the month of January. Split blew tracking away, as prognosticators were looking for a mid-$20 million start. Who is happiest about this result? Shyamalan, and not for financial reasons. He has now gotten his reputation back after delivering two good movies since After Earth bombed so spectacularly in 2013, earning $60.5 million on the domestic side against a budget of $130 million. Second happiest has to be Jason Blum, who has a piece of this one. Split cost only $9 million to make, which means it made almost four times its budget over opening weekend. Domestic marketing costs were reported in the trades to be around $20 million, with at least a similar amount overseas. The marketing was almost perfect – the TV ads were plentiful and kind of thrilling. Split was everywhere heading into the weekend, and that kind of awareness paid off big time.

Reviews were right where they had to be - good enough. At Rotten Tomatoes, Split was 76% fresh, as the thriller had 104 good reviews out of a possible 136. Top critics liked it a bit less at 68%. At the Cinemascore desk, Split came in with a B+ score, which is an awesome score for a horror film from Shyamalan. His last film, The Visitor, rang up a B- score, which shows how hard it is for this genre to success with this type of polling. Lastly, for distributor Universal, this is their second consecutive hit via their partnership with Shyamalan, after The Visit started the relationship with the studio.

Finishing second is xXx: The Return of Xander Cage, that carries the return of Vin Diesel to the franchise, after having growled through the first movie in 2002. The original earned $142 million stateside and another $135 million overseas, all against a budget of $70 million. The second xXx film came out in 2005, and it flopped badly, leaving us never expecting see one of these again. How bad? With Vin Diesel out and Ice Cube in, the domestic tally hit only $27 million, and the film earned only $44 million overseas. It cost a slightly better $60 million but was still a complete failure. So, Sony decided to bring Diesel back to the lead role, hoping audiences would follow.

The experiment failed, but not badly. xXx: The Return of Xander Cage earned a combined $7.2 million on opening day from Thursday previews and Friday grosses. Over the remainder of the weekend, the Sony release managed a weekend tally of $20 million, just a little short of the mid-20s opening frame that tracking was looking for. Reviews weren't great, which likely kneecapped the opening. It was 42% fresh at Rotten Tomatoes at the time of this writing, and top critics were not nearly as kind, delivering a 25% rating. At least the Cinemascore wasn't bad, coming in at A-, the same as the first xXx, and slightly better than xXx: State of the Union, which earned a B+. This experiment is likely going to cost Sony – the film cost $85 million to produce – and the marketing would have been huge, given the proliferation of ads, posters and trailers. For Vin Diesel, this has to be a disappointment. Outside of the Fast and Furious flicks and The Guardians of the Galaxy movies, Diesel has had zero luck launching anything new – The Last Witch Hunter, Riddick and xXx were all expected to be franchise starters.

Hidden Figures moves down to third after spending two weekends on top. After earning a holiday inflated $20.9 million in the last frame, Hidden Figures was bound to drop in its third frame of wide release. It did, but to a lower degree than most expected. Over the weekend, Hidden Figures continued to excel, earning $16.3 million and dropping a fantastic 22% - especially considering that the previous weekend had two Saturdays. The tally for the NASA flick has risen to a powerful $84.2 million, with $100 million a no-brainer at this point. Overseas grosses will begin to roll in this weekend. Remember, Hidden Figures cost only $25 million to make, so it is a dream for Fox.

Fourth is the animated Sing from Illumination Entertainment, which is now in its fifth week. Sing turned in another $9 million, off 37% from the previous frame. Larger drops are natural for kids movies following a long weekend, as in the last frame, the Friday came in at $3 million, then the Saturday was $6.3 million, and the Sunday was a powerful $5 million. The Sunday of a long weekend is super-sized for kids' flicks, and then they have issues with the percentage drop the following weekend. For Sing, none of this matters. The domestic tally has hit $249.4 million, and joins the overseas amount that sits at $179 million. This is all against a cost of only $75 million.

Fifth goes to La La Land, and after earning $14.7 million last weekend, the awards contender comes down to earth this frame with a gross of $8.4 million. That gives the Lionsgate musical a drop of 43%, but with no Golden Globes bounce like it had last weekend, the studio must wait and hope for Oscar noms to give it another. So far, La La Land has picked up a massive $89.7 million at the domestic box office and another $84 million on foreign shores. La La Land is going to be a huge hit when all is said and done, as it cost only $30 million to make before marketing.

Sixth is Rogue One: A Star Wars Story, which is now in its sixth weekend. After earning $13.5 million last frame, Rogue One was pushed back to earth this time around. Rogue One earned another $7 million and fell 48% compared to last weekend. The domestic total has now reached $512.2 million stateside, and the film has pulled in another $500 million overseas.

Monster Trucks, the car accident from Paramount, finishes in seventh place. In is second weekend, Monster Trucks earned $7 million and declined 36%. The domestic total for this flop has reached only $22.6 million, while the overseas total has reached $19 million.

Eighth goes to Patriot's Day, Mark Wahlberg's miss. After a wide release debut at $11.6 million last weekend, the A+ Cinemascore did not help, and the true story thriller earned only $6 million in its second frame. That gives it a drop of 48% but brings the domestic total up to a disappointing $23.6 million. Patriot's Day cost $45 million to bring to the screen, and at this point, it doesn't have a chance of matching the budget with its stateside gross.

Finishing in ninth place is The Founder, Michael Keaton's latest drama. Shut out of awards season, The Founder has been left to flounder. It earned $3.8 million from 1,115 venues. One doesn't need to be a rocket scientist to know that this one is in trouble – big trouble.

Tenth is Open Road's Sleepless, which flopped last weekend. Sleepless earned a sad $3.7 million in its second weekend and dropped 56%. The total for the Jamie Foxx thriller has reached $15.2 million.

Finishing outside of the top 10 is The Bye Bye Man, which finished in fourth with $13.5 million last weekend. The horror flick from STX Entertainment earned only $3.6 million in weekend two, with the fall due to the opening of the surprise Split. The Bye Bye Man now has a running total of $20.1 million. Next time, STX, check the release schedule. Good thing Bye Bye only cost $7.4 million, but if this had held this weekend, we would be talking franchise.

Overall, the top 12 films earned a solid $127.4 million, led by Split. A year ago, the top 12 films were led by The Revenant for a total of $113.6 million. Next weekend will be strange. Openers include A Dog's Purpose, which is being haunted by a true life dog that almost drowned on set, Resident Evil: The Final Chapter, and the drama Gold.