Weekend Wrap-Up
Weird and Wild MLK Box Office Weekend
By John Hamann
January 15, 2017
BoxOfficeProphets.com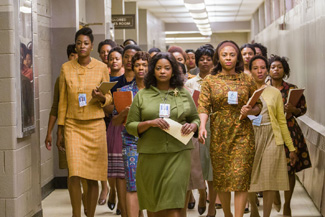 ---
This frame features three new wide releases, three major expansions, and three films adding screens after the Golden Globes. To say it's moving day at the box office is an extreme understatement.

Any awards given out this weekend should go to people that have to book films into theaters. Hidden Figures added 800+ screens, La La Land added almost 350, and Moonlight bolstered its number by 350. Major expansions included Martin Scorsese's Silence, adding almost 700, Mark Wahlberg's Patriots Day, increasing by 3,100+, and Ben Affleck's Live by Night, which expanded by 2,800+ locations. New films include the disastrous Monster Trucks, a film even the studio disowned, announcing a $115 million write-down several months before it opened, The Bye Bye Man, a horror title from STX Entertainment, and Sleepless, a little advertised action flick with Oscar winner Jamie Foxx. There is a lot of action at the box office this weekend - let's see how it turned out.

Last weekend, Rogue One was announced as the weekend winner when estimates came out, but when actuals were released, the number one film ended up as Hidden Figures, the inspirational story about NASA and the African-American women that were a key part of the space program in the 1960s. After further exposure at the Golden Globes last weekend (no wins, two nominations, advertisements up the ying-yang), coupled with amazing word of mouth (A+ Cinemascore), a solid hold was definitely in the cards for its second wide weekend of release. On Friday, Hidden Figures pulled in $5.5 million, off a slim 28% from its wide opening day, heralding success over the long MLK weekend. A year ago over the same long weekend, eight films in the top ten earned more on Sunday than they did on Friday, and there was no reason to expect different from a film like Hidden Figures (and many others in this weekend's top ten).

Over the three-day portion of the long weekend, Hidden Figures earned a stellar $20.5 million, giving it a tiny drop of 10% compared to its opening frame, and putting it in position for a long, and very successful run. Hidden Figures effectively used a strong cast that includes Taraji P. Henson, Octavia Spencer, and Janelle Monae in the lead roles, with support from Kevin Costner, Kirsten Dunst, and Sheldon Cooper himself, Jim Parsons. The marketing is perfect, showing an inspirational, well made film, and promoting the awards recognition it has received to date.

The real driver here is word of mouth, as the A+ Cinemascore is catapulting this one forward. This kind of story works perfectly during the doldrums of January, and even though it is on the fringe of awards season, I would expect at least a couple of Oscar nominations when they are announced on the 24th. Momentum won't stop in the short term, and given the $25 million production budget, Fox stands to reap a nice reward off of Hidden Figures, as the domestic gross already stands at $54.8 million, with $100 million almost a given at this point. Its overseas rollout gets started in earnest next weekend.

After seven wins at the Golden Globes last weekend, there was no question that La La Land was going to push upward this frame. The question was how much. Lionsgate added 333 venues to its run (now at 1,848 venues), and the result is a 43% uptick over last weekend, as the Ryan Gosling/Emma Stone flick earned $14.5 million. This is another small film ($30 million budget) that is punching above its weight class. It has earned $74.1 million at the domestic box office (and shows no sign of slowing), and has also picked up another $55 million (and growing) overseas.

Third place goes to Sing, as the animated film brought in another $13.8 million, off 33% compared to last weekend. The $75 million film is now in its fourth weekend, and it lost about 260 venues this frame. The domestic total has now reached $233 million, and is joined by an overseas result of $164 million. It should get by the $251 million domestic total earned by Despicable Me to become Illumination Entertainment's fourth biggest domestic earner, behind The Secret Life of Pets ($368 million), Despicable Me 2 ($368 million) and Minions ($336 million).

That puts Rogue One: A Star Wars Story all the way down in fourth, as it lost almost 1,000 screens compared to last weekend, not surprising given all this new product. In its fifth weekend, Rogue One pulled in another $13.7 million and dropped 38% compared to last weekend. The domestic total has hit $498.9 million, as the Gareth Edwards film passed Finding Dory to become the seventh biggest film ever and the biggest earner for films released in 2016. It is likely that Rogue One does not get to the $534 million earned by The Dark Knight, but for a prequel with few iconic Star Wars characters, the domestic total is excellent. If there is a downside, it's the $481 million earned overseas, as I am sure Disney was hoping for at least $500 million (which it may still hit). China opened Rogue One last weekend, and unfortunately for Disney, there are simply no more worlds to conquer.

Somehow, STX Entertainment got The Bye Bye Man to open decently. Audiences were obviously starved for some thrills, as there hasn't been a horror release since early December, and that was Incarnate with Aaron Eckhart, which has yet to earn $5 million domestic. This one is more in the Freddy Krueger style of horror, but PG-13, as that is the way of the world today. The Bye Bye Man earned $13.4 million from 2,220 venues, more than a decent start for a film that cost $7.4 million to make. Reviews and Cinemascore were bad as expected, barely showing up with a 27% fresh rating and a C Cinemascore, but STX should be applauded for even getting this thing to open. If marketing costs were kept in check, and it earns a few million overseas, this will be a decent addition for the upstart STX, who will be releasing Luc Besson's Valerian next summer.

Patriot's Day expands to a disappointing sixth this weekend, as the Mark Wahlberg true life flick hasn't been in the awards conversation at all over the last month, so is hampered by the same problems as Silence and Live By Night. After a couple of weekends of decent limited release, Patriot's Day expanded to 3,120 venues this weekend, and it picked up $12 million. The good news here is that the Cinemascore is an A+, so if people talk about it, Patriot's Day may gain some traction. The fresh rating at 79% will help as well, but somehow it just feels like Patriot's Day is being left out of the conversation.

Seventh is Monster Trucks, Paramount's legendary pre-release flop, labeled as such when the studio announced a $100 million plus write-down before it was released. This is one of those films that was shot in 2014 and was supposed to be released in summer 2015, but was so awful that no one knew what to do with it. The result is seen this weekend, as the debut frame came in at a sad $10.5 million, with the budget looming large at $125 million. The other troubling thing is that this was already released overseas in December, and has a gross to date over there of only $14 million. The kids don't care about the background or the 31% fresh rating. The Cinemascore came in at an A, which might tell us that Paramount took the wrong approach on this one prior to release.

Eighth is the Jamie Foxx film Sleepless, a film that was likely keeping movie executives up at night as well. From Open Road, Sleepless could only manage $8.5 million from a not-much-confidence venue count of 1,803. To be honest, I would never have known this film was even opening (which could be the fault of my PVR), and I should have, considering the lead is former Best Actor winner, Jamie Foxx. Oddly enough, Sleepless earned a B+ Cinemascore, but the 11% fresh rating at RottenTomatoes isn't making me run to the local multiplex to catch this one. The budget is rumored to be $30 million, which means Open Road will likely take it in the teeth this time around.

Underworld: Blood Wars almost falls completely out of the top ten this frame, after debuting in fourth last weekend with $13.7 million. The bottom falls out on the Screen Gems release as it earned only $5.8 million and fell a nasty 58%. Made for $35 million, Blood Wars has a domestic total of $23.9 million, but has earned $47 million overseas to help keep its head above water.

Hanging on in the top 10 for a final week is the sci-fi flick Passengers, the semi-disappointment from the holiday season. The Sony film can thank time of year for the fact that it managed an almost respectable box office total, though still nowhere near enough considering the amount spent. After earning $5.6 million this weekend, Passengers' running domestic total is $90 million. It also adds almost $150 million from overseas venues. With home video revenue, it might even end up profitable.

Finishing outside the top 10 is Ben Affleck's Live By Night, which could be his ugliest release since Surviving Christmas in 2004. Live By Night looks like an award-worthy film but with a 32% fresh rating, it is likely not going to see any nominations. The results are reflected at the box office, as this $65 million film earned a terrible $5.4 million from 2,822 screens this weekend. I thought the marketing was awful, and audiences thought the film itself was terrible given the B Cinemascore. Next up for Affleck are the two Justice League films, and then his version of Batman. Whether that's a good decision for the actor/director remains to be seen.

Martin Scorsese's Silence, which stars Liam Neeson, Andrew Garfield and Adam Driver, is far outside the top 12. After some solid but not spectacular returns in limited release, Paramount took Silence to 747 venues this weekend, and it earned only $1.9 million. This one cost $40 million to make, and will be lucky to earn $10 million.

Overall, the box office can't hold a candle to Martin Luther King weekend last year. The top 12 films could only muster $127.6 million this year, compared to a year ago when Ride Along 2, The Revenant and The Force Awakens pushed the top 12 to $151.3 million. Next weekend, things don't quiet down at all, as four more new releases hit screens. Opening are The Founder with Michael Keaton, Vin Diesel's xXx: The Return of Xander Cage, M Night Shyamalan's Split, and something called The Resurrection of Gavin Stone.