Friday Box Office Analysis
By Kim Hollis
January 14, 2017
BoxOfficeProphets.com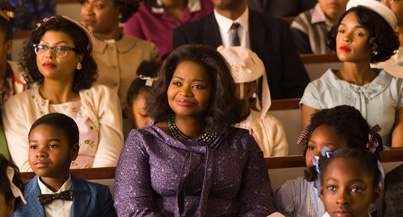 ---
It's the Martin Luther King Jr. holiday weekend, which means that studios take this first real opportunity of the new year to throw some new product at the movie-going public with a real hope of seeing something stick. Additionally, we have a few expansions from the end of 2016 that opened as awards hopefuls. With all these new options, we finally see a shakeup in the top 10, with the winner for Friday (and eventually the weekend) proving to be...

Hidden Figures

You may not realize it, but after actuals came in last weekend, Hidden Figures was the #1 film in the country, knocking Rogue One: A Star Wars Story from the top spot for the first time since it debuted in December. With glowing reviews, an A+ Cinemascore, and an uplifting message that is particularly appealing during this holiday that celebrates unity and progress, Hidden Figures is simply the perfect film for the moment. Its $5.5 million total yesterday represents just a 28% drop from last Friday, and it should hold strong throughout the weekend since the Sunday will behave like a Saturday to a large degree. Look for a three-day total of $17.1 million, and definitely give the film a shot. You'll be glad you did.

The Bye Bye Man

Our second place film is a bit of a surprise, as horror flick The Bye Bye Man beats out the expected weekend winner Patriots Day and not by a small margin, either. Directed by Stacy Title and written by her husband, three-time Survivor contestant Jonathan Penner, this little $7 million budgeted film managed an outstanding $5.4 million yesterday, clearly appealing to the crowd that had been missing their scary movies. A three-day total of $13.5 million sounds about right, which is plenty of money for this STX Entertainment release.

Patriots Day

Expanding from seven to 3,120 venues, this second Peter Berg/Mark Wahlberg partnership in the past several months earned $4.1 million. That's actually less than Deepwater Horizon, broadly considered a failure, earned on its first day. The difference, of course, is that Deepwater Horizon carried a $10 million budget while Patriots Day is a more moderate $45 million. Still, it seemed that expectations were higher for this one, but we've seen in the past that movie recreations of tragic events such as these are iffy propositions. If you're looking for good news, the Cinemascore was an A+, which means two out of the top five films will have that ranking. The weekend total for Patriots Day should be in the $12.3 million range.

Sleepless

Although I've seen a jillion commercials for this film, the studio support only went so far. The Jamie Foxx crime drama started the weekend with just $3 million, and it's only going to get worse from here. Rotten Tomatoes shows the movie with a rotten rating of 12%, while the Cinemascore is a B+. The three-day total for Sleepless will be about $8.1 million.

Monster Trucks

Speaking of a ton of commercials, Paramount must have spent a boatload of dollars on the ads for this film. Unfortunately, the ads showed the premise of the movie. Not only does it look terrible, but critics hate it as well. Only 31% of reviews collected at Rotten Tomatoes thought it was any good. Parents figured there was no reason to sit through it, which is the reason for its $2.6 million Friday. It does have an A Cinemascore, though, so at least the target audience liked it. It should hold up pretty well over the remainder of the weekend, meaning a $9 million total isn't out of the question.

Live by Night

Ben Affleck's latest directorial effort isn't particularly well-regarded, and the potential audience could tell. Expanding from four to 2,822 locations, Live by Night could still only manage $2 million yesterday. Sad Batman is probably even sadder now. Anyway, look for about $5.8 million this weekend before the crime/mobster flick fades away into obscurity.

Silence

Martin Scorsese's Silence is critically beloved (84% fresh at Rotten Tomatoes), but audiences apparently don't even know it exists. Paramount expanded the awards contender from 51 to 747 venues, but Silence only earned $660,000 on Friday. It won't break into the top 12 and with such a lack of attention at the box office, its awards chances are probably fading away pretty quickly.