Weekend Forecast
By Reagen Sulewski
January 12, 2017
BoxOfficeProphets.com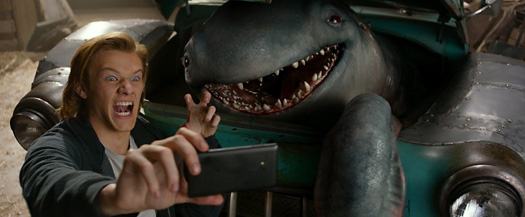 ---
An unusually crowded Martin Luther King Jr weekend sees six films either opening or expanding into wide release but with no likely winner among them. While January has in recent years shed its dumping ground reputation, this weekend sees it return to form with a couple of "worst of the year" candidates nearly right off the bat.

The one with the best chance of breaking out of the doldrums is Patriot's Day, a retelling of the Boston Marathon bombing and subsequent manhunt that closed down the city of Boston for a couple of days. Mark Wahlberg stars as a Boston police officer present at the scene of the bombing (though cobbled together as a composite character) and who takes part in the hunt to find the (eventually discovered to be) masterminds behind the bombing, two Chechnyan immigrants.

While Wahlberg, who is turning into something like the Forrest Gump of real life American tragedy movies, is the main draw here, director Peter Berg turns it mostly into a procedural as the full resources of the city's agencies and the FBI are brought to bear, and includes some of the missteps that happened along the way as justice was attempted to be served. A strong cast that includes John Goodman, J.K. Simmons, Michelle Monaghan, Khandi Alexander and Kevin Bacon does give this a bit of hope, and played straight it's a nice piece of drama. However, Berg is much more a craftsman than an artist, and while reviews are OK, they're nothing too special. Its limited release has seen it pull in unremarkable numbers, and it's been all but entirely left out of end of year awards talk.

Berg and Wahlberg's last collaboration, Deepwater Horizon, opened to about $20 million in September, and this looks like a less action-packed version of that film. While the story is potentially more relevant today, it's proving to be a bit of a pass for audiences, who may find it too raw of a subject. I'd look for a weekend take of $16 million, which is still probably almost enough to take the weekend.

In past years, Ben Affleck has significantly rejuvenated his career through his directorial efforts, including The Town, Argo and Gone Baby Gone. Now for his latest, Live By Night, well... uh...

Affleck stars in his own movie as the son of a police officer who rejects that life and turns gangster, running booze in prohibition era Florida. It's all hard-bitten this and rough and tumble that as Affleck's character deals with rival gangs, religious resistance to his freely flowing liquor trade, father-son issues, and because there just wasn't enough in here yet, the KKK. While it's got all the seeds of a quality mob movie, the whole thing seems to play out as parody, with Affleck's brooding hitting a false note of vanity, not the least of which because he gives himself two love interests, in the form of Sienna Miller and Zoe Saldana.

Adapted from a Dennis Lehane novel, the go-to author for seereeous manly drah-ma these days, it also stars Brendan Gleeson, Chris Messina, Chris Cooper, Clark Gregg and Elle Fanning. However, its limited release showing was less than impressive and while it's not quite as much of a punchline as some of Affleck's awful period of films from the late 90s early 2000s, Live By Night is going to be a bit of a [footage not found] in his career highlight reel. I'd expect this to open to about $8 million on sheer inertia of advertising, but not much more.

A film that's inspired many a blank stare or "please, no, you don't have to do this" from its trailers, Monster Trucks inflicts itself in wide release this weekend. An exceedingly literal title, based, so it goes, on a request from a studio executive's child, it features Lucas Till as a ninth year senior in high school whose truck becomes occupied by a tentacles monster/alien/something that lives on motor oil and which makes it capable of insane speed and tricks. There's a bit of an E.T. angle to this if you squint, but probably we should just put on some glasses and see it for what it is – an aggressively cartoonish action film pitched at no one whose age is in double digits.

Also starring Jane Levy, Barry Pepper, Rob Lowe (remaining very still and hoping we won't notice him), Thomas Lennon, Amy Ryan and Danny Glover, it's got a vaguely eco-friendly message, but looks spectacularly squirmy for anyone with any tolerance of cinema. The extreme kiddy-ness of this puts a pretty hard cap on the earnings, and its opening weekend should be about $7 million.

Sleepless sees the return of Jamie Foxx to crime drama, as he plays a possibly-corrupt undercover cop in Las Vegas whose son is abducted by a drug kingpin (Scott McNairy, in some hilarious casting), leading him to go on a rampage to get him back, all the while trying to stay one step ahead of an internal affairs officer (Michelle Monaghan, busy this week) convinced he's up to his neck in dirty (which, you know, he basically is).

The American debut of Swiss director Baran bo Odar (that's a name apparently), it also stars Gabrielle Union, David Harbour and Dermot Mulroney, and seems to be positioning itself as a cut rate Heat, but has been held back from reviewers in what is almost certainly an attempt to hide a turkey. Its ads actually look OK if cliche-filled, but there's a notable lack of studio support, and this should slide out of view pretty quickly after a $6 million opening weekend.

Horror fans might be satisfied by The Bye Bye Man, but I'd bet on not. It's actually a neat idea for a horror film, about a demon who starts stalking you as soon as you learn his name, making him the first... ok Ring fans, second horror film about a viral idea. After he tracks you down, you then proceed to commit fantastic atrocities, with the film positing that he's the root of all of humanity's evil acts.

However, that's about as far as it goes for the film's interesting ideas, and production values and acting simply aren't priorities for this film. Reviews have savaged it for its amateur hour display, and this might be a time when fans listen. An opening weekend of just $5 million is probably in the cards here.

Lastly, we have the expanding Silence, Martin Scorsese's latest. Andrew Garfield and Adam Driver star as Catholic priests in 17th century Japan attempting to locate a missing mentor (Liam Neeson) during a time when their very presence could have marked them for death. Based on a famous Japanese book, it's a meditation on faith and meaning, and far from an accessible film for most audiences. It's certainly quite different from what people expect from Scorsese films (but then, Kundun) even if it's perfectly in keeping with his themes throughout his career (he's a director who's never shied away from talking about his faith in cinematic terms). A dark horse candidate for Oscars largely on its pedigree, it's expanding to around 700 venues and should earn about $3 million this weekend.

Hidden Figures snuck out a slight win over Star Wars Rogue One, probably due to its better math skills. The film about African-American mathematicians in the middle of the Space Race earned just shy of $23 million. Thanks to its strong reviews, potential awards consideration and thematic resonance with this weekend, it have a good line on repeating at the top, and it will at least be an interesting contest as it shoots for $16 million.

Rogue One, as expected, took a large hit in its first post holiday weekend, dropping to $22 million and it's approaching the $500 million mark domestically, with around $1 billion worldwide. This weekend should see it fall to about $13 million.

Animated film Sing also took a hit after its audience went back to school and became busy again, dropping to about $21 million. I'd look for about $12 million this weekend. Meanwhile Golden Globe winner La La Land should get a small boost from its many awards last weekend, and it should hold close to its total last weekend of $10 million. In other holdovers, Underworld: Blood Wars should follow up its disappointing opening with an even greater disappointment this weekend, dropping to $6 million. Passengers will wrap up our relevant films with $5 million.