Top Chef Charleston Recap: Episode 6
By Jason Lee
January 10, 2017
BoxOfficeProphets.com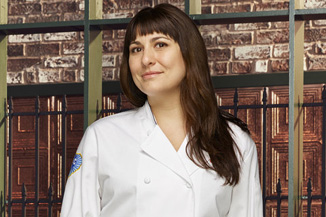 ---
Welcoming the cheftestants to the kitchen in our latest episode is Surgeon General (but not for much longer) Vivek Murthy. Noting that chefs can be "changemakers," he says that those in the culinary world can do much to help people to eat healthy and view vegetables and whole grains as things that can be delicious to eat. Though the Top Chef producers have tried to make this point before in past challenges, it's a nice move bringing it front and center with the Surgeon General of the United States.

And, similar to past challenges, the cheftestants will have to take Southern comfort dishes (drawing knives to see which one they get) and transform them into something healthy. In fact, not just healthy, but vegetarian dishes. Certainly, certain dishes (like Brooke's lasagna) will have an easier time than others (like Amanda's beef stroganoff).

Oh yeah, and one more thing. To help encourage people to get moving, the chefs will do so, too. In taking tools and ingredients from the pantry, each chef will only be allowed to bring one type of tool or ingredient at a time. Thus, you want two different herbs and a blender to puree them? Enjoy making three trips back and forth.

This results in a lot of running and scurrying and colliding by the chefs. I'm aghast. Thank god the chefs leave their knives at their station, but what happens when someone wants a mandolin?!?! I hope Top Chef has a top quality legal team. Especially when Sheldon, who already has a bad back and has received freaking INJECTIONS IN HIS SPINE TO DEAL WITH PAIN, trips and takes a belly slide onto the floor.

Paging Attorney General Loretta Lynch . . .

The cheftestants miraculously make it through without too many additional disasters. Oh, except for a few of the dishes. Sylva had to make a healthy version of chicken and dumplings by using seitan and masa, which rendered the dish very tough. Casey had a ruinous topping for her chicken pot pie, attempting to crumble (and then brûlé) a farro-crumb topping over her silken tofu mixture. Finally, Katsuji totally oversauced his (zucchini) spaghetti and (zucchini) meatballs, which lacked flavor.

Receiving better news is Jamie (whose tofu sloppy joe with bell peppers had great flavor), Brooke (with a not-super-complicated vegetable lasagna with tofu that was creamy and rich), and Emily (whose vegetarian meatloaf tasted very much like the standard). Jamie takes home the win and immunity. He dedicates it to his son, who's a vegetarian.

The Elimination Challenge will be a bit more complicated. The cheftestants will pay tribute to Edna Lewis, an incredibly famous and influential Southern chef who, apparently, almost none of the chefs have heard of. "What Julia Child was for French cooking in America, Edna Lewis was for Southern cooking," Padma says. The chefs nod understandingly. To get a better understanding of Edna and her legacy, which apparently is much needed, the chefs sit down with two individuals whose lived were touched by Edna Lewis - guest judge Alex Smalls, a restaurateur and opera singer, and Toni Tipton-Martin, an accomplished soul food writer.


Alex and Toni are quite moving in discussing how much Edna did to raise the respect and standing of southern food in American food culture. Filled to the brim with inspiration from the talk and from browsing through Edna's cookbook, the chefs head to Whole Foods and then back to the kitchen to begin prepping. Most chefs decide to keep things simple and local, in the style of Edna. One, though, veers on stereotype, to Sylva's great irritation. Katsuji has decided to make fried chicken with pickled watermelon rind. The diners, though, love the dish. Toni notes the danger of such a dish verging into stereotype, but finds that Katsuji prepared the dish in a way that gave the ingredients respect. Serving alongside him is Jim with seared shrimp, a smoked turkey wing, and pork consommé. The always dapper Hugh Acheson declares it "clean and seasonal." Tom notes that the dish has tons of flavor, though the peas could have been cooked a bit more.

Brooke and Emily, always a pair, are next up. Brooke goes first with chicken with Swiss chard and a blackberry vinaigrette. Every diner is baffled by Brooke's use of savory and sweet flavors in the dish, with Art Smith (the big teddy bear of a chef) unable to decide if the dish is a dessert wanting to be savory, or the converse. Emily doesn't fare any better with a semolina-crusted chicken liver with corn puree. Gail finds the livers underseasoned and underflavored. Hugh just found it boring.

The next round has Shirley with confit chicken wings and collared greens with rice. Guest judge Alex adores the collared greens and rice, and Gail declares the seasoning on the chicken to be perfect. John also hits a home run with a pan-broiled chicken with watercress and sunchokes. Tom loves the flavor in his chicken, and Art praises the fact that John has done well to channel Edna's spirit.

As well as those chefs did, Sylva and Sheldon top it. Sylva has a skilled-fried snapper with garden vegetables. The skin is so crispy and perfect that Art says it's like an angel brought it down from heaven. Sheldon has a pork belly with cabbage, inspired in equal parts by Edna and his own grandmother. The dish is simple and delicious.

From serenity to chaos, we have Casey trying to deal with Wild Woman Amanda, who's in her usual state of running around and running her mouth. Poor Casey. Thankfully, Hurricane Amanda didn't prevent Casey from putting together a great version of chicken and dumplings, which has great flavor according to Art. Amanda is perhaps a victim of her own freneticism, with a clunky dish of roast duck and sweet potatoes. Hugh finds the duck chewy and the sweet potatoes underdone. Tom points out that even though Amanda used southern ingredients, nothing about the dish was remotely southern.

Last up is Mr. Immunity, Jamie, who has a roasted New York strip steak with sunchokes. Well, he has that for everyone except for Padma. In his last minute rush, he miscounted his plates, which leaves Padma looking longingly at everyone else's food. She shouldn't feel too bad. His beans are a bit too salty and his meat is a bit too rare. Padma notes that Jamie was lucky to have gotten immunity this round.

With so many stunning dishes, Padma tells the chefs at Judges' Table that three really stood out. Jim's dish stayed with Gail throughout the meal due to its simplicity and depth of flavor. Sylva did a great ode to Edna with his use of vegetables and fish. And Sheldon put his heart and soul in the bowl (yum?), doing the smart thing according to Tom by not straying too far from his heritage and background. Sylva takes home the win for what he calls his favorite dish that he's ever cooked. Yeah, I think I'd say that, too.

A trio of women ends up on the bottom. Amanda is quick to declare that she was happy with her dish and that she stands behind it, but Tom criticizes it for lacking depth and soul. Padma faults the dry duck and the fact that the dish was just "a little boring." Like Amanda, Emily was happy with her dish, as everything (in her mind) had intent. Gail and Tom agree that the dish seemed to make sense in theory, but Gail was put off by the fact that it was a one-note (sweet) dish. Tom also thought the liver was overcooked. Emily starts crying.

Brooke, to her credit, stays composed, unlike Amanda and Emily. She says that if she'd omitted the sweet element of her dish, the blackberry vinaigrette, she wouldn't be standing there. That might be true, but Tom also chides her for going too modern. Brooke agrees.

In the end, southern food, as epitomized by Edna, is about a feeling. It's about heart and soul. One dish lacked that, and it was prepared by Amanda. She'll be okay, though. Amanda, as she's mentioned a couple of times now, hasn't been cooking for all that long, having undergone back surgery and then deciding to go into bartending as opposed to cooking afterwards. She opines that the culinary door is now open again for her as a result of going back on Top Chef. That's probably right, but she'll need to learn how to bring her energy level down a bit in the kitchen to make it really work.