Weekend Wrap-Up
Rogue One Squeaks Out a Win over Hidden Figures
By David Mumpower and Kim Hollis
January 8, 2017
BoxOfficeProphets.com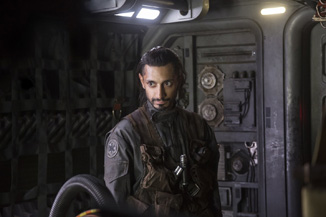 ---
The end of the holiday season might have diminished the box office returns, but they didn't stop the intrigue. 2017 is exactly eight days old, and it might have already seen the closest box office race of the entire year. In the end, only $172,000 differentiates first and second place this weekend, meaning that actuals might flip the winner of the weekend for a change. For right now, the belief is that Rogue One: A Star Wars Story has become a four-time box office champion. Probably.

What's left to be said about our number one film this weekend? With a weekend total of $22 million, Rogue One unlocked another box office achievement. With $473 million in domestic earnings, it surpassed Star Wars, a title that earned almost $460 million during its multiple releases, to become the second most popular Star Wars title to date. Given that Rogue One isn't even a part of the main storyline, that's a monumental accomplishment for director Gareth Edwards and his team.

Rogue One is also only a few days away from usurping Finding Dory's current status as the number one domestic release of the year. Finally, Rogue One is also within striking distance of becoming the fifth 2016 release to earn more than a billion dollars worldwide. Its current tally is $914 million. Rogue One would need another $240 million to earn the status of number one overall release of 2016. Captain America: Civil War is the current leader with $1.15 billion. Stating the obvious, for the second straight year, the Star Wars franchise has absolutely eviscerated the box office realm.

The problem with box office estimates is that movie distributors are incentivized to lie. Few mainstream consumers pay any attention to actuals when they come out on Monday afternoon, whereas the weekend box office estimates get quoted like sports scores on Sunday afternoon through Monday morning. I say all of this to note that Hidden Figures allegedly finished in second place this weekend with $21.8 million.

If nothing else, this film can claim that it was the first title to knock Rogue One out of first place, at least for a day. On Friday, it grossed $7.6 million, more than $1.5 million ahead of Star Wars 0 (Star Wars 3.5?). The Saturday and Sunday estimates for Hidden Figures were modest bordering on too conservative, an admirable choice by Fox. Ultimately, it costs the movie the bragging rights of ending Rogue One's three weekend box office winning streak, at least until actuals come in. The reality is that Disney's unlikely to cede the title with actuals, so results will probably hold, casting another light on the shady nature of box office weekend estimates.

Independent of what happens next, Hidden Figures is triumphant as a movie release. Its $21.8 million in wide release (2,471 playdates) brings its running total up to $24.8 million. This is a perfect time to mention that the production budget for Hidden Figures was $25 million. So, yeah. This film is going to be a huge winner. Its box office also elevates its awards season candidacy, and that's important since Hidden Figures earned the holy grail of Cinemascores, an A+. The average movie with that grade earns roughly a factor of five more than its opening weekend. Hidden Figures is also 93% fresh at Rotten Tomatoes, 97% among top critics. In other words, if you haven't seen Hidden Figures yet, you should. 2016 didn't feature a lot of perfect projects, a term BOP uses to describe high-quality titles that are also box office winners. 2017 already claims one with Hidden Figures. Run, don't walk, to see it.

The holiday phenomenon Sing finishes in third place, as it starts to see some wind come out of its sails with the bounty of Christmas behind us. Even so, the animated film from the Minions team earned $19.6 million for the weekend, down 54% as it starts to shed a few screens here and there. Its overall total is a mighty $213.4 million domestically, along with $144 million tallied from overseas venues thus far. People definitely enjoyed watching anthropomorphized animals taking part in a The Voice/American Idol type competition.

Rounding out the top five are a new release from a dying franchise and the leading contender for Best Picture. Underworld: Blood Wars, already a leading contender for next year's Razzies, opened in theaters this weekend. Its box office of $13.1 million actually speaks well of a loyal fanbase since no other positives exist…and I say that as a fan of the Underworld franchise, at least the first two films. The latest iteration is only 22% fresh at Rotten Tomatoes, 20% among top critics. Its B+ Cinemascore is the average for the franchise, which means Blood Wars neither hurts nor hurts Screen Gems moving forward. With a $35 million budget and $45 million already attained overseas, we haven't seen the last of Kate Beckinsale in a vinyl cosplay outfit.

La La Land is the fifth place entrant. It earned $10 million this weekend, bringing its running total to $51.7 million. Given the fact that it still hasn't expanded beyond 1,515 venues yet, its box office performance is amazing. In terms of per-location average, La La Land finished second out of the entire top ten with $6,601 per playdate. Only Hidden Figures at $8,822 surpasses it. Rogue One managed $5,286 if you're wondering. January is always the realm of overachieving platform releases, but Hidden Figures and La La Land are both positioned to clean up at the box office from now until the week after the Oscars.

Our sixth and seventh place films are a couple of Christmas week releases. Now that the holidays are over Passengers should fall quickly out of the top 10, especially considering its poor reception both from critics and from audiences. Its three-day take was $8.8 million, a decline of 46% from last weekend's New Year's Day-inflated weekend gross. Thanks to the magic of the 12 days of box office, Passengers has accumulated a domestic total of $80.9 million, though that's not going to be nearly enough considering the $110 million budget. The international total for Passengers is $56.8 million, which isn't really enough to help. It's down to the presence of Jennifer Lawrence and Chris Pratt that this one wasn't an out and out bomb.

That puts Why Him?, the Bryan Cranston/James Franco comedy, down to seventh. Amusingly enough, Why Him? had one of the better holds in the top 10, declining just 35% from last weekend down to $6.5 million. It's approaching the $50 million mark with a cumulative domestic total of $48.6 million, and adds about $17 million more from overseas venues. The budget for this 20th Century Fox release was only $38 million, so while it's not quite profitable yet, it's going to be at least in the ballpark of providing a return for the studio.

Rounding out the top ten are a mainstay of the chart since November, an awards contender, and the least successful of our Christmas leftovers. Moana, the animated Disney film featuring the Rock and songs from Renaissance man Lin-Manuel Miranda, earned another $6.4 million from Friday-to-Sunday. That represents a decline of 42% from last weekend and brings the running North American total to $225.4 million. Moana's overseas take effectively matches that number, which means it's sitting with $450 million worldwide. Needless to say, it's been a big year for Disney and Moana is a huge contributor to its success.

Ninth place goes to Denzel Washington's Fences, which earned $4.7 million over the weekend and dropped 53% from the previous frame. So far, the $24 million budgeted awards contender has earned $40.7 million domestically and hasn't received an overseas release at this point.

Our final spot in the top ten belongs to the biggest disappointment of the holiday season. Assassin's Creed, which featured a number of Academy Award nominees and winners and carried a $125 million budget, earned $3.8 million. Its 56% decline was the largest in the top 12. The video game-based film has now earned $49.5 million domestically, along with another $50 million internationally.

If we compare 2017 to 2016, this year's top 12 made $121.2 million, which is down quite a bit from last year's $147.2 million. This time last year, we still had Star Wars: The Force Awakens earning $42 million and The Revenant taking in almost $40 million in its first weekend of wide release. Next weekend brings three mediocre-looking new wide releases in The Bye Bye Man, Monster Trucks, and Sleepless, but also will feature the expansion of films like Live By Night, Patriots Day and Silence. It's those expanding films that should make a difference for the MLK holiday weekend.