January 2017 Box Office Forecast
By Michael Lynderey
January 5, 2017
BoxOfficeProphets.com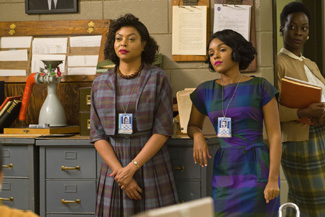 ---
Appropriately enough, January 2017 has a new horror movie out every weekend, including a particularly terrifying one on January 20th (that's M. Night Shyamalan's latest, Split, which is about a demented, raving lunatic who lurches from common sense to cruel insanity at the flicker of a second). Other than that, January seems to be pretty much ceding ground to 2016's numerous December expansions, one or two of which will easily win the month.

1. Patriots Day (expands January 13th)
In a month where most new films are B-movies and genre thrillers, the unusually supple amount of expanding Oscar contenders will dominate. Smaller titles like The Founder, Silence, and A Monster Calls may run up their numbers over many weeks, but two films should do well right off the gate, even if neither of them is particularly likely to be up for the bigger awards.

The first is Patriots Day, which leads an unusually crowded slate on the second weekend of January. It is the movie that will presumably outgross all comers. Patriots Day documents the Boston Marathon bombing of April 15, 2013, from the day's early morning hours to the subsequent hunt for its two perpetrators. The film reunites director Peter Berg with star Mark Wahlberg, after Lone Survivor in 2013 and Deepwater Horizon a scant few months ago, in a film that like those two aims to give a respectful depiction of a recent American tragedy: as befit a true story, the trailer sells Patriots Day as a mix of thriller suspense and emotional uplift. The female lead is played by Michelle Monaghan, in one of her two films that weekend, and character actors like Kevin Bacon, J. K. Simmons, and John Goodman fill out the Boston citizenry and officials, many playing real people and some amalgams. The blue-print for the film's late December platform release and early January expansion is clear: Lone Survivor was a strong expander over the same slate in 2014, and American Sniper made a whole lot of money over this long weekend a year after that. History might repeat itself, at least part of the way. When predicting Deepwater Horizon, I wrote that Wahlberg both "exudes the right working-class star power" and "opens this kind of film extremely well," and even though my forecast was off by a good $50 million or so, I will repeat the argument here.

Opening weekend: $41 million (4-day) / Total gross: $100 million

2. Hidden Figures (expands January 6th)
From the other tonal end of the Oscar contender pool is this expander, a film that, with its premise of common decency and goodwill towards men and women would have been a much better fit to open wide a few weeks earlier, to fit into the holiday season. Hidden Figures is the true and little-known story of black female mathematicians who helped shepherd NASA's space program in the early 1960s, running up against both the cold majesty of space and the cruelty of man. The film is headlined by Octavia Spencer, who won an Oscar for The Help and is thus no stranger to important historical films; Taraji P. Henson, now a breakout television star; and singer Janelle Monáe, who has also received some strong plaudits for her role in the smaller Moonlight. Helmed by Theodore Melfi, whose first film, St. Vincent (2014) was funny and warm, it also stars the storied Kevin Costner, Jim Parsons, and Kirsten Dunst, as well as rising actor Glen Powell as the now dearly departed John Glenn. I hope he saw it.

Hidden Figures' marketing campaign seems to have a lot of goodwill and energy behind it, with reviews confirming and endorsing its quality (94% on Tomatoes). I may be underestimating the film's opening weekend, but however big the difference, its legs over the next few weeks should be strong enough to put it in contention with Patriots Day, because this looks like the kind of uplifting biopic that plays well over awards season.

Opening weekend: $15 million / Total gross: $78 million

3. Split (January 20th)
The month's biggest non-2016 film is likely to be this loopy-seeming thriller, the latest from M. Night Shyamalan. The anticipation for his film matches the redemption narrative that is so popular in American cinema: Shyamalan went from a little-seen indie drama (Wide Awake) to maverick wunderkind maker of high-profile suspenseful dramas (The Sixth Sense, Unbreakable, Signs), before directing a number of films that many of his detractors dismissed as running jokes. Then came his 2015 thriller The Visit, which he financed himself for a mere $5 million, and which restored his reputation among many a critic, myself included. Aside from everything else, The Visit also features a moment that brilliantly captured the zeitgeist of 2015-2016 (when an elderly lunatic removes his sullied diaper and slams it into a small child's face; "you have a problem with germs, don't ya?").

So Split arrives with a high amount of hope that Shyamalan's comeback story will continue, and early reviews from its festival premiere affirm that it does (81% fresh). Here, James McAvoy plays the psychopath lead, who kidnaps several young girls in preparation for a scheme concocted by one of his many alternate personalities (yes, that's pretty creepy). Co-star Anya Taylor-Joy established her genre credentials last year with The Witch and Morgan, and Split has a good, solid, scary, trailer. I imagine most people attending expect a twist ending (my favorite of his final acts was Unbreakable), and such a twist, if it exists, is presumably not that all the characters are simply in this guy's mind (that couldn't be it, right?). Other than The Last Airbender, The Visit was Shyamalan's biggest earner since 2004, finishing with $65 million, and there's no reason at all Split shouldn't more or less ape that performance.

Opening weekend: $25 million / Total gross: $64 million

4. Resident Evil: The Final Chapter (January 27th)
Between Resident Evil 6 and Underworld 5, both of Screen Gems' signature science fiction/action franchises are having what may or may not be their last big-screen hurrahs this month.

This is a franchise whose scale has gradually risen. It began as one of those Aliens-style films where a military team is stuck in a narrow location with ravenous monsters (the first Resident Evil), progressed into one long night in a midwestern town overrun by zombies (the second film, Apocalypse), and then expanded the setting into the last three films, Extinction, Afterlife, and Retribution, which featured Alice wandering the post-apocalyptic landscape, finishing off whatever zombies may land in her way (unfortunately, most of the earth's population has by now been zombified, so this goal, while noble and useful, may take a few more films). Paul W. S. Anderson directed most of the series and returns here once more. Lead character Alice always remembers everything, as the taglines announce, which is just a bit more than I do, and the film has Jovovich again joined by Ali Larter, along with some new faces, like William Levy and Ruby Rose (who has also found herself plugged into the xXx sequel, probably playing much the same gun-toting, no-nonsense character, a favorite trope of both this series and Underworld). The Resident Evil films' highest grosser is 2010's Afterlife, which I thought was the best of the series and which took in $60 million, while the last film, in 2012, finished with $42 million, a ballpark this one will likely dangle around and hope to overshoot.

As for that title? Friday the 13th: The Final Chapter was the fourth film in that august series, and even though almost 33 years later we know that name was a lie, I will approach this "Final Chapter" with good faith that the entry is indeed the last. No zombie can walk the earth forever. Neither can their killers. The franchise started with an opening weekend of $17 million and a close of $40 million. Perhaps it will end much the same way.

Opening weekend: $17 million / Total gross: $40 million

5. Monster Trucks (January 13th)
A film whose title made me think of NASCAR-style races between gas guzzlers in Southern arenas, really turns out to be a nice boy-and-his-dog story, with the boy a little older, if not too much, and the dog some kind of slobbering, literal, monster from the outer nebula, and one which enjoys taking up residence inside large trucks (yes, the title is to be taken absolutely literally). In short, the film aims not for the high-octane summer action of its original release date, but for quiet late-winter children's entertainment, and indeed its mid January slate has inspired many a surprise earner geared to the same demographic (the most shocking of which is probably still Are We There Yet?, which made $82 million in January 2005). Directed by CGI film veteran Chris Wedge (of Robots and Ice Age), it stars Lucas Till, previously of the X-Men series and the MacGyver television reboot, and Jane Levy, who has recently headlined two very impressive horror earners (Evil Dead '13 and Don't Breathe). Monster Trucks seems like the kind of undemanding, generally villain-less PG entertainment that follows much in the January kids' film tradition. I don't expect Monster Trucks to dominate the month, but children will understandably find that title creature to be kind of cute, and the film may do a little better than some of the cynics would have it.

Opening weekend: $13 million (4-day) / Total gross: $38 million

6. Underworld: Blood Wars (January 6th)
The Underworld franchise first reared its gnashing teeth on the scene in 2003, a year after the first Resident Evil film, and has accompanied it as a sort of distant cousin in supernaturally-tinged, violent, pseudo-futuristic action. Blood Wars is the series' fifth entry, with star Kate Beckinsale returning for her fourth outing (she did not appear in the 2009 prequel), along with co-star Theo James, who most recently headlined the Divergent films. And in the Underworld universe, 13 movie years on, not much has changed. Werewolves still snarl at vampires, vampires still appear thoroughly blasé at the sight of their hirsute enemies, young action stars share the screen with stone-faced character actors (Charles Dance here, Bill Nighy previously), and guns still blaze as an evidently more efficient and rapid way of mutual execution than teeth and nails, sharp as they may be. The last film in the series finished with a surprisingly potent $62 million in early 2012, so I predict a notably lower number here with some guided caution. Movie years have started off with a modestly-successful horror film for most of recent memory (The Forest was 2016's jump-starter, The Woman in Black 2 was 2015's). This is close enough. As with Milla Jovovich in Resident Evil 6, Beckinsale's lead character is beset by the problem that not enough of the right villains have been killed for her series to end. This film aims to rectify the situation.

Opening weekend: $16 million / Total gross: $38 million

7. xXx: the Return of Xander Cage (January 20th)
The return of Xander Cage is really the comeback of star Vin Diesel, who exploded onto the screen in the early 2000s as the lead of The Fast and the Furious and xXx, before leaving both franchises and settling into a kind of mid-decade funk, which oddly also befell other early 2000s leading men like Ben Affleck, Orlando Bloom, and Colin Farrell. As with the Furious Fast films, xXx inspired a Diesel-less sequel, with Ice Cube taking over as another agent. That second film opened with a claim that Diesel's character had just been killed, but the movie lied, and now he's back, with everything having been made right again (and, given that an eighth Fast and Furious film is scheduled for release this April, one can argue 'too' right).

The cast combines thespians (Nina Dobrev, Deepika Padukone) with singers (Kris Wu, Nicky Jam) and athletes (mma star Michael Bisping, footballer Neymar), but it's the supporting role by Toni Collete that most intrigues me (I hope she finally gets to kick some ass!). The sequel is helmed by D. J. Caruso, who mostly directs thrillers, and reunites Diesel with co-star Samuel L. Jackson, with the story being such a given that the trailer doesn't bother to properly introduce the villain. The first xXx was a big, entertaining summer movie that took in a solid $142 million. That was a long time ago, though, and I think a xXx sequel (or threequel, depending on how you count) will attract more or less the same muted attention as a few recent Diesel action films like Riddick and The Last Witch Hunter. As with Underworld and Resident Evil, the Return of Xander Cage is a film that may do better internationally, while its domestic fate may have it remaining wedged in around the month's other genre sequels.

Opening weekend: $12 million / Total gross: $34 million

8. A Dog's Purpose (January 27th)
This live action children's entertainment about a dog re-incarnated over and over again through the decades is based on the comic novel by W. Bruce Cameron, author also of the original 8 Simple Rules for Dating My Teenage Daughter (the book was so much better than the show, truly). Josh Gad, star of many films but most likely best known for voicing Olaf in Frozen, provides the vocal tones of every iteration of the canine's life. The film is helmed by Lasse Hallström, who in recent years has focused firmly on feel-good entertainments like Safe Haven and The Hundred-Foot Journey, and its humans include Dennis Quaid, Britt Robertson, and a comeback by Peggy Lipton, as well as an actor named Pooch Hall, who was presumably a must-cast. There may or may not be grassroots marketing to children here, but films about cute dogs never bomb. This is especially because A Dog's Purpose makes no bones about announcing and priding in its canine lead, whose expansive enlarged face covers the film's poster, which lists no stars or credits or much else except for the animal's big, wet, nose and the tagline, "every dog happens for a reason". That's correct. As does every film.

Opening weekend: $10 million / Total gross: $29 million

9. Sleepless (January 13rd)
Somewhat on the lower tier of the month's action thrillers is this remake of the evocatively-titled 2011 French film Sleepless Night, about a police officer entangled in shady business (well, that's the job). Sleepless '17 is headlined by Jamie Foxx, who sat out the last two years but had previously carried a few respectable grossers (Law Abiding Citizen and Annie) and one that played on an even bigger scale (Django Unchained). Michelle Monaghan is good to see as the female lead, and the film includes such thriller mainstays as crime, drugs, Las Vegas, and the leading character's child in jeopardy. For this reason or that, Sleepless was moved up from a February slate and dropped into the scalding fire of January's competitive long weekend, where it will likely be crowded out by Monaghan's other big film. Also of note: a Las Vegas setting tends to double a movie's expected box office. Consider that calculation included.

Opening weekend: $8 million (5-day weekend) / Total gross: $20 million

10s. The Bye Bye Man and Live By Night (January 13th)
These are two vastly different films I bind together for no particular reason other than a joint release date and somewhat uncertain prospects (both will open around late single digits, I think). The Bye Bye Man is a horror film about everyone's favorite slasher victims, college students, who are here terrorized by a malevolent entity with an unusual nickname (maybe "Bye Bye Man" just means exactly what I think it means). The more prestigious Live By Night is Ben Affleck's fourth film as director, and, after the triumphs of Gone Baby Gone, The Town, and Argo, is the first to have received somewhat negative reviews. A crime film with a 1920s setting, it was pushed up from deep 2017 into the Oscar season, but now looks largely to be ceding ground to Patriots Day and other January expanders. Still, the cast includes Chris Cooper, Brendan Gleeson, Zoe Saldana, Elle Fanning, and Affleck himself, and these Boston gangster stories tend to do pretty well, even if the film is up against Patriots Day, another thriller set in the same town. Little is known about The Bye Bye Man, whose cast is a bit more original, with horror veteran Douglas Smith, Cressida Jones (whom every person in the U.K. will recognize), and Faye Dunaway, of all people, in her first wide release since 2002. So don't believe the title. Welcome back, Ms. Dunaway.