The 12 Days of Box Office: Day 8
By Tim Briody
December 30, 2016
BoxOfficeProphets.com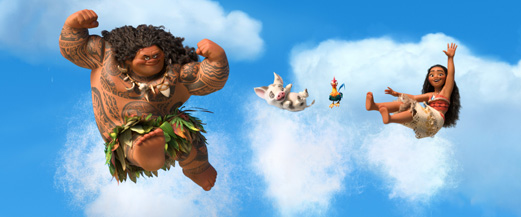 ---
We head into the final weekend of 2016, but the 12 Days of Box Office still has some life left in it, with an important weekend still to come.

Rogue One of course leads the way, but the gap between it and Sing is incredibly close right now. The Star Wars spinoff story added another $16.7 million on Thursday, which gives it a lofty $375.3 million in two full weeks in theaters. It's now firmly in the #3 spot for 2016, and will pass the $408 million of Captain America: Civil War by the end of the weekend to be the second biggest movie of the year.

Meanwhile, Sing earned $15 million on Thursday, down just 3% from Wednesday and it's earned a pretty awesome $123.6 million so far. Were it not for the presence of Rogue One, this is pretty much all we'd be talking about. The most fun part of the next few Decembers is going to be finding the box office success stories that get buried by Star Wars. I bet you forgot Daddy's Home earned $150 million last year.

What's going to happen over the weekend is the best part of this part of the box office money train. In 2011, all but one film in wide release saw an increase over New Year's weekend compared to Christmas weekend, and the one film that didn't (Mission: Impossible - Ghost Protocol) saw a 0.5% decline. What happens here is Friday is strong, Saturday is weak, but not as much of an anti-box office holiday as Christmas Eve is, and Sunday is strong again, as January 2nd is also an extra day off before most schools go back, and many people also have it off from work. While that's great news for Rogue One, Sing and Moana, it's a much needed lifeline for the Christmas openers, all of which underperformed. The last few days and this upcoming weekend send their overall performances to "meh" instead of "catastrophically bad."

Passengers earned $4.6 million on Thursday, giving it $45.3 million in nine days. That still doesn't quite cover the paychecks for Chris Pratt and Jennifer Lawrence, let alone the overall $120 million budget. Again, it's the highest profile disappointment of December, but it's still better off than Why Him? and Assassin's Creed. The comedy misfire earned $2.7 million, giving it $24.5 million after a week in theaters, while the video game adaptation (which immediately shot itself in the foot by going with an original character for the movie rather than Ezio, which might have actually brought in fans of the game), added $2.5 million, sending it to $31 million since its opening last Wednesday. This weekend will be the last hurrah for these films, and then they'll quickly be out of theaters by mid-January.

Moana continues chugging along, buoyed by the Twelve Days of Box Office, which has the most notable impact on family films, as we've detailed with Sing. Today is especially notable, as with another $4.1 million on Thursday, it's earned $199 million to date and will have crossed $200 million by the time you read this. As I've said, it wasn't another Frozen, but this is still great.

Oscar bait La La Land and Fences continue along respectably, though La La Land earned $2.4 million on Thursday while still in 741 theaters while Denzel Washington's Fences earned $2.3 million in over 2,200 theaters. La La Land has earned $24.7 million after three weeks in theaters (with the first one being in just four NY/LA theaters), while Fences has taken in $19.7 million since its Christmas Day release. Both are locks for several major award nominations, and there's still time to see them so you can still claim hipster cred by saying you saw it before everyone else did.