The 12 Days of Box Office: Day 7
By Kim Hollis
December 29, 2016
BoxOfficeProphets.com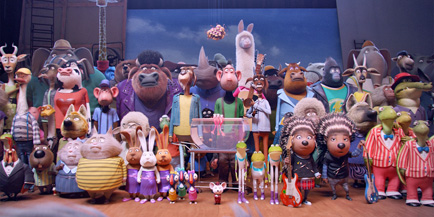 ---
The box office festivities continue! Thanks to a calendar configuration that puts both Christmas and New Year's Day on Sunday, many people have this entire week off - especially families with children or teachers. With lots and lots of free time on their hands, people have to find group activities and ways to pass the time. It's the magic of the 12 Days of Box Office.

Naturally, Rogue One: A Star Wars Story keeps on keeping on. It's #1 in the hearts and minds of North America, adding $18 million more to its treasure chest full of dollars. The running total is now $358.7 million, and it should find itself in third place on the 2016 domestic chart after today. Then, it'll pull ahead of Captain America: Civil War during the upcoming holiday weekend. That leaves only Finding Dory to conquer, and since that film sits with $486.3 million, it's probably going to be a pretty darned close battle. By the way, Disney is going to finish the year with six of the top 10 domestic earners. Amazing.

But as we mentioned yesterday, Sing is the big beneficiary of the inflation effect provided by the 12 Days of Christmas. Yesterday, it made $15.5 million, more than it earned in its first five individual days at the box office. The Universal kid flick has now crossed the $100 million mark, with an official domestic total of $108.6 million. It's due for a big, big weekend, which should bring it close to the $150 million mark after just 12 days of box office. It's obvious why family films would be the strongest performers during this time frame, but it's being proven out by this movie and Moana for sure.

Let's cover Christmas releases Passengers, Why Him? and Assassin's Creed together, since they're all performing about the same - that is to say poorly. Passengers made $4.7 million on Wednesday, and is now sitting with $40.6 million as a total. I should probably note that it was only a couple hundred thousand ahead of Moana, a five-week-old film, yesterday. But at least it's ahead of Moana. Why Him? and Assassin's Creed are looking way up at Moana's total. Why Him?, the comedy with James Franco and Bryan Cranston for some reason, took in $2.9 million and now has earned a grand total of $21.8 million. As for Assassin's Creed, its Oscar-nominated/winning cast doesn't matter when the film itself is garbage. It managed $2.7 million, bringing its overall total to $28.5. All three of these films are running out of steam quickly, and would be outright disasters if they weren't benefitting from the extra revenue the holiday season brings.

La La Land jumped over Denzel Washington's Fences yesterday, interesting because both are awards contenders but Fences isn't showing the same sort of holding power. People clearly want to see the Oscar frontrunner. La La Land added $2.5 million to its tally yesterday, and now has a running total of $22.2 million (passing wide release Why Him?, by the way). Fences fell a pretty heady 22% down to $2.4 million, but since its domestic total is now $17.4 million, it's within shouting distance of its budget.