The Twelve Days of Box Office: Day Five
By Tim Briody
December 27, 2016
BoxOfficeProphets.com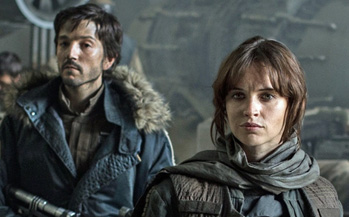 ---
With Monday's box office in the books, we now have a much clearer idea of how the films in theaters are going to do over the best week of box office of the entire year. Lots of films see a better Monday than any day they had over the Christmas weekend, and any declines are generally minimal. The bump is due to the calendar configuration. Christmas on a Sunday has lots of spillover into Monday when many people have off from work as businesses and organizations observe the holiday. This is going to be the best weekday at the box office by far, but it's still going to be a fun week.

Number one on Monday, of course, is Rogue One: A Star Wars Story. It adds another $32 million to its total, a 24% increase over Christmas Day, giving it $318.1 million after just 11 days in theaters. That puts it at ninth place among 2016 films already, and it's smooth sailing to over the $400 million mark and third place (or even second place, topping Captain America: Civil War's $408 million) by the end of 2016. Finding Dory's $486.2 million is probably out of reach, but never count out Star Wars.

Despite Rogue One being a spinoff story and not a part of the main series, the passing of Carrie Fisher may have an effect on Tuesday's box office, as Star Wars fans may choose to mourn in their own way. If nothing else, Rogue One will continue to dominate the week, something that will probably be true for the next several Decembers.

Second place is the only true successful Christmas weekend release, the animated Sing. Sing has the best single day of its short run so far, earning $19.6 million on Monday and giving it a lofty $75.5 million in just six days. $75 million also happens to be the reported production cost, so everything else it earns, which will be a lot, is gravy. As I mentioned over the weekend, Moana is still lurking around (getting a nice 64.3% post-Christmas bump to $4.8 million), but it's not Frozen, so Sing is the default family choice for those who need to take care of the kids for a couple of hours. It's exactly the type of movie that benefits the most from the Twelve Days of Box Office and Sing is headed towards a rather gaudy sum by the end of the year.

The only bright spot in the trio of critically savaged Christmas weekend releases is Passengers, earning an estimated $7.6 million on Monday, staying essentially flat from Christmas Day. That puts it at $30 million in six days, and while it's still got a ways to go to reach the reported $110 million budget, it's headed for a much better fate than Assassin's Creed ($4.5 million on Monday, up 4%, $22.2 million in six days) and Why Him? ($4.5 million on Monday, down 15.4% from Christmas Day, $15.5 million in four days of release). The negative reviews and word-of-mouth may have kept Passengers from reaching bigger numbers, and it'll go down as a black mark on the ledgers of Chris Pratt and Jennifer Lawrence. As for the other two, well, there's always plenty of "wait, this came out over Christmas?" releases every year and these join that list.

Denzel Washington's Fences earned $4.9 million on Monday, which is down 26% from Christmas Day, but that's forgivable because that was its first day of wide release. In 2011 War Horse opened on Christmas Day and saw a 7% decline. I'll attribute the larger day to day drop here because of the Oscar buzz that Fences is getting and the general power of Washington as a draw. The play adaptation has earned $11.7 million after two days in wide release (plus a week in NY/LA theaters) and is headed towards more than making back the reported $30 million budget, plus a couple of Academy Award nominations.

We'll go more in depth into the top ten during the rest of the week, but the last notable thing is the Best Picture Frontrunner Until We Are Otherwise Told So La La Land, which added $3.4 million on Monday and gives it $17.1 million to date, which is still solid for being in just 734 theaters still. The musical, which is going to get a bunch of nominations whether we like it or not, is still in the early stages of what's likely to be a solid run, and this coming week will bring it to a solid total by the time the Oscar nominations are announced.