The 12 Days of Box Office: Day 4
By David Mumpower
December 26, 2016
BoxOfficeProphets.com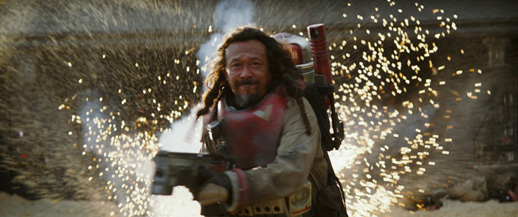 ---
It's beginning to look a lot like the end of Christmas. While the calendar may say December 26th, plenty of yuletide remains for studio execs as we still have a week more of the Twelve Days of Box Office.

What have we learned thus far? People like Star Wars and singing animated characters.

Okay, this hasn't been the most surprising of box office years, and the holiday season has behaved similarly. Still, there's a lot to parse through, so let's get started with Christmas weekend holiday box office analysis.

Finishing in first place at the box office, in Christmas merchandise sales, and in your hearts is Star Wars. Rogue One: A Star Wars Story, the latest offering in the 40-year-old franchise (oh yeah, you're *old*), absolutely eviscerated the competition this weekend just as it did the weekend before. The Rogue One weekend estimate is $64.4 million, raising its domestic total to $286.4 million.

In terms of weekend behavior, Rogue One started the weekend with $22.8 million, fell 33% on Christmas Eve to $15.3 million due to the anti-holiday, and then jumped 71% to $26.3 million yesterday. Since we're dealing with four-day estimates, too, Disney also projects $31.7 million today, which would bring its total domestic take to $318.1 million. Assuming that's accurate, after only ten days in theaters, it's already the ninth largest North American release of 2016, and it should soar to number three in a matter of days.

In terms of weekend drop, it fell 58%, which is quite respectable for a $155.1 million opener. Holiday inflation didn't artificially hold it up, either. If anything, Saturday hurt more than helped. Disney rolled the dice a bit with a standalone Star Wars story, and they have to be pleased with the results. Globally, it's at $555.5 million (I swear) against a $200 million budget. That $4 billion acquisition of Lucasfilm should be studied in college business classes for decades to come.

Out of the four "new" releases over the past few days, the only true success story was Sing, the latest film from the team that brought Minions into your lives. A cheap excuse to animate songs like Baby Got Back as anthropomorphic animal karaoke, Sing hit all the right notes with consumers from day one on. It started with $20.6 million on its first two weekdays and has now grossed $35.3 million over the weekend.

Universal is also projecting $20.8 million today, which would give the film a whopping $76.7 million after six days in theaters. With an A Cinemascore, there's plenty of cause for optimism about legs/return business. Sing is also 72% fresh at Rotten Tomatoes, which is almost as good as the other three major new releases in combination. It…wasn't a good week for Hollywood.

Illumination Entertainment is extraordinarily good at delivering populist films with low production costs, and this one is no exception, costing only $75 million. Ignoring ancillary merchandising revenue, it'll be in the black by the start of 2017. It's also earned $17.3 million internationally, which does make me wonder how Sir Mix-a-Lot lyrics translate in Taiwanese.

Speaking of the other three new releases, let's pull off the Band-Aid quickly. Passengers is the "winner" by finishing in third place over the holiday. Its three-day estimate of $14.9 million brings its domestic total up to $22.2 million, which may be enough to pay for the salaries of Jennifer Lawrence and Chris Pratt. Sony is ambitiously projected $8.3 million for today, and the rest of the holiday week should boost it enough that its $110 million budget won't look nightmarish, just bad. Then again, the Rotten Tomatoes score of 32% in combination with the B Cinemascore will keep Sony execs up at night. This one won't be remembered fondly.

Assassin's Creed is somehow looking up at Passengers, wishing it were that successful. And that's sad. The latest videogame adaptation that misfired has grossed a paltry $10.3 million over the holiday weekend with an estimate of $4.7 million today. Assuming all of this holds, it has earned $22.5 million in six days. On a seemingly unrelated note, the head of the corporation that created this videogame franchise once bragged that it would have a budget approaching $200 million.

While Assassin's Creed does have a better Cinemascore than Passengers, a B+, its Rotten Tomatoes score of 19% speaks volumes about the abject failure of the project. Its opening weekend placement in the top five may be the highlight of its entire domestic run. With only $14.2 million earned overseas thus far, it doesn't even have international revenue hopes to negate some of the sting of its North American rejection.

Slotting between the two doomed sci-fi action projects is Why Him?, the movie that caused people to retroactively dislike Walter White that much more. The "comedy" that only 30% of Top Critics enjoyed had a slightly different release pattern, debuting on Friday rather than Wednesday. Its weekend total of $11.4 million is good enough for fourth place, and Fox projects another $5.7 million today. With a B+ Cinemascore and a general perception as a misstep for all involved (except for James Franco, who makes weird career choices anyway), Why Him? won't be a factor for very long in 2017.

Sixth and seventh place this week go to an extended holdover and a soaring platformer. The holdover is Moana, the latest instant classic from Disney. While critics are quick to note that it's no Frozen, Moana's $7.4 million weekend brings it running total to $180.4 million with another $3 million estimated for today. It's actually ahead of the pace of Big Hero Six, which garnered $178.3 million in 33 days (and $403,000 on its 34th day).

Meanwhile, Denzel Washington's latest awards contender, Fences, successfully expanded from four theaters last weekend into 2,233 by the end of the weekend. It grossed an estimated $6.9 million over three days, and its per-venue average this weekend was truly bizarre. Fences started with $6,500 in four locations then wound up with $2,995 for the entire weekend as it platformed into 1,547 locations Saturday before finishing with 2,233 Sunday. This isn't the type of thing that happens at any other time of year but Christmas week.

The Academy Awards frontrunner, an average comedy, and an awards season misfire conclude the top ten. Eighth place goes to La La Land, which took a step toward box office relevance by earning $5.7 million from 734 theaters this weekend. Office Christmas Party enjoyed its last three days of timeliness, finishing in ninth place with $5.1 million. And Collateral Beauty, an innately flawed Will Smith film, is already almost done. It earned only $4.3 million in 3,028 venues, bringing its running total up to $15.3 million. The only good news for this horrifically reviewed film is that it only cost $36 million. As for Smith, he at least has Suicide Squad to hang his hat on in 2016.

Next weekend's box office will be one of the strangest frames you'll ever see. Due to the quirks of the calendar configuration, no new titles will enter theaters, yet virtually all of the major releases will increase their weekend box office totals. So, everything I said here applies then as well, only the news gets better for everything due to an extra week of extra box office. Films like Passengers and Assassin's Creed will look better in spite of themselves. It's the magic of the Twelve Days of Box Office.