The Twelve Days of Box Office: Day Two
By Tim Briody
December 24, 2016
BoxOfficeProphets.com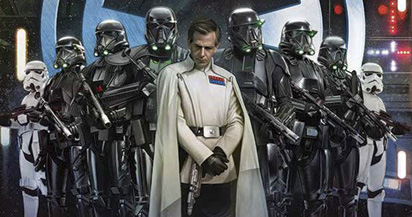 ---
The Twelve Days of Box Office officially kicked off Wednesday with three new releases and another joined the fray on Friday as the most interesting box office week of the year begins.

Christmas Day falls on a Sunday this year and the last time we had this calendar configuration was 2011, when the big winner was Mission: Impossible - Ghost Protocol, a movie that actually opened in a few hundred theaters the weekend prior to Christmas. We've got essentially the same scenario this time, albeit at a degree of magnitude or two higher. As far as new releases go, much like this year, 2011 saw a couple of Wednesday new releases in the form of the American adaptation of The Girl with the Dragon Tattoo and family release The Adventures of Tintin, a proper Friday release with We Bought a Zoo (a film that still deserves an exclamation point at the end of its title) and even Christmas Day releases War Horse and The Darkest Hour. We do have a Christmas Day release this year with Denzel Washington's Fences, which looks to maximize its earnings over the busy box office week and pick up some awards attention as well.

Christmas Eve is a notorious anti-box office day, and falling on a Saturday is the worst case scenario for the box office, as the strongest day of the week in theaters is no match for the day when people generally spend it with families. The boost on Christmas Sunday helps, but there's always money lost that's never made back compared to if the holiday was another day of the week. We're going to look at the movies in theaters now and see what fate awaits them this weekend, using the 2011 films as a comparison.

Rogue One: A Star Wars Story

To nobody's surprise, the top film on Friday is Rogue One, with $22.7 million. That's a 68% decline from last Friday, but if you take out the amount attributed to Thursday night showings, it's only a 46% decline from Friday to Friday. That's pretty good, considering, and it's now earned $244.7 million in just eight days in theaters. Comparisons to last year's The Force Awakens don't really work since Christmas fell on a Friday last year, and it had also earned $440 million through its 8th day of release, so Rogue One just pales in comparison here.

As mentioned, the December box office money train winner in 2011 was Mission: Impossible - Ghost Protocol, the film that revitalized the franchise and arguably resuscitated Tom Cruise's career. For reasons nobody remembers at this point, Ghost Protocol opened the previous weekend in just 425 theaters, earning $12.7 million. Expanding the Wednesday before Christmas to over 3,400 theaters, it earned $9.6 million on Friday. It then took a Christmas Eve dip to $6.2 million, before jumping back up to $13.6 million on Christmas Day. That's a $29.5 million with a 3.05 weekend multiplier. Another top earner that year was the Sherlock Holmes sequel Game of Shadows. An actual holdover and not some weird platform release, it grossed $6.7 million on the 23rd (a 53% drop from its opening Friday) and then plunged to $3.9 million on Christmas Eve before rebounding to $9.6 million on Christmas.

What does any of this mean for Rogue One? It's going to take a nosedive today, followed by a Christmas Day that tops both Friday and any other weekday it just had, sending it very close to the $300 million mark after 10 days in theaters. Follow that up with a week of similar earnings as people take advantage of their week off and it'll be over $400 million before we actually flip the calendar over to 2017. All this is saying that Rogue One is headed to a Christmas weekend of $68.7 million.

Sing

The animated Sing is the big winner of the Christmas weekend releases, earning a strong $13 million on Friday after an $11 million opening on Wednesday and $9.6 million on Thursday, and $33.7 million in just three days is impressive before we've really hit the strongest part of the holiday box office season. 2011 saw some competing family films, The Adventures of Tintin was a Christmas release and the previous weekend saw Alvin and the Chipmunks: Chipwrecked. Both dropped as expected on Christmas Eve but bounced back on Christmas Day, but not as strongly as films aimed at older viewers did. Moana is still doing fine, but it's not Frozen, so Sing will take the lion's share of kiddie box office all week. Something interesting to watch, though: due to the depressed Saturday, every film in theaters in 2011 did better on New Year's weekend than it did on Christmas weekend, with the exception of Mission: Impossible, which was essentially flat. Rogue One probably won't do that, but every other film out there now is a contender. Don't be surprised if Sing is well over $100 million by this time next weekend. For this weekend, Sing is headed to a total of $35.1 million.

Passengers

The critically savaged and borderline offensive Passengers earned $4.4 million on Friday, after $4.1 million on Wednesday and $3.2 million on Thursday. I'm looking at The Girl with the Dragon Tattoo, which came out over Christmas weekend in 2011. While that got good reviews, it was dark as hell and not necessarily the best thing to play around the holidays, so much so that the sequels have yet to see American versions. It earned $4.6 million on Friday after $8.3 million over Wednesday and Thursday, ending with a Christmas weekend total of $12.7 million after a drop to $2.5 million on Christmas Eve. I think a very similar fate awaits Passengers, and despite the bankability of Chris Pratt and Jennifer Lawrence, we'll all be looking back at this one and shaking our heads. Passengers is looking at a weekend of $12.3 million.

Why Him?

The comedy option for the holiday season, Why Him? opened on Friday with $3.9 million. Daddy's Home it is not, but it's an okay start. The Christmas Eve Eve opener in 2011 was We Bought a Zoo, which while not a straight comedy, opened with $2.9 million on Friday, dropped to $1.8 million on Christmas Eve and then jumped to $4.5 million on Christmas Day. As we are fond of saying, the Christmas high tide rises all boats, and this is no exception. For this weekend, Why Him? is headed towards $12 million.

Assassin's Creed

A video game franchise I always thought would make a good movie adaptation was predictably botched by the filmmakers, earning the worst reviews of the weekend and just $3.7 million on Friday after $4.6 million on Wednesday and $2.8 million on Thursday, hinting that interest is waning already, as even Passengers had a better Friday than opening day. That's not a good sign for its longevity, but for the next week, it doesn't really matter. I refer you to the paragraph on Passengers where The Girl With the Dragon Tattoo is used as a comparison, and the pattern should fit here as well. That would give it $10 million for Christmas weekend.

Keep checking back all week for daily updates on The 12 Days of Box Office, and Merry Christmas to all our readers.