Weekend Wrap-Up
Rogue One Powers Up the Holiday Box Office
By John Hamann
December 18, 2016
BoxOfficeProphets.com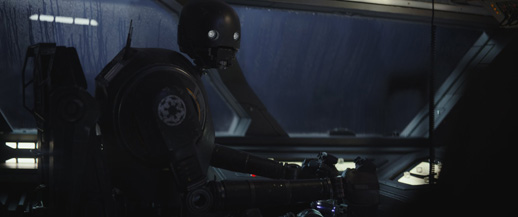 ---
Here we go! Welcome to the Christmas box office lottery season, where every day is like a Saturday (except for Saturday, December 24th). Rogue One has landed and set the box office (and Will Smith's Collateral Beauty) on fire.

Ever since Star Wars: The Force Awakens lit up the box office a year ago with its $248 million opening weekend (that phrase still looks odd and impossible) and a massive $2.1 billion global take, Disney has been counting the minutes until their next Star Wars flick, Rogue One: A Star Wars Story, expanded the universe and story line just that little bit more. Where Force Awakens was a sequel, pushing the overall story forward, Rogue One is a standalone prequel providing a piece between Episode III and the one that started it all, Star Wars: A New Hope.

Box office expectations need to be lowered compared to The Force Awakens, as there was only a year between Rogue One and The Force Awakens; whereas fans waited 10 years for a new film the last time around. The lack of familiar characters like Han and Leia, and not developing the story from Force Awakens was always going to reduce the opening weekend.

Rogue One: A Star Wars Story started its assault on the box office Thursday night, when it earned a massive $29 million from its Thursday preview alone. That's the biggest Thursday preview of the year, topping Batman v Superman's $27.7 million and Captain America: Civil War's $25 million. It's the seventh biggest preview of all time, and beat the entire opening frames of films such as Tim Burton's Miss Peregrine's Home for Peculiar Children and Ben Affleck's The Accountant. On the other hand, the preview amount is about half of what the Force Awakens earned during its sneak peek ($57 million), but again, comparisons to what was likely the most anticipated film of all time is completely unfair, as this is more of a test of what Star Wars films will do when they stand on their own. On Friday at 2 p.m., Disney was estimating a first day total of $66-69 million (including preview) for Rogue One based on matinee audiences, and rival studios were predicting a weekend of $160 million, with Disney more conservative at $135-$140 million.

The actual Friday was even bigger than that, pulling in an incredible $71.1 million, with Thursday previews included, of course. The opening day is the 12th biggest of all time, and the second biggest for December behind only The Force Awakens. The third biggest December opening day now belongs to The Hobbit, which earned a comparably tiny $37.1 million, or about half of Rogue One's opening day. Comparing the single day to entire December opening weekends, Rogue One would have finished seventh compared to the biggest December opens of all time, leaving it between The Lord of the Rings: Return of the King ($72.6 million opening frame) and The Lion, The Witch and The Wardrobe ($65.6 million opening). After one day of release, Rogue One was already the 45th biggest release in the last year.

So, the Thursday preview and the Friday box office were bigger than expected, so the question became how front-loaded Rogue One would be. On its first Saturday, The Force Awakens fell 42% from its Thursday/Friday; The Hobbit, on the other hand, fell 25% from Thursday/Friday to Saturday. BOP's Tim Briody predicted a Rogue One opening weekend at $150.8 million, which would mean a significant drop-off on Saturday. The Saturday number was reported at $46.4 million, off a large but respectable 35% from its Thursday/Friday. Rogue One was set to enter the top 15 openers of all-time and become the second biggest December opener of all-time, with only its big brother pushing it down to second.

The opening weekend for Rogue One was reported this morning at a sizzling $155 million, which means that within a year of opening two new releases, the Star Wars franchise had combined opening frames of $400 million. The only franchise that comes close is The Avengers, what with the first Avengers film opening to $207.4 million and Age of Ultron opening to $191.3 million. The difference, though, is that both Avengers films opened in May, not December. Winter is supposed to be about legs at the box office, and not opening weekends, but Disney has turned that notion on its head. Disney raised eyebrows when Bob Iger purchased the rights to the Star Wars franchise for $4.1 billion (half cash, half Disney stock). If one looks at this from George Lucas's perspective, he earned approximately $2 billion in cash from that deal, and received 40 million shares of Disney stock, which in 2012 was valued at approximately $60 per share, and today is worth $104 dollars per share.

The Rogue One opening weekend finishes as the 12th biggest opener of all time, but that's just on the domestic side. After only two days of overseas release, Rogue One had already earned $33 million, and finished the weekend with an overseas take of $135.5 million. Some say that the Gareth Edwards film cost $200 million to make, which would normally mean it would need a $600 million worldwide gross, but given the massive advertising campaign, the global gross would likely need to clear $700 million minimum, which should be no problem at all. Why? Once again, Disney was very careful (safe?) with its asset, to the point of going to some fairly significant reshoots to ensure the quality was there. Both critics and audiences felt it was good, as Rogue One currently has a fresh rating of 84% (44 negative reviews out of a possible 280), and an A Cinemascore. In my opinion, these scores were key to keeping momentum going for the franchise. The Force Awakens also earned an A Cinemascore, but reviews were off the 92% fresh rating that the JJ Abrams film earned. Some believe that The Force Awakens reviews were driven by nostalgia, and upon a second review, maybe TFA wasn't quite all that.

Disney again made some smart moves with story structure and marketing of Rogue One. Like The Force Awakens, the lead in Rogue One is female, which only serves to further expand the demographic of these films towards younger females, something that is key to the overall success of the franchise. Casting an award-winning actor like Felicity Jones in the lead was smart as well, as that is where the film is carried. Add to that a stellar international cast that includes Mads Mikkelsen, Donnie Yen and Diego Luna, and this film will only become more profitable overseas.

With regards to marketing, Disney teamed with strong promotional partners across the globe as per usual, but domestically, the TV ad campaign was second to none. One could see the pace of the marketing pick up as the release date approached, starting with quiet introspective ads, and finishing with highly paced, high octane spots that got fans very interested. Once again, Disney spared no expense making Rogue One a success, and again Bob Iger's expensive acquisitions look like no-brainers.

Finishing about $140 million behind Disney's Rogue One is Disney's Moana, as the Mouse House dominates this weekend, owning the top two and finishing with three films in the top ten. The question had to be asked: Would Rogue One cannibalize the box office gross of Moana? Given that the toon had already brought in $150 million at the domestic box office before the Star Wars film hit, that cannibalization amount is reduced, and Moana should play strongly over the holidays. This weekend, the Walt Disney Animation release earned another $11.7 million, and fell 37% versus Rogue One. To date, Moana has earned $161.9 million at the domestic box office and $118 million overseas. Moana will earn more than $200 million domestic, but the question is how will it play against Universal and Illumination Entertainment's Sing, which opens next weekend.

Paramount's Office Christmas Party had nothing in common with Rogue One whatsoever, but still got crushed considering its holiday theme. Office Christmas Party earned $8.5 million in its second frame, dropping a large 50% compared to last weekend. With Disney dominating the top two, and some smaller films with huge venue averages taking up some bigger venues, the squeeze happens. Films like Office Christmas Party get pushed to the smaller venues. The comedy cost Paramount $45 million to make, and has a gross to date of $31.5 million. Add $20 million from overseas, and Office Christmas Party has at least matched its production budget globally. Still, it will need to earn a lot over the next 10 days or the studio will be wearing the marketing cost.

Due to the size of our first opener, the second debuting film, Collateral Beauty, barely made a blip on the box office radar and is just another knock for the career of Will Smith. The drama opened on Friday with a fourth place finish of only $2.4 million, dooming this film to open to less than $10 million despite being out to more than 3,000 screens. Over the weekend, the Will Smith starrer could only find $7 million, putting it on the list of the top 25 worst debuts for a film opening on more than 3,000 screens. You can't blame Rogue One for this ugliness, as the two films are about as far apart as it gets in terms of demographics. So what happened?

The train wreck that is Collateral Beauty happened for a number of reasons. First, it's the Christmas season, and this film is about a dad trying to recover from the death of his daughter, which doesn't make this sound like a good time at the movies, no matter what happens. Second, this appears to be Oscar bait, considering the cast of Oscar winners and nominees that includes Smith, Helen Mirren and Ed Norton, but Collateral Beauty earned only a 14% fresh rating at RottenTomatoes. The Cinemascore wasn't terrible at A-; however, the film is the type of manipulative weeper that attracts these kind of scores. The only good news for Collateral Beauty is the budget, as the production cost came in at a reasonable $36 million, with the stars likely seeing a backend kind of deal. It will be interesting to see how the Christmas box office season affects this one, as the crazy season can transform a dud into a minor hit, so let's wait and see what happens next weekend.

Fantastic Beasts and Where to Find Them gets trampled by Rogue One and Moana, but is also in its fifth weekend of release. The Warner Bros. blockbuster pulled in another $5 million and dropped 52% compared to last weekend's $10.4 million take. The domestic total for the J.K. Rowling piece has now reached $207.7 million, but the really good news is that this one has eclipsed the half-billion mark overseas.

Manchester by the Sea is sixth, continuing a strong awards push as the film is now out to 1,208 venues. After earning $3.2 million from 366 venues last weekend, the Casey Affleck film found $4.2 million this weekend from the higher venue count. That's an improvement of 31% compared to last weekend, and brings the domestic total up to $14 million.

La La Land, despite being out to only 200 theaters, finishes a strong seventh. After a surprise 15th place finish last weekend from only five venues, Lionsgate expands the venue count this weekend. La La Land earned $4 million, garnering a venue average of $20,100. Despite the low venue counts, La La Land has already pulled in a significant $5.3 million, and will be the movie to see for Oscar fans over the holiday season. I am often quite critical of Lionsgate's release patterns, but in this case, to date they have handled La La Land perfectly, setting it up for a strong push toward Best Picture.

Arrival is eighth, but with another sci-fi flick opening and the Amy Adams film losing 1,000+ screens, the news is not good for this one. Arrival earned $2.8 million in its sixth weekend and declined a hurtful 50%, ending a streak of solid holds that left it in the top five for five consecutive weekends. The total for this $47 million film has reached $86.5 million domestically, and it has reached the $50 million mark overseas.

Ninth is Doctor Strange, as one Disney blockbuster is shown the door in favor of the next Disney blockbuster. Doctor Strange earned $2 million and fell 55%. The $165 million Marvel product has proved successful - it has earned $226.1 million domestically, and more than $425 million overseas.

Tenth is Nocturnal Animals, following last weekend's surprise top ten appearance. After earning $3.2 million, this small release earned another $1.4 million this weekend, dropping 56%. The Focus release has now earned $8.8 million domestically and more than $10 million overseas.

Overall, the box office is strong thanks to Rogue One, but comparisons are tough as The Force Awakens led a record-breaking top 12 to $305 million (the second weekend of Force Awakens owns the second spot on that chart with $281 million). This weekend's result falls $100 million short of last year, but is still a positive result, as the top 12 earned $204.1 million, which makes the weekend the fourth biggest December weekend ever.

Over the next week, five more films go wide before Christmas Day, with 20th Century Fox leading the way. Fox releases Assassin's Creed on Wednesday the 21st and the comedy Why Him on the 23rd. Both of these films could be successful over the holidays, but the lack of reviews to date for Assassin's Creed makes me question the approach. Other releases include Denzel Washington's Fences, a film that could earn him another Oscar nomination, Sony's Passengers, which has had reviews released and is now a film I no longer what to see, and I have to wonder if $110 million was a good investment for this one. Lastly, Universal opens the animated Sing, the latest from Illumination Entertainment, which could be huge for the studio, as it carries a low production cost of $75 million.

That's all for me, folks. David Mumpower will bring you the 12 Days of Box Office over the Christmas season, and I will be back in 2017.