Weekend Forecast for December 16-18, 2016
By Reagen Sulewski
December 16, 2016
BoxOfficeProphets.com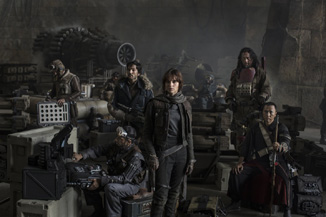 ---
While not a make or break moment, this weekend does mark the first significant test of our likely Star Wars dominated future, as Disney's ambitious plan for the Star Wars franchise starts branching out beyond the "core" films. And yet even with a film likely to dominate the landscape this weekend, other films launch in an attempt to claim some land ahead of the lucrative Christmas week.

The first Star Wars spinoff is not all that ambitious of an idea, to be honest – Rogue One goes back to juuuust before the start of the original Star Wars, detailing the work that went into stealing the plans for the Death Star that C-3PO and R2D2 carried to Tatooine. While a few characters are familiar, including Jimmy Smits as Bail Organa (carrying over from the prequels) and a tease of Darth Vader, it's mostly a cast of new blood, showing the opening days of the Rebellion against the Galactic Empire.

Felicity Jones stars as Jyn Erso, a young rebel whose father (Mads Mikkelsson, in his second big budget villain role of the fall) designed the Death Star, leaving her potentially well positioned to lead a team designed to steal them away – look do you have a better idea? Anyway, her ragtag group of hope-filled hopey scruffy rebels full of hope, including Forest Whitaker, Donnie Yen, and a bunch of small-time names you've never heard of and who naturally can't carry on much further in the Star Wars universe lead an assault on various Imperial positions to that end. It's much more of a war movie than any of the previous entries of the Star Wars (....hey hey HEY) franchise, which is both better and worse – it's not weighed down by having to create canon of its own, but can't reach the mythic heights of some of the other films.

After a long, long wait, The Force Awakens broke about all the box office records it's possible for a modern film to break (save, strangely, the Worldwide record), nearly becoming the first film to gross $1 billion in North America. It also defeated the normal December patterns, which generally lead to legs but smaller opening weekends, and though it benefited from Christmas week, it didn't receive any special boost from it, and really had normal (i.e. disappointing for Christmas) legs. Now, with a lot of that initial buzz satiated and this being a story outside of main continuity, can Rogue One actually meet that mark? Logic says the chance is almost nil, but that's probably not necessary to justify its existence.

It's a brave new Star Wars world in December, at least that's what Disney would have us believe, as saga films arrive every second year, with an anthology film in the even years. 2018 sees a Han Solo origin story, with likely a Boba Fett film next in line. Is a Star Wars film every year too much? The Marvel universe thinks that's a cute sentiment, but we are in unprecedented territory, where what had been meted out like precious manna from heaven is suddenly now as common as sand (coarse, and rough). That's probably a misplaced concern, as it's really more of an accident of George Lucas' reclusiveness than deliberate scarcity. It does present an interesting question of just how much of the Star Wars audience is "core films only," and the recent Harry Potter spin-off Fantastic Beasts may have something to say about that, with an opening weekend about 50% of peak. That's probably a drastic drop, considering Rogue One does have some great looking action sequences and is much closer in time to its franchise, that's kept the fires stoked. What does it all mean? Probably nobody knows for sure, but a very strong opening weekend of around $145 million should be in store.

Collateral Beauty attempts a kind of counter-programming with Will Smith in full maudlin "I HAVE FEELINGS!" mode that he enters every couple of years (see: The Pursuit of Happyness and Seven Pounds). In this one, he plays a tech CEO dealing with the death of his young daughter, by writing to the concepts of Love, Death and Time, who them show up in the persona of Keira Knightley, Jacob Latimore and Helen Mirren – and some screenwriter is very proud of himself for thinking up this concept.

Also starring Edward Norton, Kate Winslet and Michael Pena, it's a high profile Christmas time film with some Meaning, but as this genre is wont to do, it overreaches and becomes kind of laughable (what does that title even *mean*?). Reviews are... unkind to it, hammering its dime-store philosophy and grief mining, and this might be enough to sink the film, especially with other worthy prestige options out there. I'd expect just $11 million this weekend.

Expanding into wide release is Manchester by the Sea, another film along the same lines, but you know, good. Casey Affleck stars as a man who returns to the town he grew up in to take care of his nephew after the child's father dies. While there, he has to confront the issues that caused him to leave (not on the greatest terms) and then EMOTIONS! The third film from Kenneth Lonergan, who made the brilliant You Can Count On Me and then disappeared for ages before making the cult favorite (and famously studio mangled) Margaret, it's received a ton of Oscar buzz, with the film, Affleck and Michelle Williams all receiving lots of attention. Last weekend, it reached eighth spot in 368 venues and expands to 1,200 this weekend, jumping to about $6 miliion.

Also expanding but not to wide release is La La Land, potentially the Best Picture frontrunner. A musical in love with musicals, it stars Ryan Gosling and Emma Stone as struggling performers in the LA jazz scene who escape into fantasy in the midst of a love affair. Earning an astounding $880 thousand in five venues last weekend, its jump to 200 this weekend should see it earn about $5 million.

Our main holdovers this weekend include Moana, with the Disney family film crossing the $150 million mark mid week. It's a solid bet to have a good run over the holidays, and should earn about $11 million this weekend.

Office Christmas Party just missed out on a weekend win in its debut with under $17 million. The raunchy and profane comedy probably isn't a big factor going forward but doesn't have much competition from other comedies and should grab another $10 million. Fantastic Beasts probably loses the most to the Star Wars film and drops to about $5 million.