Top Chef Charleston Recap: Episode 1
By Jason Lee
December 6, 2016
BoxOfficeProphets.com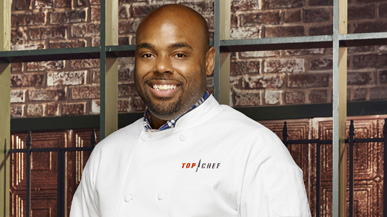 ---
Christmas has come early this year for foodies everywhere. Rejoice, for Top Chef has returned! After last season's California road trip, all of our Quickfires and Elimination Challenges will take place in Charleston, South Carolina, which we're told is home to a culinary renaissance - though really, which Top Chef city hasn't been the home to a culinary renaissance lately?

In a move reminiscent of Top Chef Seattle, this much-hyped season sees the inclusion of eight rookie chefs - including BJ (a hipster redhead), Jamie (neck tattoos galore), and Jim (somehow reminds me of Philip Seymour Hoffman's portrayal of Truman Capote) - along with eight returning chefs from past seasons. Among the fan favorites coming back are Brooke, runner-up from Seattle, Shirley, finalist from New Orleans, and Katsuji, who narrowly missed out on the finals in Boston.

I'm salivating. This is gonna be a great season.

While the vets get to relax and watch the proceedings from the Stew Room, the eight rookies are shuffled into the Top Chef kitchen with Tom and Padma. Tom describes the rookies' first Quickfire as something that will test everything needed to become the next Top Chef - knife skills, time management, and presentation. Each chef will have one hour to create as many dishes as they desire from a single, whole chicken. The winner gets immunity, while the losing chef will be up for elimination in a Sudden Death Cook-Off against the losing chef in the veterans' Quickfire.

This is a dastardly challenge. Tom's description all but invites the chefs to make multiple dishes, a la Iron Chef America, despite the one-hour timeframe, their likely inexperience with working under such a time constraint, their unfamiliarity with the kitchen, and their own nerves. This almost seems like a trick challenge where some prescient chef needs to step back and say, "They're inviting me to commence my own demise." Alas, no chef has the time for such reflection.

The rookies are off to the races, each pledging to make two or three dishes. Ah, such hubris. As the clock winds down, three becomes two becomes one - except for one sassy chef from Italy (Silvia), who not only has a dish ready to taste by the 40-minute mark, but a dish made of fresh freaking pasta.

Welcome to the introductory Quickfire version of the mic drop.

Tom really enjoys the balance of Silvia's taliatelle with chicken ragu, but wishes that it had a bit more seasoning. Padma is thrilled that someone was able to put a dish together before the hour was up.

And before we know it, it is.

The eight chefs serve Tom and Padma their one to two dishes - mostly one. Overall, Tom found some tasty dishes but frankly wanted to see a bit more. He enjoyed Silvia's fresh pasta and subsequent crispy chicken dish, which were both flavorful. He enjoyed a Korean chicken wing made by Emily, a local Charleston chef, which was simple but had tons of flavor. He also liked Jim's single dish of fried chicken innards (sounds delicious, right?), which had a lot of flavor and was complimented with nice acid.

Even though I peg Silvia as the winner, Tom surprisingly gives immunity to Jim. Wow, really shows that less is more, contrary to what the challenge invited the chefs to create.

As for the bottom of the heap, Tom picks out Ann from Louisville, Kentucky (who made a good tasting chicken panzanella salad, but wasn't really panzanella in any way), Jamie (who absolutely annihilated his vegetables), and Gerald from Florida (who had a greasy sauce and overcooked his garnish). Just based on those criticisms, you'd guess that Gerald had the worst dish, and you'd be right.

Of course, there's still a whole 'nother Quickfire to go. The vet Top Chef-ers come in, while the rookies look on agog. Well, not entirely agog. Silvia drools a little bit over Sam, but honestly, who doesn't? As Sam is happy to remind us of, he was named one of People's Sexiest Men Alive in 2012.

This challenge will not be judged by Tom and Padma, but rather by Graham Elliot, more familiar to viewers of MasterChef on Fox. Acknowledging this, Graham notes that he's honored to be a part of this show. Booyah Gordon Ramsay!

Graham challenges the vets to put their own spin on a Charleston classic: shrimp and grits. This will, of course, be easier for the ethnic chefs, who will simply have to do a version of that dish in their own style. For people like Casey Thompson, a native of Texas, they'll have to get a bit more creative…

…like Brooke is. Despite being a total bundle of nerves who wonders again and again why she came back to do this, she's going to try and put her spin on the dish by doing a Scotch egg - a soft boiled egg wrapped in shrimp instead of sausage.

And the creativity pays off. Graham picks out Brooke's dish as one of his favorites, as it showed great technique and incorporated great flavors. Graham also liked Shirley's transformation of shrimp and grits into a Chinese egg custard (Graham called it an explosion of flavor) and the dish from Amanda Baumgarten from Top Chef DC (a great, purist version of shrimp and grits). Brooke wins immunity, which will hopefully calm some of her nerves.

As for the bad news, Graham found Casey's dish lacking in flavor and simply not at the same level as everyone else's. He didn't enjoy the dish from John Teasar (Top Chef Seattle), which had one texture and a baffling use of kimchi. He also disliked the dish from Katsuji (Top Chef Boston), which simply had too many ingredients and too little balance.

In the end, it'll be John battling Gerald for the right to stay in the competition. Both chefs readily feel the pressure - no one wants to show up on Top Chef and immediately get sent home.

But that'll have to wait for the next day. The rest of the evening will be devoted to exploring the new Top Chef house (which always reminds me of the first episode of The Real World), and picking out bedrooms. The vets are quick to remind the rookies that they know the ins and the outs of the show, dashing off to pick out bedrooms first and throwing their stuff on the beds to "claim" them.

Against this backdrop, John and Gerald marinate in anxiety. John, who's 58, feels like everyone his age has either made it in the industry or faded away. Winning Top Chef would validate his career choice, and losing in the first round… well, that wouldn't help things. As for Gerald, he recounts a litany of life difficulties he's experienced in the past couple of decades. If anyone could use an ego boost, it's him.

But to get that ego boost, he'll have to take John down in a sudden death cook-off held on a slave plantation. As Jamie notes when the group drives onto the plantation, Top Chef never shies away from a city's history, and Charleston is no different. Padma gives a pretty little speech acknowledging the role plantations played in our nation's sad past and then perplexingly asks Gerald how he's feeling. Really? How he's feeling? How about feeling like the show just threw yet another obstacle in his way before he can stay in the competition.

Again, harkening back to history, Gail (who I'm happy to say has joined the judging panel for his challenge) announces that the Sudden Death Cook-Off will require the two chefs to participate in an oyster roast. They'll have 20minutes, oysters, and a fire pit to do their spin on an oyster dish.

Needless to say, that's not a lot of time, and the chefs get to it immediately. Gerald throws five oysters onto the fire to let them open, while John whips out some white truffles - a secret ingredient that he brought with him to use on the show. Very smart move. No point in holding back - if he loses, there'll be no opportunity to use the ingredient moving forward.

After 20 furious minutes - and another round of cooking oysters for Gerald, after he finds that the five he initially cooked had crabs in them - Gerald serves up roasted oysters with a Thai mignonette, while John has a cream-poached oyster soup. The judges sample both and retire to the barn to deliberate - an area within earshot of the cheftestants, leaving their deliberations quite audible to the chefs whose dishes they're judging.

In the end, while both dishes were good and had nice flavor, Gerald is the one packing his knives and going home. As he shakes the judges' hands, Tom notes that John just did a little bit better at developing the oyster flavor, while Gerald needed to put more smoke and heat in his dish to really make it Thai.

In his closing comments, Gerald notes that nothing prepares a person to be on Top Chef. Well, that's not exactly true. Being on Top Chef in a previous season will prepare you to be on Top Chef, which is perhaps the reason why Gerald is going home instead of John.