Weekend Wrap-Up
Moana Survives Tough Post-Thanksgiving Weekend
By John Hamann
December 4, 2016
BoxOfficeProphets.com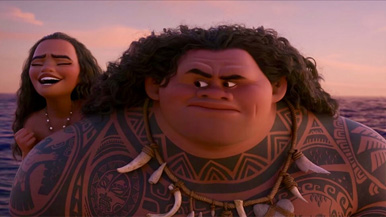 ---
Ah, the post-Thanksgiving box office weekend. This is one of those armpit frames that studios avoid like the plague.

Yes, this is the weekend where we go from the glory of five days of Thanksgiving box office to a drought. It's like hiking out of the beautiful plush mountains and into a wasteland, as we transition from having four big openers to one very small one. Christmas shopping becomes the theme of the weekend, but like recent years, parents seem to drop the kids off at theaters and then do their shopping. The only survivors in the box office wasteland this weekend are movies for kids, with Moana looking to keep some momentum going after an $82 million five-day start last weekend. Our only opener does not strike fear into the holdover competition, as that release is the horror film Incarnate (you thought it was a comedy?), from little known High Top Releasing. The weekend is again all about Moana, as Disney has its 17th number one weekend of 2016.

Our number one film of the weekend is no surprise; it's Moana, Disney's latest super-hit. After earning $82 million over five days last weekend and $56.6 million over three days, it was going to be very interesting to see what happened with its second weekend. Frozen, Toy Story 2 and Tangled (all animated Thanksgiving openers) fell more than 50% in their Thanksgiving follow-ups, and last year's entry, The Good Dinosaur, fell 61% in weekend two. After finishing a close third behind Toy Story 2 as one of the biggest Thanksgiving openers of all time, Moana was looking to match the Pixar sequel's drop, which came in at 51.6%, and its second-weekend gross, which tallied $27.8 million. Given its good reviews and solid Cinemascore, Moana should have no problem playing with the big boys.

On Moana's second Friday, things at first glance look dire. Moana picked up $6.45 million, down a massive 70% from the Thanksgiving frame. Normally this would be an extremely grim Friday-to-Friday to drop, but this is no normal weekend. Frozen, with its ridiculous legs, fell 75% from its first to second Friday, and Toy Story 2 fell 71%. So on the face of it, Moana's drop looks painful, but in reality, it's a better hold than two of the biggest Thanksgiving releases ever. It is ironic that the second Friday can appear so bad, and actually be quite good.

I often compare a long weekend two having two Saturdays, but Thanksgiving is even bigger than that. Black Friday is like a Saturday on steroids, or one of those rare box office days like Christmas Day. That super-Friday puts all holdovers at risk for a large drop, whether you're a big movie like Moana or a smaller one like Arrival. Disney likely expected a 55% drop or worse, but instead got a decent result. Moana earned $28.4 million from 3,875 venues, earning a solid drop of 50% compared to Thanksgiving weekend. This is an impressive hold for Moana, as it is in range of the $31.6 million earned by Frozen, and ahead of the $27.8 million earned by Toy Story 2. Considering those two films went on to earn $400 million and $246 million respectively, Moana finds itself in very good company. Moana has earned $119.9 million on the domestic side so far and $58 million overseas, though it's just getting started in those international venues.

Finishing second is Fantastic Beasts and Where to Find Them, which is enjoying its third weekend as either the number one or number two film. In its post-Thanksgiving weekend, Fantastic Beasts earned $18.5 million and dropped a hefty 59% for all of the reasons outlined above. The $180 million Warner Bros. release has a cumulative total of $183.5 million on the domestic side and has cleared $424 million overseas. Fantastic Beasts is going to finish as a winner and launch what will be a very successful franchise.

Arrival, which has shown some serious legs since opening, takes third place. The Amy Adams earthbound sci-fi flick earned another $7.3 million this weekend, declining 37% compared to its $11.5 million Thanksgiving gross. Since opening to $24 million, the $47 million Paramount release has earned $73.1 million on the domestic side and over $30 million overseas. It still has some work to do, but it looks like this smaller sci-fi release is going to work.

Brad Pitt's Allied holds in fourth place, and it hangs on a bit better than the kid-targeted flicks. Allied earned $7.1 million and fell 45%. Despite the hold, Allied is in trouble. It cost $85 million to make, and has a domestic total to date of $28.9 million. It got started in a few overseas markets last weekend and currently sits with about $25 million from those international venues. It is likely too steep a climb for this one, as the production budget was just too high.

Fifth is Doctor Strange, which is now in its fifth weekend. The Marvel film got burned, earning only $6.5 million and dropping 53%. Doctor Strange has done what it had to, as the $165 million release has earned $215.3 million on the domestic side and $420 million from overseas theaters.

Trolls is sixth. Also out for five weekends now, Trolls has not seen the level of success it needs for future films. Trolls earned another $4.6 million and fell 57%. It lifts its domestic gross up to $141.4 million, and the overseas total has eclipsed $155 million, but it's not going to be enough against a $125 million budget.

Hacksaw Ridge continues its leggy performance, as the Mel Gibson film holds decently following Thanksgiving. Hacksaw Ridge earned $3.4 million in its fifth weekend and declines 38%. The war film cost a respectable $40 million to make and has a domestic gross so far of $57.3 million. It's approaching $20 million from overseas audiences, so it still needs to do some business internationally in order to get to a profit.

Bad Santa 2, which failed to achieve liftoff last weekend, gets hurt even worse this weekend. After opening to only $6.2 million last weekend, the comedy sequel earned only $3.3 million in weekend two. This one cost $26 million to make and has a gross to date of $14.3 million.

Ninth is our lone new release this weekend, a horror film that doesn't belong with this rest of the films in the top 12. That film is Incarnate, a throwaway release that has been dumped here to die. Incarnate's box office result is similar to its reviews - both sucked. Incarnate earned only $2.7 million this weekend from 1,737 venues, setting another low bar amount for a film released to more than 1,500 venues. It is currently only 21% fresh at RottenTomatoes, but at the time of this writing, had only 14 reviews counted (even critics don't go to the movies this weekend). Incarnate earned a C- Cinemascore, and with that, it is pretty much done. Made for $5 million, this one won't be profitable despite that low budget.

Tenth is Almost Christmas, the urban holiday comedy with Danny Glover. In its last weekend in the top ten, Almost Christmas earned $2.5 million and fell 56%. The $17 million Universal release has now pulled in $38.1 million.

Finishing just outside of the top ten is Manchester by the Sea, the new award-worthy film with Casey Affleck and Michelle Williams. With its 97% fresh rating in tow, the Kenneth Lonergan flick moved from 48 venues last weekend to 156 this frame, and it earned $2.4 million. That's a 93% increase over last weekend's take of $1.2 million and sets the stage for a long run through Oscar season. This is a small, $8.5 million release from Roadside Attractions, and its gross-to-date of $4.4 million is really just the beginning.

Overall, the box office continued a post-Thanksgiving trend that has gone on since 2005. That year was the last time the top 12 earned more than a combined $100 million. This weekend, the top 12 managed $88.2 million, which is at least similar to last year's top 12 take of $89.9 million. Next weekend brings two very different films. One is Office Christmas Party, a film that makes The Hangover look pale, and Oscar wannabe Miss Sloane, with Jessica Chastain.