December 2016 Box Office Forecast
By Michael Lynderey
December 1, 2016
BoxOfficeProphets.com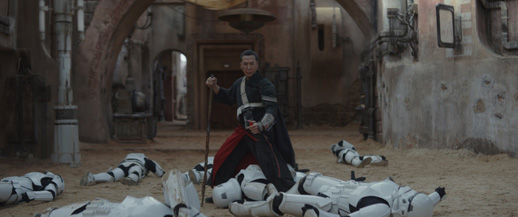 ---
The first half of December 2016 is pretty much taking the day off, with a mere two or three wide releases of uncertain notability priming the ground for the film that will without any question dominate the month (we know this because, in a wild coincidence, pretty much the same movie dominated pretty much the same month last year). After that beast is unleashed and tamed, December zeroes in on three genre would-be blockbusters duking it out for #2, and a handful of small films left behind.

1. Rogue One: A Star Wars Story (December 16th)

The worst franchise of all time returns for its eighth and final installment, as Rogue One is poised to give a dignified end to the Star W... (hold on a moment, someone is trying to get my attention. What?!?).

The worst franchise of all time returns for only its eighth installment, as Star Wars fills the December special effects niche occupied for much of the 21st century by copious and pestilent Lord of the Rings sequels (and as soon as the December 16, 2014, midnight screening of The Hobbit 3 finally ends, those people are going to be really mad at me!). Rogue One stars Felicity Jones, who marks her anointment as a rising ingénue and leading actress with her first real blockbuster lead role, in what has by now become a rite of passage of sorts for up-and-coming British actors (yes, they hand these parts out beginning of school year at the Royal Academy of Dramatic Arts in London). Surrounding her is a supporting cast that's as international as every article about the film promises, going beyond the standard British lead and Australian villain to actors from Mexico (Diego Luna), Denmark (Mads Mikkelsen), Hong Kong (Donnie Yen), and past Alpha Centauri (Imperial enforcer droid K-2SO).

As a sort of prequel to the original trilogy and sequel to the prequel films, Star Wars 8 potentially promises some choice, applause-worthy (ugh) cameos for the fans, like a Darth Vader, the Ehrenreich version of Han Solo, or a grandma Ewok. As you remember, by the time of its eighth installment, the Friday the 13th series brilliantly had Jason Voorhees stow away on a school boat and attack Manhattan; so which franchise was more innovative at this point, again?

Other than all that, what are we to make of the film's box office chances? Any good? Star Wars: The Force Awakens became, both inevitably and unnecessarily, the biggest movie of all time, easily blazing past Avatar ("Miss me yet?" "Yes") to take in $936 million domestically (holy heck, that's a lot of money). That film was the answer to months and years and decades of energy and anticipation by dedicated fans, as well as so many others among the general audience, who waited to see their beloveds from the original Star Wars film on the screen again, as if nothing had changed in 38 years. That force of desire and longing (and the 92% Rotten Tomatoes score, too, I suppose) dominated the 2015 holiday season, and Rogue One, a spin-off carrying sufficient correlation to the other films, should certainly seize up on the goodwill of the recent film. It will not match its performance, I assume, because it's only been 12 months and the new film offers no direct answers and follow-up to the questions, such as they are, that were asked in Episode 7.

Still, will Rogue One take in at least half of The Force Awakens' loot? Surely. Will it win the month and the season, by far? Easily. Disney's own Finding Dory, currently the highest-grossing film of the year at a quaint $486 million, may be in its sights. Blowing up the Death Star is just the warm-up.

Opening weekend: $163 million / Total gross: $468 million? (although who really cares at this point?)

2. Sing (December 21st)

CGI showbiz musical Sing leads the attack on December 21, which between Star Wars' sixth full day and three new blockbusters may turn out to be one of the biggest box office days of the year. There is little to be said about Sing except that it is, indeed, an animated musical about ambitious auditioneers for a talent show, a sort of A Chorus Line (outdated reference?) or La La Land (too soon?) of the animated kind, although the most obvious comparison it may be going for is American Idol. Sing has, of course, assembled all the right elements to join the ever-inflating list of 2016 CGI blockbusters (Dory, The Secret Life of Pets, Zootopia), which comprise three of the year's top six, and make for a busy season at the Best Animated Film Oscars.

Sing stars anthropomorphic animals, whose voices are granted them by an A-list acting roster that can be matched this year by few films of any creed (Matthew McConaughey, Reese Witherspoon, Scarlett Johansson, Taron Egerton). And better yet, subsequent to its premiere at the Toronto Festival, the film has reviews that are glowing, ecstatic, uniformly positive, and many adjectives after that. More to the point, Sing comes from Illumination Entertainment, whose aforementioned Secret Life of Pets has thus far taken in $367 million (wowzers), and there is no reason at all that a film carrying so many similar elements can't at least try and match that number. This is especially because Sing is opening in one of the more lucrative release windows of the year, where it will exist as an easy consensus family film option at a time period where such are sorely required, even beyond the film ranked #1 on this forecast.

Opening weekend: $68 million (5-day) / Total gross: $262 million

3. Passengers (December 21st)

Not to be confused with the little-known 2008 thriller of the same name, which starred Anne Hathaway and Patrick Wilson, and which I keep reminding myself I have to see (it hasn't worked so far), this stab at the same title is a film that has a modest chance to rank among the month's three biggest. As the poster showing two faces in extreme close-up indicates, this is a movie thoroughly marketed on star power, a fact which its advertisers are totally justified in doing.

That is because Passengers, a science fiction film about futuristic space travel gone awry, is carried by two of the world's biggest movie stars, Jennifer Lawrence and Chris Pratt, who need no introduction, but whose achievements I will recap anyway. Lawrence is more firmly established, having dominated most or all holiday seasons since roughly 2012, between three Hunger Games films and three more David O. Russell dramas, while Pratt launched from Guardians of the Galaxy and Jurassic World into this year's The Magnificent Seven, which arguably underperformed. The film is helmed by Morten Tyldum, whose Imitation Game did very well two Decembers ago, while co-star Michael Sheen seems funny as the cybertronic upper stump of a robot bartender.

And yet as always, I must nitpick at this set-up: the film is an original idea, one that reminds me just a little of George Clooney's Solaris, another somewhat cerebral sci-fi tale about a big star stuck on a wayward space station, and one which exploded onto the screens and then quickly vanished over Thanksgiving 2002. Sci-fi is a tricky genre, often driven not by big name stars but by concepts and brand recognition.

In short, Passengers is the kind of movie where I look at everything about it and think: sure, it may be good or even great cinema for all I know, but... why science fiction? Wouldn't a traditional holiday-driven romantic comedy starring Chris Pratt and Jennifer Lawrence - perhaps as feuding lovers in a wealthy Manhattan suburb or a pair stuck in a quirky small town during an impromptu road trip - have been much more of a sure-fire blockbuster hit? Even if this version is quite successful, couldn't the earth-set non-science fiction version of Passengers have obliterated the box office take of this version - especially as a counterpoint to the already decidedly science fictional Star Wars sequel, which will surely be the first choice of genre fans even if they've already seen it once, twice, or many more times? I accept that asking these questions gives a preference to commerce over art, but actually, that's what I'm here to do.

Opening weekend: $51 million (5-day) / Total gross: $135m

4. Assassin's Creed (December 21st)

Genre action films that end the year typically focus more on Hobbit-esque fantasy than time-traveling sci-fi, and so this video game adaptation is not what I would place as a typical December movie, even though Star Wars, moving itself to December for the first time, may have changed all expectations. Star Michael Fassbender navigates between high-minded, verbose indie films and action blockbusters with relative ease, and here plays the title killer, whose (do I have this right?) memories are circulated through time in a genealogical mess that lands him in Inquisition Era-Spain (15th century Spain was a nice place to visit, but you wouldn't want to live there). The film has been rated PG-13, all the better to obscure the unseasonal bloodshed, and the helmer is Justin Kurzel, who teamed with Fassbender and co-star Marion Cotillard on last year's well-received redo of Macbeth, which I assume cost a little less than this film's mid-to-upper hundred million dollar tab.

As I said earlier this year about that other big video game adaptation, all I know about the popularity of Assassin's Creed is that I've heard the name spoken around myself for years and years (usually in hushed, reverent whispers), after which I nodded helpfully and smiled in agreement, as if understanding what they were talking about (I didn't). And as I said about that other film, which was called Warcraft, well, it might just be huge, and all the fans will turn out to the theaters, running past the five screens showing Rogue One and into this one (hey, wait a minute, maybe I like these Assassin's Creed fans after all!). I predicted something ridiculous for Warcraft ($45 million opening and $101 mil total? What the hell was I thinking?), and I have no problem making the exact same mistake again, if need be.

Opening weekend: $48 million (5-day) / Total gross: $122 million

5. Office Christmas Party (December 9th)

Roughly the third Christmas film of the holiday season benefits from the fact that the other two mostly came and went, matching (Almost Christmas) or underperforming (Bad Santa 2) expectations. The ribald Office Christmas Party isn't a big mainstream holiday film either, of course, not like an Elf or The Santa Clause. More so, it's another entry in the increasingly present tradition of the ribald, R-rated Christmas comedy, but unlike the Bad Santa sequel, it has bigger stars and a fresher marketing hook. Indeed, the advertising makes it look like fun, give or take, with rampant seasonal debauchery advertised well in the trailer and the film's 20 posters (yes, I counted). The large ensemble cast is led mostly by Jennifer Aniston and Jason Bateman, re-teamed oh yet again (after The Switch and three other films), and enjoined with a large roster of rising comedic actors (the everpresent Kate McKinnon, along with T. J. Miller, Vanessa Bayer, and Randall Park, and that's just for starters). The film probably doesn't have the potential to make, say, one hundred million dollars, but if it's good, or probably even if it isn't, it could beat expectations by more than a bit and provide some healthy counter-programming (and much-needed! boy, do we ever need it) for most of the month until the post-Star Wars December gets here.

Opening weekend: $14 million / Total gross: $63 million

6. Why Him? (December 23rd)

Why Him? is an iteration/re-brew of sorts of Father of the Bride, Meet the Parents, and all those other films about the meeting between a man and his future son-in-law, a rite of passage that apparently never seems to go very well (and in what should not be a surprise, Why Him? director John Hamburg co-wrote all those Focker films). This one casts Bryan Cranston as the upstanding family man living in bliss in a small mansion in a woodland paradise, whose good life ends when his daughter finds herself engaged to the one Silicon Valley entrepreneur who's a tattooed and unhygienic boor (James Franco!).

In short, this is the sort of family comedy that tends to open around Christmas and attract a lot of cross-generation audiences looking for a compromise film - like a Cheaper by the Dozen or a Daddy's Home, but probably without the same draw to younger audiences (although maybe I'm wrong; a lot of kids could presumably identify with Franco's character). Cranston is a distinguished actor of Academy Award caliber, here making his debut as a comedy film lead, playing the Steve Martin or Will Ferrell role of the put-upon suburban father who encounters insanity joining his family tree. Franco has the Mark Wahlberg role, as the billionaire (or gazillionaire) with vulgarian tendencies, and there's a nice supporting cast like Megan Mullally, Zoey Deutch, and Griffin Gluck (who was excellent in Middle School, a film that had the best twist ending of the year, a fact I will always make note of).

Films such as these often don't start all that strongly, but Why Him? should open okay and then play well day after day after day in late December.

Opening weekend: $13 million (Dec. 23-25) / Total gross: $61 million

7. Fences (December 25th)

The first really heavy film on this list is an adaptation of the late August Wilson's legendary 1983 play, a sort of variation on Death of a Salesman, with a working-class 1950s family shorn by a father-and-son relationship gone off the rails, and themes of masculinity, family, and the vitality of the American Dream (and that one's relevant; after all, the 2016 election just proved that yes, even the son of a poor immigrant maid can be elected President of the United States! no, really, I'm serious, google "Mary Anne Trump").

Fences is Denzel Washington's third film as director, and one that is so far as well received as his first two, Antwone Fisher and The Great Debaters. Understandably for a play on film, the particular focus here is on the performances: Fences has been performed everywhere the craft of acting is studied since its creation, and the trailer makes it clear that the film is worth watching at the very least as an acting masterclass, with Wilson's dialogue highlighted in particular by the forceful acting of Washington, and his co-star, Viola Davis, who reprise the stage roles for which they won Tonys in 2010. According to many a forecaster, Davis is practically guaranteed to win the Academy Award for Best Supporting Actress for her work, and Washington is a frontrunner in his lead category. I may be misunderstanding the release schedule, but as of right now, Fences appears to be the only wide release slated for December 25th, and should thus get a bit of a jump out of the gate against some of its fellow travelers in dramatic heft.

Opening day: $5 million / Total gross: $50 million

8. Collateral Beauty (December 16th)

Suicide Squad grossed untold (and unholy) millions and brought Will Smith back to the fore as a star of summer blockbusters, but in Collateral Beauty, he stars in yet another role that forfeits special effects for dramatic impact, this time playing a New York advertising executive who deals with tragedy through means both typical and supernatural. The cast is full of notables playing both humans (Edward Norton, Michael Peña, Naomie Harris) and simulacra (Keira Knightley, Helen Mirren, Jacob Latimore) [and yes, as I learned from comic books at a very young age, "simulacra" is a pretty cool word].

The film reminds me in just so many ways - release date, style, ambiguously fey title - of Smith's Seven Pounds, that 2008 drama which also featured the man as a grieving professional handling his troubles in unusual ways, and which took in $69 million over a less crowded holiday season. Director David Frankel has a lot of experience tackling appealing commercial entertainment (The Devil Wears Prada, Marley & Me), and Collateral Beauty, too, seems like sort of a light dramatic fantasy, maybe a bit too odd to do well against a host of more conventional films, especially all the Oscar dramas that are slowly but steadily gaining screens. Still, the draw of the cast ought to give Collateral Beauty a good head start, even if it is opening against the very fat, very ugly elephant in the room, and might just get stomped on.

Opening weekend: $15 million / Total gross: $48 million

9. Incarnate (December 2nd)

The only film launched into wide release on the first December weekend is this horror picture, from the same studio, High Top, that distributed The Darkness on a similarly off-season May weekend earlier this year. Incarnate resembles The Darkness in multitudes - a possessed child, ancient spirits, a big name star who seems perhaps vaguely out of place (Aaron Eckhart is that lead). Incarnate is not being screened for critics, and that might mean what it means. But it's noteworthy that this December weekend has become a real roach motel (if I may say) of horror films, with The Pyramid taking December 5, 2014 and the surprisingly potent Krampus carrying a strong opening on December 4, 2015. It's a holiday tradition that may last. And if Krampus 2 ever gets made, you know what weekend it's invading.

Opening weekend: $1 million / Total gross: $2 million

10+. La La Land (December 9th) and co.

As the bigger films eat up the word count, the Oscar season quietly bubbles away, with Sully ($124 million total) so far leading the awards contender box office. That's a film that's destined to exist mostly as a nomination placeholder - it may score an Oscar nod or two, but it can't win in any of the big categories.

That brings us to the month's big awards contender, which is indeed La La Land, a film most Oscar prognosticators expect to win Best Picture three months from now, with its fellow traveler Manchester by the Sea, still stuck out in a handful of screens as I write this, predicted to stand as its biggest opposition. The La La film is a mostly light musical celebration of showbusiness and its title city (yes, Los Angeles), and stars everyone's favorite pair of Canadian and American cross-border star-crossed lovers, Ryan Gosling and Emma Stone (in their third film together, for those still counting). As such, it has a lot of box office potential, especially with illustrious reviews and the direction of Damien Chazelle, who expertly helmed the much more nasty musical film Whiplash two years ago. If La La Land makes $100 million, it wouldn't surprise me. In fact, it will likely at least get close.

Elsewhere, Natalie Portman's well-reviewed turn as Jacqueline Kennedy Onassis in Jackie will likely hit most markets by the year's end, but most of the country will have to make do with the Oscar contenders from previous months, many of which are still climbing towards wide release. December's obvious awards notables, like Peter Berg's Patriots Day, Ben Affleck's Live By Night, Annette Bening's 20th Century Women, the ensemble Hidden Figures, Martin Scorsese's lengthy drama Silence, and even Michael Keaton in, and as, The Founder of McDonalds, will open somewhere in December but apparently expand most everywhere only in January (wow, that sounds like a big January). Can you blame these films for holding back a bit? I agree with their assessment: Star Wars is scary.