Weekend Wrap-Up
Turkey Weekend Turns Moana, Fantastic Beasts into Winners
By John Hamann
November 27, 2016
BoxOfficeProphets.com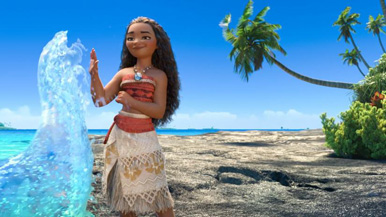 ---
What a weekend it has been – good food, and a whole lot of movie watching.

After last Thanksgiving when The Good Dinosaur opened to a disappointing $39.1 million over three days and $55.5 million over five days, I admit to having some concerns regarding the opening crop over this Thanksgiving weekend. Openers included Moana, Walt Disney Animation's latest blockbuster, this time back with a princess and Dwayne Johnson in tow; Bad Santa 2, sequel to the 2003 comedy that opened in fifth over the 2003 Thanksgiving weekend, with the original finding only $12.3 million over three days and $16.8 million over five; Allied, with Brad Pitt appearing in the movie that broke up his marriage; and finally Rules Don't Apply, the latest gaudy production from Warren Beatty. Add to that the second weekend of Fantastic Beasts and Where to Find Them, and we have a Thanksgiving weekend to be reckoned with.

Our number one film of the weekend is Moana, and what a weekend it had. The animated Disney release got started way back on Tuesday night, when it earned a surprisingly large $2.6 million, doubling the likes of The Good Dinosaur, last Thanksgiving's film that didn't work. Adding the Tuesday into the Wednesday, the opening day box office figure was reported at a stellar $15.7 million, more than a half-million better than Disney's Frozen on opening day. Beating Frozen made Moana the number one film ever for the day before Thanksgiving, and set up what could be an excellent Turkey weekend. On Thursday, Moana dipped below Frozen's $11 million, pulling in $9.9 million on its second full day of release. Before the weekend had even begun, Moana and Disney had earned $25.6 million.

On Friday, Moana pulled in another $21.8 million, again not reaching Frozen's first Friday amount of $26.8 million, as well as the $22.6 million earned by the second biggest three-day Thanksgiving opener, Toy Story 2. Outside of those comparisons, though, Moana had a fantastic first Friday, positioning itself excellently for the rest of the weekend. Instead of growth from Friday-to-Saturday, Thanksgiving weekend provides numbers more similar to having two consecutive Saturdays before having a big drop-off on Sunday. Toy Story 2 fell 5.6% moving from Friday to Saturday, and Frozen fell exactly the same amount. Moana's Saturday was reported at $21.2 million, down 2.8% from Friday.

Moana's Thanksgiving weekend estimate came in at an awesome $55.5 million over three days and a spectacular $81.1 million over five. Disney put the blockbuster out to 3,875 venues, about 100 more than what Frozen had. It finishes as the second biggest three-day Thanksgiving opener, behind Frozen's $67.4 million (when it finished second behind The Hunger Games: Catching Fire), and also finishes second behind Frozen's five-day tally ($93.6 million). Once again, Disney found success the old fashioned way, putting together a very good movie and then marketing the hell out of it.

At the time of this writing, Moana is 98% fresh, with only three negative reviews out of a possible 120. That is better than Frozen's result at RottenTomatoes, which turned in an 89% fresh rating. While reviews were better than Frozen, the Cinemascore wasn't. The score for Moana came in as an A, while Frozen's score was A+.

Asking Moana to find the same legs as Frozen did is just about impossible. The 2013 Disney release turned a second place Thanksgiving finish into a domestic gross of $400 million and a worldwide gross of $1.28 billion. Toy Story 2 turned a three-day total of $57.4 million into a domestic gross of $245 million, and I think the result for Moana will be similar. It has the animated market sewed up until Universal's Sing comes on to the market on December 21st, but Moana will also have to deal with Star Wars: Rogue One the weekend prior. Disney did not release budget data for Moana, but one has to assume a budget of at least $150 million for this one.

The budget for Moana could be $250 million, and it wouldn't matter to Disney, given the year they are having. Disney has had two domestic results beyond $400 million (Finding Dory, Captain America: Civil War), two $300 million plus domestic earners (The Jungle Book, Zootopia), and what is likely a $240 million earner in Doctor Strange. Yes, Disney has also had disappointments this year (Alice 2,The BFG, Pete's Dragon), but the worldwide grosses are staggering. Finding Dory, Captain America and Zootopia all earned $1 billion worldwide, and The Jungle Book came up just short of that mark. Doctor Strange should see $700 million, and where Moana and Rogue One end up on a worldwide basis is anyone's guess.

Finishing strong in second is Fantastic Beasts and Where to Find Them, which has had an excellent 10 days since opening. On its second Friday, Fantastic Beasts earned $18.6 million, off 38% from its $29.7 million opening day. Over the three-day portion of the weekend, the film from screenwriter JK Rowling pulled in $45.1 million, off 39%, but over five days, Fantastic Beasts earned $65.8 million. The weekend result pulls the domestic total for the Warner Bros. release up to $156.2 million, a number that joins the $318 million earned overseas. The $180 million release is moving in the right direction compared to its gross, but still has a long way to go to find a profit. However, Warner Bros. has done what it needed to do to launch another successful franchise.

Third is Doctor Strange, another Disney title. After earning $17.8 million last weekend, the Marvel release was looking to meet or beat that over five days. On Friday, Doctor Strange earned $5.4 million, up a large 13% compared to the previous Friday. Friday is the biggest day of the five-day Thanksgiving stretch, so that kind of hold would not remain over the remainder of the weekend. Over three days, Doctor Strange earned $13.4 million, a drop of 25% compared to last weekend. Over five days, Doctor Strange earned $18.9 million and brings its domestic tally up to $205.1 million. The Marvel product crossed the $200 million mark on Sunday, its 23rd day, the same amount of time it took X-Men: Days of Future Past to reach the same mark. Overseas, the total has risen to $410 million, putting another comic book property into the heavily profitable category.

Fourth is Allied, Paramount's World War 2 espionage title with Brad Pitt and Marion Cotillard. This appeared to be a tough sell over Thanksgiving weekend, as reviews were hardly stellar, and the smell of Brad Pitt's marriage lingered over the marketing campaign. It got started on Wednesday with a ho-hum $2.7 million, and followed that up with an even more ho-hum number on Thanksgiving day, when it earned $2.4 million. On Friday, Allied earned $4.9 million, which is the nail in the coffin for this $85 million release. Over three days, Allied earned $13 million, over five days it earned $18 million. Unless there is a massive save coming from overseas audiences, Allied is instantly in trouble.

For a film like Allied to work, reviews have to be great, and in this case, they were mixed at best. At Rotten Tomatoes, 73 reviews were positive at the time of this writing, and 45 were negative, leading to a 62% fresh rating. The Cinemascore was terrible for the genre, coming in at a B, which puts even more pressure on the overseas grosses. For a film like this to work, it likely needs $250 million worldwide to be profitable, and it at this point, only $35 million of that is going to come from the domestic box office.

Arrival holds very nicely this weekend, as the Amy Adams sci-fi flick takes viewers away from Allied and Rules Don't Apply. Arrival earned $11.3 million over the three-day portion of the weekend, dropping 7% compared to its $12.1 million gross last weekend. The five-day total is estimated at $15.6 million and is the kind of weekend that Paramount should be pleased with. The $45 million film has a domestic tally so far of $62.4 million, and prior to the start of the weekend, the overseas gross was listed at $22 million. It still has a ways to go to recoup the budget, but it should make it.

Trolls is sixth, as the cute little toys struggle for relevancy with all the other kid-friendly entertainment on screens this weekend. The DreamWorks Animation release earned another $10.3 million and fell 41%. The domestic gross has reached $135.1 million against a $125 million budget. The overseas total has risen to $156 million, so it still has a long way to go.

Bad Santa 2 finishes in seventh – and that might look bad- but remember that the original placed fifth over Thanksgiving in 2003, earning $12.3 million. The Wednesday for the Billy Bob Thornton sequel was almost bang on that of the original ($1.56 million versus $1.64 million), but faded after the built in audience showed up on Wednesday only. Over the three-day portion of the weekend, Bad Santa 2 could manage only $6.1 million; over the five-day long weekend, $9 million. The original cost only $23 million to make, and the sequel came in quite similarly at $26 million. The original eked out a profit, earning $76.5 million, but I believe the sequel will struggle a bit more.

The difference between the two is the quality of the filmmaking. The original Bad Santa delighted critics (considering the subject matter), as reviews came in at 78% fresh. The sequel seemed to have the opposite effect, with reviews at 25% fresh. The same went for the Cinemascore - the original was a B, but the sequel is a dreaded C+. The only thing that might be able to help this poorly made sequel is the proliferation of overseas screens since the original opened. An improved haul over there just may bail Santa out of the mess he's in.

Eighth is Almost Christmas, Will Packer's holiday comedy. Almost Christmas held nicely this holiday weekend, earning $5.7 million, down 21%. The Universal release has now pulled in $34.8 million domestically against a budget of $17 million.

Mel Gibson's Hacksaw Ridge is ninth and has a decent hold this weekend. Hacksaw Ridge earned another $5.5 million and falls a slim 18%, as holds have been excellent since opening to $15 million. The current domestic haul has reached $52.2 million, with another $10 million or so from overseas venues.

Tenth goes to Edge of Seventeen, last weekend's failed James L. Brooks comedy. After opening last weekend to only $4.8 million, the teen angst comedy drops 38% in weekend two, earning $3 million. STX is lucky that this only cost $9 million to make, as it has a total to date of $10.3 million.

Finishing outside of the top ten is Rules Don't Apply, Warren Beatty's new drama. It was met with a collective shrug, as despite opening on 2,382 venues, it earned only $1.6 million over three days and $2.2 million over five. Rules cost Fox $25 million to make.

Overall this Thanksgiving weekend, the top 12 earned a powerful $174 million compared to last year, when under the strength of the last Hunger Games film, Creed, and The Good Dinosaur, the top 12 earned $173.3 million. Next weekend brings one film, Incarnate, a December horror flick with Aaron Eckhart. I don't anticipate lineups.