Weekend Forecast for November 23-27, 2016
Weekend Box Office Forecast for November 23-27, 2016
By Reagen Sulewski
November 23, 2016
BoxOfficeProphets.com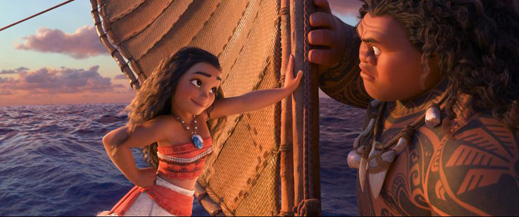 ---
A bevy of high profile films greet this Thanksgiving weekend, hoping to continue the strong November run and counteract last year's highly disappointing holiday weekend. And while Disney was responsible for that aspect of it last year, they're equally responsible for the comeback.

The Pixar/Disney branded The Good Dinosaur was their first "flop" last Thanksgiving, with just $123 million domestic. Walt Disney proper comes back roaring this holiday with Moana, a Hawaiian-themed adventure film addition to their Disney princess roster. Set in the recent past, it follows the title character, a Pacific Islander teenager, who journeys into the ocean on a quest to reclaim her tribe's rightful place as adventurers on the vast blue Pacific. It's not a Disney movie without a sidekick, although I'm not sure this character, a demi-god named Maui played by Dwayne Johnson, would really think of himself that way.

Battling angry volcano demons, a race of sentient malevolent coconut creatures and a host of other obstacles along the way, lessons are learned, character is revealed, and songs are sung, notably this time co-written by current Broadway wunderkind Lin-Manuel Miranda of Hamilton fame. With dazzling visuals and the typical Disney formula back in effect, this looks like an easy winner, albeit not on the Frozen level necessarily. Reviews are rather ecstatic, however, and word-of-mouth could push this one to significant heights over the holiday season.

Since the revitalization of the Disney animation studio with its new direction after Tangled (versus the near Pixar subsuming of it), it's been riding a high streak, not limited to the world-bestriding success of Frozen. There's probably no parallels to be drawn between Big Hero 6, Wreck-It-Ralph, Zootopia and this movie, but it does show that there is a commitment to story and style that has come back in spades, and that the studio has recaptured its magic. Over the holiday, I predict a big win of $60 million in three days, and $85 million over five days.

Handling adult drama over the holidays is Allied, starring Brad Pitt and Marion Cotillard as a pair of assassins who fall in love on a mission during World War II in Nazi Germany. However, upon their return to London, British intelligence informs him that they think she may be a deep cover German spy, and that if it's proven, they expect him to execute her as a test of loyalty. It's a bit of a bind.

Directed by Robert Zemeckis in a bit of a departure from his normal material (although not entirely – think What Lies Beneath), it's a gritty and dark thriller about the bounds of love and how that can be tested in times of war. Somewhere between Casablanca and Mr. & Mrs. Smith in tone, it's gained some notoriety as the film that maybe, might have been a part of breaking up Pitt and Angelina Jolie's marriage, which has a certain irony to it. It's mostly standing on its own, however, and that's basically up to the movie's quality, which is... okay. While Cotillard seems like perfect casting, Pitt is a bit off in this role, though he's played a handful of World War II roles in the past. He's a good draw for a prestige picture like this, though, and it should push the film to around $14 million over three days and $20 million over five.

Turning back to sequels we thought we probably wanted but maybe not really, Bad Santa 2 arrives this weekend, 13 years after Billy Bob Thornton broke all norms and mores as the alcoholic, profane department store Santa who was really planning a giant heist on Christmas. The movie took pride in wallowing in the worst impulses of his character (though couldn't quite resist trying to soften him), and has now brought him back in what amounts to a retread and an attempt to plumb new depths.

In addition to Thornton, Tony Cox as his "elf" assistant is back to help him stage the robbery of a Chicago charity at Christmas, run by a libidinous but noble Christina Hendricks. Thronton's thoroughly despicable mother, played by Kathy Bates, is also along for the ride, with Brett Kelly, the child Thornton took advantage of in the first film, also in the film as a grown man-child. Director Terry Zwigoff is gone, replaced by Mark Waters of Mean Girls (and Mr. Popper's Penguins) fame, which does not inspire a lot of confidence that it'll have the same bite to its satire. It's one of those "knows the words but not the music" things, and reviews are savaging this as tonally off in all respects, offensive without a redeeming element of hope of whimsy. This seems doomed to be ignored as there's really nothing one can point to as a laugh line in any of the trailers. I'd expect just $6 million over three days and $9 million over five.

A bit of an afterthought, Rules Don't Apply is Warren Beatty's first film in 15 years and his first directorial effort since 1998's Bulworth, a movie that I bring up for no reason now ha ha ha sigh. Anyway, it stars him as eccentric billionaire Howard Hughes, though he's really a side show to his driver (Alden Ehrenreich) and an actress (Lily Collins) and their gestating love affair under the difficult circumstances his employment creates.

More of a paean to Old Hollywood than anything else, it's a tough sell given that its biggest name is well past relevance and its true leads aren't really well known for much of anything just yet (it's about a year too early for Ehrenreich). This is one of those "Beatty pulled in one last card" deals, and it's a movie without much of an audience, about a subject not many will care about. I'd look for just $2 million over three days and $3 million over five.

Fantastic Beasts and Where to Find Them opened to an okay $75 million, but so much more was possible from a Harry Potter spinoff film. Time will tell if there's enough stamina here to justify the series that Warner Bros. has planned, but for now it should experience some pretty normal drops to about $39 million over three days.

Doctor Strange was taken out by the rival magic film, dropping nearly 60 percent in its third weekend, but is already in spitting distance of $200 million domestic and nearly $600 million internationally, meaning Disney and Marvel are playing with house money here – having turned yet another marginal character into a hit. For its fourth weekend, it should grab about $9 million.

Trolls, meanwhile, should fade away to Moana's opening weekend, falling to that same figure, with about $150 million in its sights as a final total. Arrival took a large hit after its opening weekend, and word-of-mouth ended up being too mixed to make much of a difference. Its Oscar chances remain strong, but not assured from this result, and it should earn about $7 million over the holiday weekend.