Weekend Wrap-Up
Beasts Find the Fantastic for Warner Bros.
By John Hamann
November 20, 2016
BoxOfficeProphets.com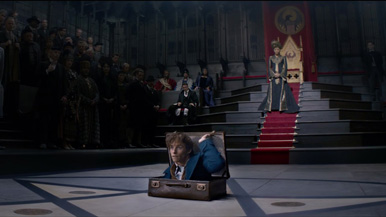 ---
Harry Potter may not be back, but the money that follows him definitely is. The problem is, when your film costs between $180 and $200 million (and likely a similar amount spent on marketing), is Fantastic Beasts and Where to Find Them a money winner, or an investment in the future?

Like Doctor Strange two weeks ago, audiences have been anticipating the release of Fantastic Beasts and Where To Find Them for what feels like eons. Created in the Harry Potter framework, Potter author and Fantastic Beasts screenwriter JK Rowling brings Newt Scamander to New York City to collect some Fantastic Beasts, and launches this pre-ordained five film franchise. For some reason, there were other films opening this weekend, including The Edge of Seventeen from uber-producer James L. Brooks. The third opener is Bleed for This, a true story about boxing champion Vinnie "The Pazmanian Devil" Pazienza. In the end, we have an interesting weekend, as between Fantastic Beasts' dominance and last weekend's Veterans Day-aided weekend - holdovers got crushed this time around.

Our number one film should be no surprise, as the marketing push for Fantastic Beasts and Where to Find Them has been going on for months. Like a Marvel film, it was very important to get this first film right in what could be a very profitable franchise. Warner Bros. stacked the deck – they worked from a script by JK Rowling, cast Eddie Redmayne, Oscar winner for Theory of Everything and Oscar nominee for The Danish Girl, and hired director David Yates, who had earned $2.3 billion worldwide from last two Harry Potter films. The result is a success but no breakout, and Fantastic Beasts will need some serious legs if it hopes to earn back what is likely $350 to $400 million in production and marketing costs.

Fantastic Beasts got started on Thursday night, pulling in a sizable $8.75 million from its Thursday preview. That wasn't far off what Doctor Strange did in its preview, when it earned $9.4 million from its pre-launch. The "not far off" phrase would continue all weekend. On Friday, Fantastic Beasts earned a stellar $29.7 million from its first day of release (plus Thursday previews), which trailed the first Friday of Doctor Strange ($32.6 million) by a mere few million. Fantastic Beasts was set to have a solid opening frame, but wasn't going to approach $100 million or the $85 million that Doctor Strange opened to a few weekends ago.

Comparing or even asking Fantastic Beasts to do Harry Potter dollars over its opening frame was asking too much, as this story may be born out of those films, but it is not a direct sequel or even a prequel. It was never going to match the $125 or $169 million openings of the last two Harry Potter films, but it could have approached a debut in the $90 million range, like the first three Harry Potter films did. The problem is that unlike Harry Potter, Fantastic Beasts didn't have a legion of teen book lovers lining up for opening night or opening day. This was going to have to have some legs, something the Potter franchise didn't really have until the last film came out.

Warner Bros. will have to be happy with an opening weekend tally of $75 million, a solid amount, but likely at the lower end of what they were looking for. An opening-to-total multiplier of 3.5 would give it about $260 million on the domestic side, which would mean it would need at least $350 million overseas, but that number is likely much higher.

It has what it needs to be successful. Reviews were solid, but not of the spectacular variety. At Rotten Tomatoes, Fantastic Beasts has a RottenTomatoes score of 76%, with 154 positive reviews and 48 rotten. That's two points lower than any of the Potter films, as Deathly Hallows Part 1 and Order of the Phoenix (both directed by Fantastic Beasts director David Yates) came in at 78% fresh. The Cinemascore came in at an A, which is in line with the Harry Potter averages. The Potter films have scored one A plus, several As and a couple of A minuses.

Fantastic Beasts and Where to Find Them also had a massive debut overseas this weekend. It was number one with a rocket in the UK, pulling in $30 million overseas in its first day alone. It took in $143.3 million overseas over its first weekend, and doesn't open in China until next weekend. With Thanksgiving on the horizon, Fantastic Beasts should hold well in North America during its next frame, and with the addition of the Chinese market, should hold overseas as well. Other than Moana, Fantastic Beasts doesn't have real blockbuster competition until Rogue One opens on December 16th – and it should still be a top ten film by the time the holidays roll around.

Finishing way back in second is Doctor Strange, as all holdovers face a double-whammy, what with Fantastic Beasts sucking the air out of the box office and last weekend's Veterans Day Friday propping up last weekend, leading to big drop-offs. Doctor Strange fell 68% Friday-to-Friday, earning only $4.8 million on Friday, compared to $14.9 million on Veterans Day Friday. Over the weekend, Doctor Strange earned $17.7 million, off 59% compared to the previous weekend. It means that this Marvel property will take more than two weekends to hit $200 million and is running similar to Thor: The Dark World. Like Doctor Strange, Thor 2 saw a bigger drop in weekend three than weekend two and finished with $206.4 million. I am still expecting more from Doctor Strange, as it has a total to date of $181.5 million. Overseas, the $165 million film has earned $390 million.

Third is Trolls, which has closed the gap on Doctor Strange quite quickly. After finishing second last weekend by about $8 million, the toy-themed film trims the lead to only $176,000 this weekend. Trolls earned another $17.5 million and sees a hefty drop of 50%. The $125 million DreamWorks release now has a domestic total of $116.2 million and the overseas total is $145 million.

Arrival, the one-weekend-old Amy Adams flick, finishes in fourth place. After opening last weekend to $24.1 million, Arrival gets turned on its head just like everything else this weekend. The earth-based sci-fi flick picked up $11.8 million in weekend two, dropping 51%. The very well-reviewed flick (93% fresh) now has a domestic tally of $43.4 million against a budget of $47 million. It's just getting started overseas, with a gross-to-date just under $11 million.

Fifth is Almost Christmas, the holiday-themed comedy with Gabrielle Union and Danny Glover. This one also got a decent start last weekend ($15.1 million), before fading quickly this frame. The comedy earned $7 million and fell 54%. Made for $17 million, this one is already in pretty good shape, considering it has a gross to date of $25.4 million.

Hacksaw Ridge is sixth and manages one of the better holds in the top ten. The Mel Gibson flick earned $6.8 million in weekend three, and has shown some decent legs since opening to $15.2 million on November 4th. It fell 37% compared to its second weekend and has a gross-to-date of $42.9 million against a budget of $40 million.

Seventh is the first of our failed openers, The Edge of Seventeen. This small teen angst film earned only $4.8 million from 1,945 venues. Hopefully, that means that STX can expand this gem and find at least some success, as reviews are fantastic (95% fresh) and so is the Cinemascore (A-). This one cost only $9 million to make, so all is not truly lost. If STX can muscle this one up to $20 million and find some award recognition for Hailee Steinfeld's performance, this one could win on home video.

Eighth is Bleed for This, the new docu-drama about boxer Vinnie Pazienza. This one had even fewer screens than The Edge of Seventeen, as it debuted in 1,548 venues, versus 1,945 for Seventeen. Bleed earned a disappointing $2.4 million for this weekend, as the counter-programming angle didn't work. Bleed cost Open Road only $6 million to make, so at least it won't be a knockout for the studio.

The Accountant is another victim this weekend, as the Ben Affleck thriller earned only $2.1 million and dropped a nasty 52%. The $44 million film has now done what it needed to – it has earned $81.3 million domestic and more than $50 million overseas.

Tenth is last weekend's failure, Shut In, with Naomi Watts. After laying an egg last weekend with $3.6 million, this wannabe thriller earned only $1.6 million this weekend, dropping 56%. The total for the still 0% fresh Shut-In is $6 million.

Finishing outside of the top ten is Billy Lynn's Long Halftime Walk, from director Ang Lee. Despite being shot in 3D and with a 4K resolution, Billy Lynn is a technical marvel but a bad film. Audiences opted out, as the film could only manage $930,000 from 1,176 screens.

Overall, the box office fell behind previous years, as some monster films were released over the same weekend. The Hunger Games franchise, the Twilight franchise and the Harry Potter franchise have dominated this weekend going back to 2007. The best result came in 2009, when Twilight: New Moon led the top 12 to $250 million. Last year it was Hunger Games: Mockingjay Part 2 leading the top 12 to $166.3 million. This weekend, with Fantastic Beasts on top, the top 12 managed $149.4 million, off of last year by about $17 million.

Next weekend brings Thanksgiving, and four new openers are going to join the fray started this weekend. With the collapse of Edge of Seventeen, there should be room for some decent successes. Openers include Allied, the new Brad Pitt movie that broke up his marriage, Bad Santa 2, the return of Billy Bob Thornton to the vomited on Santa suit, Rules Don't Apply, the new film from Warren Beatty, and finally Moana, the latest from Walt Disney Animation .